+3
40V VAC ATTACK™ Leaf Mulcher
Model: #RY40405BTL
+3
The RYOBI VAC ATTACK™ Cordless Leaf Vacuum features 2-in-1 vacuum and mulching functions to make yard clean up quick and convenient. Featuring a durable metal impeller, shred up to 16 bags of leaves down to just 1. It includes a heavy-duty bag and adjustable wheels, allowing you to easily maneuver over a variety of terrains. The variable speed dial gives you ultimate control Tear through large piles of leaves or dial back the speed for precision vacuuming in plant beds. The VAC ATTACK™ Cordless Leaf Vacuum is compatible with 40 plus RYOBI 40V tools, batteries and chargers and is backed by a 5-year warranty.
Features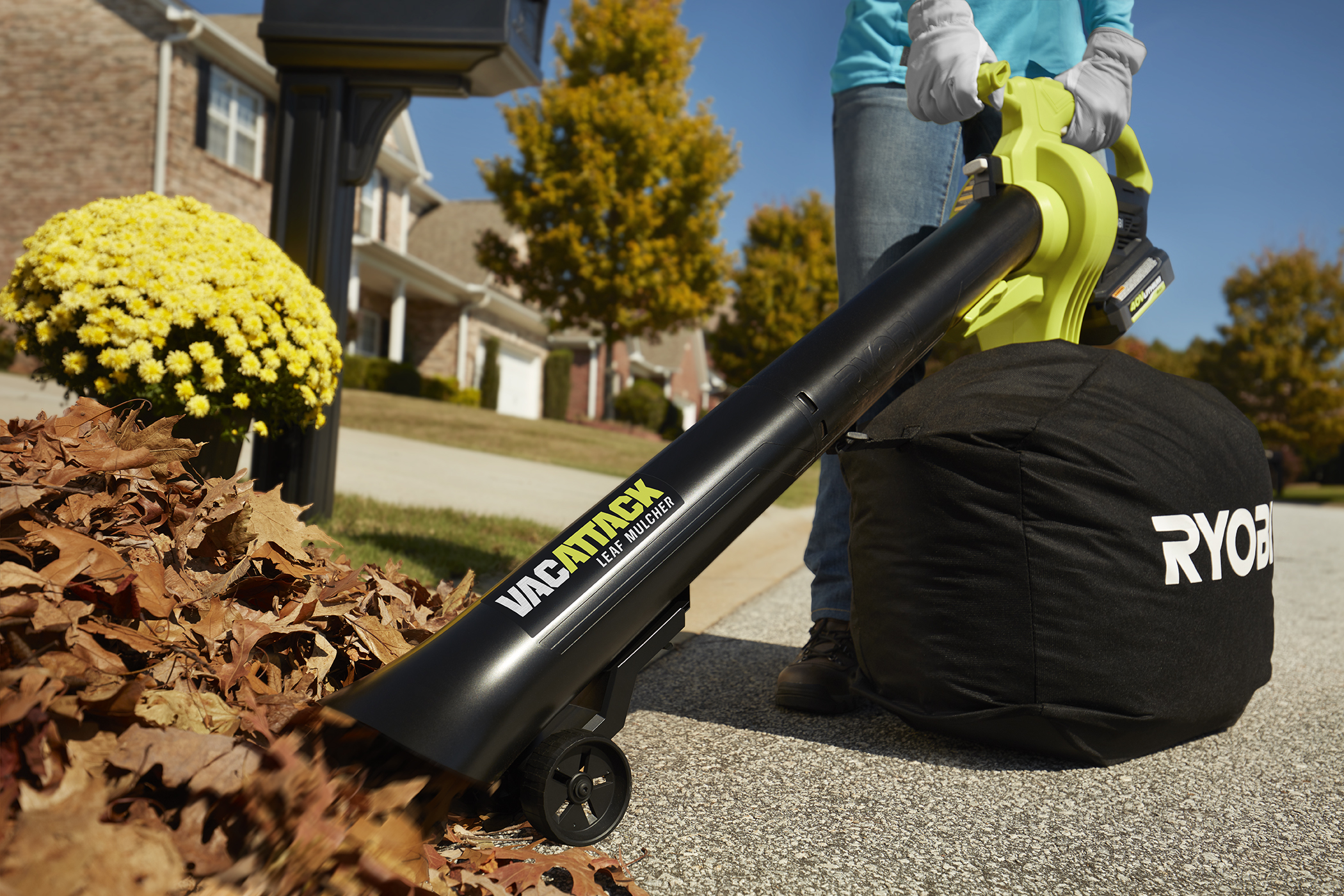 • 2-in-1 vacuum and mulching functions • Mulches 16 bags to 1 • Variable speed dial for more control • Adjustable wheels • Heavy-duty bag and zipper
Specifications
Throttle: Variable Speed
Impeller Material: Metal
Mulch Ratio: 16:1
Watt Hours: 144
Weight: 12.7 lbs.
Warranty: 5 Year
Includes
40V VAC ATTACK™ Leaf Mulcher
Operator's Manual
Reviews
40V VAC ATTACK™ Leaf Mulcher
40V VAC ATTACK™ Leaf Mulcher
is rated out of
5
by
138
.
Rated

2

out of

5
by
kacey
from
Like the tool; Hate the bag
I purchased this product along with many other Ryobi tools for my lawn care and maintenance. This leaf vacuum worked great but quickly began falling apart. The first to go were the wheels. The next was the bag. I have replaced the leaf bag twice already and I am in need of replacing it again. The zippers on the leaf bags are extremely weak and have broken each within 3-4 uses. It should also be noted that to use this tool properly requires the user to fully carry the leaf load while sucking up leaves which puts a lot of strain on your forearms. It can be a real workout using this tool. It works well but at a recurring cost.
Date published: 2020-10-18
Rated

4

out of

5
by
Bear Paw
from
Great idea!
This works great if you have a steady vacuum pace. Picks up leaves and small twigs easily. Two items to consider- make the wheel unit sturdier. The hubs have snapped off twice in the 2 months I have had the unit. I was able to glue them back on but they are a weak spot. This is the main reason I got the Ryobi is because the pick up tube is wheeled; makes the job a whole lot easier than my non wheeled Toro. The other thing is make the bag attaching clip adjustable. Unless you twist it a couple of times before attaching it to the tube it falls off in normal use. Like I said it is a great unit with a lot of power.
Date published: 2020-11-05
Rated

2

out of

5
by
S4ms0nD
from
Very specific flaws. It sucks (leaves)
First of all, it does suck up leaves (However you have to hold it is and specific, uncomfortable manner. I'll come back to this....) Unfortunately this is where I can no longer praise this device. This is saddening to me as I am a Ryobi fan and owner of many Ryobi products. One of the wheels broke off during its 4th use. [See picture] The opening where the leaves are sucked in is not at an angle that allows maximum suction to the leaves. When the device is held so the wheels are touching the ground (and set at the lowest level) and the bag is dragging along the ground (I read a Ryobi response in a review that the bag is designed to be dragged) most of the leaves are not sucked up. The opening is tiled upward too much and suction to the leaves is lost. [See pictures] In order to maximize the suction to the leaves, the device must be hoisted higher on the handle side. This causes the user to have to carry the leaf load which then becomes disproportionately heavy and the front handle becomes useless. I have to switch my hands so that my leading hand is gripping the trigger handle backwards and using my little finger to pull the trigger. My rear hand (previously on the trigger handle) is now under the battery to support the weight. Most upsettingly is the lack of mulching. I do not see mulched leaves when I empty the bag. I do see some leaves appear to have small tears in them. [See picture] I did not search through the bag to find only a few to support my claim. The sample in the picture is an accurate representation of the entire bag. It is very difficult to accept the claim on the packaging that it mulches 16 bags into 1. I have not seen a difference in the 2 huge bags that I have filled. I am very surprised that this product made it out of testing in this form. If you are on the fence about purchasing this, I'd wait until another model of two have come out. Hopefully corrections are made to its design.
Date published: 2020-10-12
Rated

3

out of

5
by
Mags920
from
Disappointed
I bought this a few months ago & used it for the first time today. It did pick up leaves but there are several things I think should be corrected &/or added. There should be a shoulder strap as it gets heavy as the bag fills & the way it has to be held in order for it to suck up the leaves. An on/off switch would be better than having to hold down the lever to keep it running. My bag would not stay clipped on, perhaps a different type of hook. Lastly, the leaves did not mulch as claimed on the box which was disappointing. I have several other Ryobi yard tools & have been pleased with them. This product definitely needs improvement & am debating on whether or not I'm going to keep it.
Date published: 2020-10-20
Rated

3

out of

5
by
TomL19
from
Good but could be better
I bought this early October. Within 10 hours of use one wheel broke. Within another 5 hours the other broke. Ordered 2 replacements that went arrive for another couple weeks. I like the multi speed function. The bag holds a lot and can get heavy, which may have contributed to the wheels breaking. The battery life was less than expected but ok. I like the ease of removing and emptying the bag. Based on the wheel issue, I am concerned the velcro closure or zippers will wear out quickly. Love the ease of popping on the battery and getting to work.
Date published: 2020-11-18
Rated

2

out of

5
by
arosem
from
Could be so great but isn't
My husband bought this for me as an early Christmas gift last year and I was so excited (as shown in my attached photo)! I used it a couple times a week for the first few weeks and then the wheels broke off. I figured I did something wrong and started using it without the wheels. Shortly after, and the bag is busting at the seams and I am covered in leaf dust when done using it. I so badly wanted this to be my go to for easily cleaning up leaves in the fall and it is a big disappointment. I haven't used it again after the first couple months of owning it and not it just sits there. I went looking today for a replacement bag and just don't feel like I should have to invest more money in this to have it work correctly. Such a disappointment.
Date published: 2020-11-22
Rated

4

out of

5
by
Anonymous
from
works great for me with one little issue
bought this as my first 40volt item, i have many of the 18volt items and love them and the cost of them. unit works great, i am 6'2" tall so it is a good height for me. the only small issue i have is the clip on the bag that clips onto the tube will come off during use. make sure the velcro flap is secure or the bag will leak. the bag is easy to empty when full.
Date published: 2020-11-09
Rated

4

out of

5
by
Fromyk1999
from
Easy way to clean leaves from lawn
I purchased my leaf mulcher about a month ago and finally had enough leaves on the lawn to use it today. I was happy with the power of the vacuum and how well the leaves were shredded. It will save a lot of leaf bags, but perhaps not quite in the 10 to 1 ratio as stated. However it works well and will mean I have a clean lawn before winter.
Date published: 2020-09-21