+3
40V 550 CFM BRUSHLESS Jet Fan Blower with 4.0AH Battery & Charger
Model: #RY40470
Whisper Series™ – The Industry's Quietest Blowers
Brushless Motor delivers GAS-LIKE POWER™
Turbo button and variable speed trigger provide superior power and ultimate control
+3
All the power without the noise
Features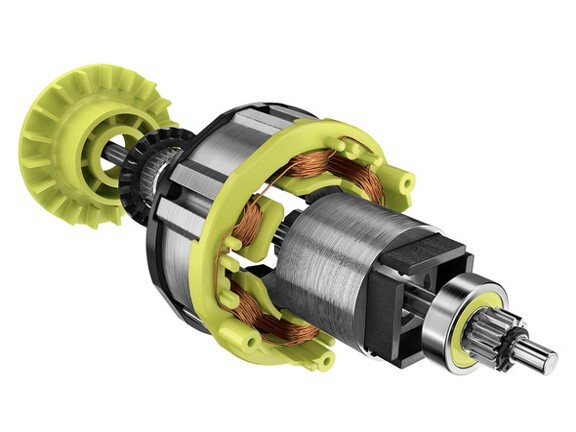 Brushless Motor
Delivers GAS-LIKE POWER™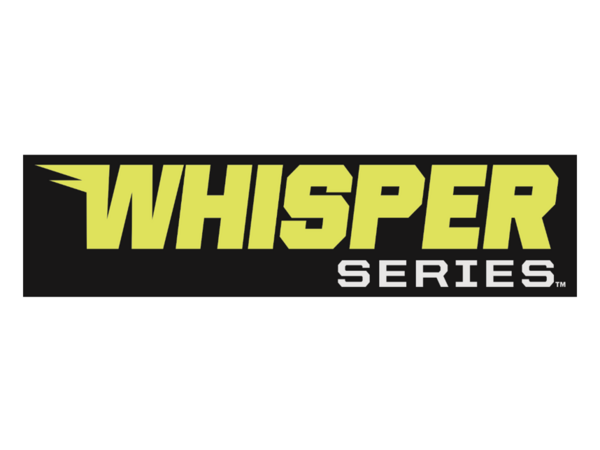 Whisper Series™
The industry's quietest blowers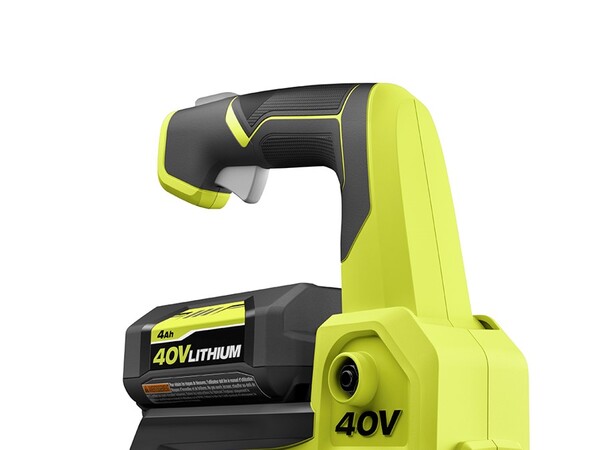 Variable Speed Trigger
For ultimate user control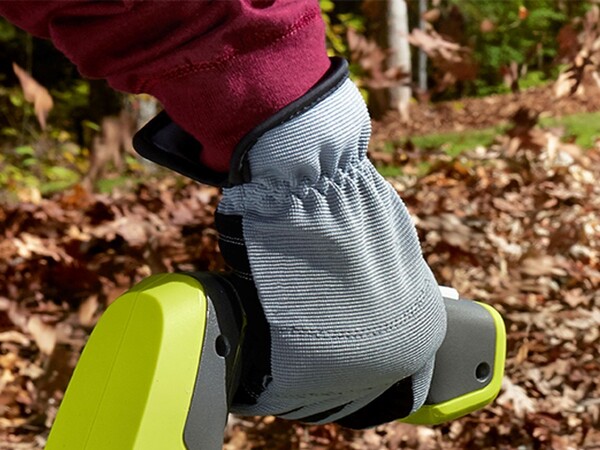 Turbo Button
Provides superior power
Jet Fan Technology
For increased airflow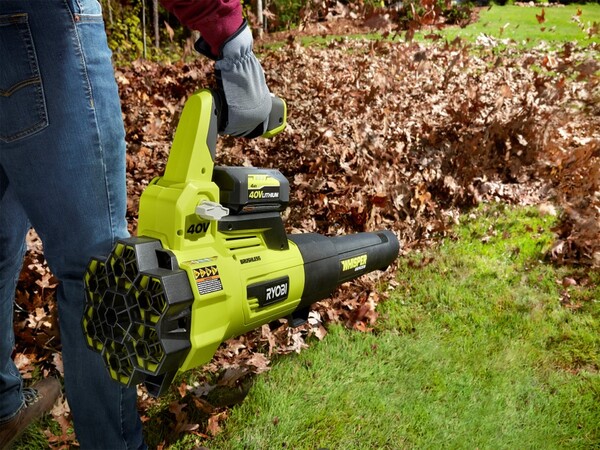 Performance
Delivers a powerful 550 CFM and 125 MPH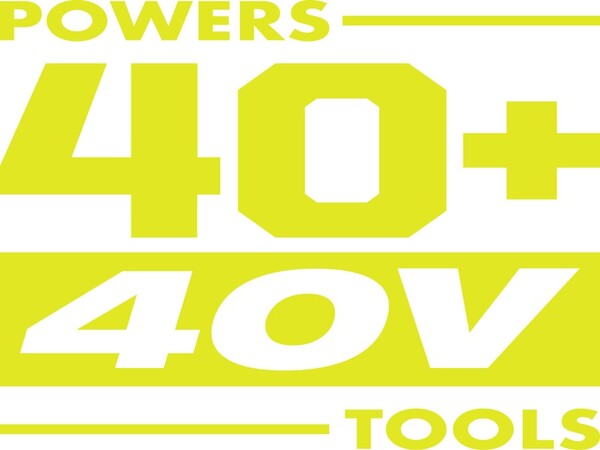 System Compatibility
Compatible with all Ryobi 40V tools and chargers
Specifications
Dimensions
Battery

40V 4.0 Ah Battery

Decibels

59

CFM

550

MPH

125

Throttle

Variable Speed

Warranty

5 year tool warranty and 3 year battery warranty

Weight

9.7 lbs.

Watt Hours

144
Includes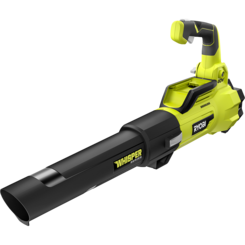 40V Brushless Whisper Series™ Blower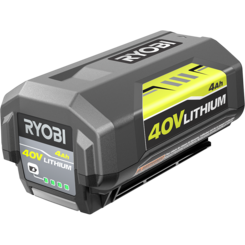 [#<ProductFeature id: 2359, title: nil, content: "40V Brushless Whisper Series™ Blower", photo: "3f114d84-7272-4035-8d9f-7debe0feecd9.png", created_at: "2020-09-01 21:23:13", updated_at: "2020-09-01 21:23:13", product_id: 1226, sort: 0, enhanced_type: "included_item", enhanced_group: nil, enhanced_icon: nil>, #<ProductFeature id: 2360, title: nil, content: "40V 4.0 Ah Battery", photo: "45df0625-7396-4f61-9932-1c2eaee9bd71.png", created_at: "2020-09-01 21:23:15", updated_at: "2020-09-15 13:06:38", product_id: 1226, sort: 1, enhanced_type: "included_item", enhanced_group: nil, enhanced_icon: nil>, #<ProductFeature id: 2361, title: nil, content: "40V Charger", photo: "0d5f85c2-015e-44ef-9087-0766c25a5fa8.png", created_at: "2020-09-01 21:23:17", updated_at: "2020-09-01 21:23:17", product_id: 1226, sort: 2, enhanced_type: "included_item", enhanced_group: nil, enhanced_icon: nil>]
Reviews
40V 550 CFM BRUSHLESS Jet Fan Blower with 4.0AH Battery & Charger
40V 550 CFM BRUSHLESS Jet Fan Blower with 4.0AH Battery & Charger
is rated out of
5
by
1102
.
Rated

5

out of

5
by
security guy
from
Out-performs Gas Blower "and" much lower noise
LOVE this thing !! No more gas/oil smoke, crazy-loud noise, and endless cranking after sitting thru a season. Can be stored inside without gas odor. I use it almost daily in Fall to keep 2nd floor large deck cleared of leaves. Amazed at how long the battery will last. I've cleared my long driveway, steps, and front porch for 3 lawn cuttings and still have 1-2 bars left on battery indicator (nice feature).. The "turbo" button puts this thing in gas-power league if you hit stubborn leaves, grass, etc...I use it extensively too, and still get 2-3 weekly lawn cuts worth of cleanup. Haven't used my gas blower in months--probably won't again.
Date published: 2020-10-30
Rated

5

out of

5
by
sq Bob
from
A good, convenient blower
I bought his blower a couple of weeks ago to replace a corded model which had died. I really like the convenience of the cordless option. This blower is powerful, even without the turbo function (which runs the motor at top speed). I was a little skeptical of the odd handle design, but when I adjusted it to my needs I found it nicely balanced the blower at a good angle and was not tiring to my arm. My only criticism is that it would be nice to have maybe one nozzle attachment with a narrow, flat opening that would help with removing matted leaves/dirt, but this blower does a decent job of getting 90% of that kind of material off the ground.
Date published: 2020-09-04
Rated

5

out of

5
by
Scottydog
from
My Ryobi Jet Fan Blower
I love my Ryobi, the best blower I have ever owned. Love the fact it isn't cumbersome, very light, adaptable handle for angling the direction of the blower. I found it difficult to disconnect the hosing and finally decided not to bother breaking it down. I wish the battery life was longer than 25 minutes so I could complete projects, never had that problem with my gas backpack blower or blower with the electric line attached to it, however I don't have to deal with the Electrical Cord or mixing of Fuel for my Backpack blower. I would recommend this Blower to anyone, in fact two of my friends have bought it after listening to my reviews.
Date published: 2020-11-30
Rated

5

out of

5
by
ThunderChicken
from
Convenient
I must say, I was skeptical about the power and durability of a battery powered blower, but it has proven to be able to handle everything I'd normally do with a gas blower. The power and battery life exceeds my expectations. I find myself using it more than my gas blower now, due to how convenient and versatile it is. It's nice to be able to pick it up instantly get to work, vs fueling, priming, choking, idling and feathering a gas blower before getting started with a job that doesn't require much time and effort in doing to begin with. Overall I'm very satisfied with this tool and would recommend to anyone.
Date published: 2020-06-12
Rated

4

out of

5
by
Andy10k
from
Solid unit
I have an electric blower but the cord won't reach to the back of our yard so I decided to get this, not as a replacement but rather an additional tool. I like the Ryobi brand and have always had good luck with their products. I have the 40v string trimmer already so the batteries match, another plus. The blower works great, now I can get to the far end of the yard! We also use it all the time for quick cleanups - much simpler than breaking out the corded model. I think my wife uses it more than I do to blow off the deck, patio, sidewalk, and front porch. My only complaint is the run time. I'm glad I have two batteries and the corded blower for big jobs.
Date published: 2020-12-02
Rated

5

out of

5
by
stwill7620
from
Time Waits For No One
I have used an electric blower to spruce up the lawn, sidewalk and driveway for the last 5 years. I had to use a 200 ft extension power cord in order to keep the blower going. No more extension cord tangles or tripping over the cord. No more unplugging from the rear of the house then walk to the front receptacle of the house. No more 25 mph force from the blower. All of these flaws with my electric blower aided to a 30 min job. Now that I have my new Ryobi 40v cordless blower it takes me 9 minutes to complete the job. Now I can be in the house with my wife before dark and not miss my favorite TV shows. I was wasting my time away from tge people and things I loved by being in the yard too long until now. Thank you Ryobi.
Date published: 2020-04-19
Rated

2

out of

5
by
Dustin F
from
Needs work
I have had this blower for a few weeks now. I have used it through three battery cycles and it is just okay. Is fairly comfortable with the handle but the balance is a little off and could be better designed. Blows dry stuff fine but even as leaves pile up it struggles unless you use the turbo button, which really kills the battery. Which takes me to my other issue the battery charger. Mine was packaged with the wrong charger. It charges fine but a key component was missing the USB port. 3 stars for the blower, moving this review from 3 to 2 stars for the wrong charger and Ryobi's awful customer service. It is unbelievable that this is twice now they have Blamed Home Depot for their problem.
Date published: 2020-11-29
Rated

5

out of

5
by
sweetassugar865
from
LOVE MY BLOWER
I own quite a few Ryobi products. This is my first blower. Honestly I figured why spend the money when I can simply sweep or rake. Well now with a shoulder injury, raking or sweeping is impossible and to get the kids to do it, that is a whole story by itself. I absolutely LOVE it. And my oldest will just grab it and off he goes to clean up whatever needs done. It is easy to use, which is used several times a day for blowing off the walkway and patio. It has been wonderful when blowing the pine needles, grass, stick, and pine combs into piles, whether on the ground or on the roof. No more sweeping or raking for this gal!
Date published: 2020-08-13