+11
40V 21" BRUSHLESS SMART TREK™ Self-Propelled Mower WITH 6AH BATTERY & CHARGER
Model: #RY40LM10-Y
+11
Visit interactive landing page to learn more about this mower. Powerful, intuitive and intelligent – this is the future of mowing. With the performance of a high-end gas mower and all the benefits of cordless, there is no need to compromise. Powered by an intelligent Series IV Brushless Motor and a 6Ah lithium-ion high-capacity battery, this mower delivers GAS-LIKE POWER™ and cuts up to a half acre on a single charge. The SMART TREK™ Self-Propelled Technology makes mowing even easier while automatically adjusting to you walking speed. Best of all, it's simple to start. No more gas, oil or pull cords. This completely redesigned mower delivers everything you need with a simple push of the button.
Features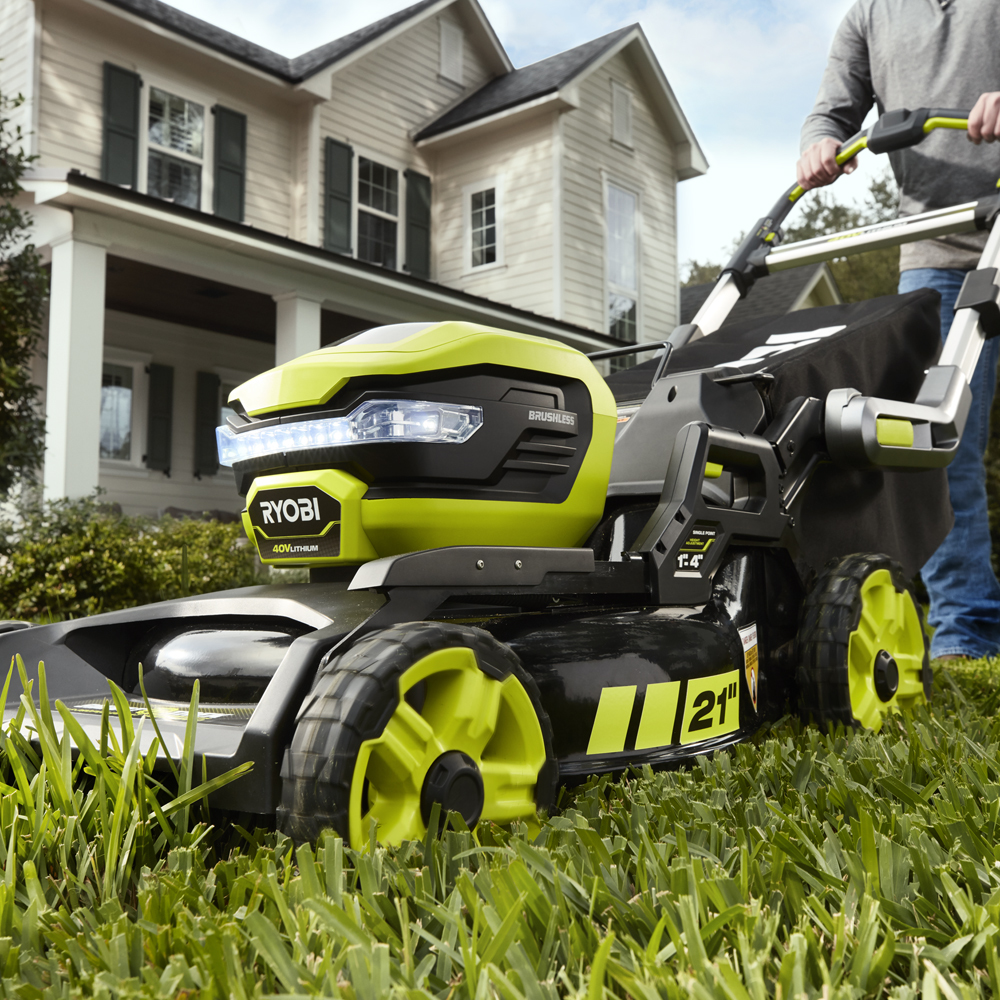 SMART-TREK™ Self-Propelled Technology
SMART-TREK™ Self-Propelled Technology intelligently and intuitively adjusts to your walking speed.
EASY LIFT SINGLE-MOTION RELEASE & LOCK BAGGER
With the EASY LIFT SINGLE-MOTION RELEASE & LOCK BAGGER, no complicated procedure or acrobatics required. Simply pull up to release and drop it in to lock.
HIGH-CAPACITY 40V 6 Ah LITHIUM- ION BATTERY
This super high-capacity 40V battery delivers incredible power and up to a half-acre run time.
SINGLE- POINT HEIGHT ADJUSTMENT
Effortlessly adjust the cutting height for all four wheels with a single adjustment of the knob.
21" STEEL DECK
The heavy duty 21" steel deck delivers maximum durability and a large cut swath help you get the job done quickly.
SERIES V BRUSHLESS MOTOR
The intelligent Series V brushless motor delivers the power of gas with all the benefits of cordless.
WARRANTY
Backed by a 5-Year Limited Tool Warranty and 3-Year Limited Battery Warranty
Specifications
Battery: 40V 6.0AH Lithium-ion
Self-Propelled Speed: Variable, Up to 4.1 MPH
Deck Size: 21"
Cutting Height: 1.5 - 4"
Deck height Adjustments: 7-Point
Mower Function: Mulching, Bagging & Side Discharge - (Accessory Sold Separately)
Recommend Yard Size: Up to 1/2 Acre
Warranty: 5 Year Tool 3 Year Battery
Weight: 79 lbs.
Includes
40V 21 IN. BRUSHLESS SMART-TREK™ Self-Propelled Mower
40V Lithium-ion 6.0Ah Battery
40V Battery Charger
Bagger
Start Key
Operator's Manual
5-Year Limited Warranty
Reviews
40V 21" BRUSHLESS SMART TREK™ Self-Propelled Mower WITH 6AH BATTERY & CHARGER
40V 21" BRUSHLESS SMART TREK™ Self-Propelled Mower WITH 6AH BATTERY & CHARGER
is rated out of
5
by
84
.
Rated

4

out of

5
by
jedimd
from
Easy to use. Battery has issues
I purchased this last week and was able to use it (finally) this weekend. Easy to use and start, but a fully extended handle wasn't as ergonomic as I expected it should be. The battery was fully charged prior to starting, but it only lasted 25 minutes, hardly enough to cut anywhere near 1/2 acre as advertised. I'm hoping the battery needs a break-in period. I've ordered a 2nd battery (due to the property size), but if more than that are needed, it's poor advertising on Ryobi's part.
Date published: 2019-05-11
Rated

4

out of

5
by
CReeves
from
Great Mower, Battery lacks the run time.
I have an old Craftsman gasser that has been struggling and when I saw this mower coming out, I was really excited to replace my old one with it. The new Ryobi cuts really well and is super easy to manuever around my yard.the handle is more comfortable and the ease of use is way above older mowers that I have owned. The only issue I have is the battery doesn't always make it through an entire cutting (0.20 acres) . I try to cut twice a week and if the grass isn't too long, I can usually get a complete cut off of one charge.
Date published: 2019-06-22
Rated

4

out of

5
by
Old old man
from
Just got it! 87 year old owner
This mower was very easy to prepare for mowing. Just read the instructions, charged the battery, 3 hours plus, inserted the battery and key and mowed my lawn. It did a good job of cutting the grass. The battery lasted for the entire job with one bar left, 35 minuets. I have one complaint so far. The handle used to control the mower is too wide. It is wider than the mower deck and therefore you can not mow close to the edge of a fence, house or whatever. In my mind it is a glaring design flaw that I don't believe is a problem with other Ryobi battery powered mowers. If Ryobi plans to continue selling this mower it need to redesign the handle to get it inside the mower deck.
Date published: 2020-07-16
Rated

3

out of

5
by
sebasvd
from
Self Propel Won't Disengage
Love everything about the mower except mine has an issue where the self propel will not disengage. As soon as I squeeze the handle it starts going and I can't get it to stop. Tried the button, moving the handles and everything. This runs the battery down quick too.
Date published: 2019-07-13
Rated

5

out of

5
by
QMoney
from
Easy Use For Small Yards, Great Power
I bought this a month ago and have used it every weekend on a 0.3ac lawn. I have St. Augustine grass in central FL, and it cuts great lines and powers through. If grass is very thick or wet, you have to take it slower, make slightly smaller cuts, or bag it so it does not slow the blade. Although, in general the torque is great with the 40V. The single 6Ah battery will last (barely) with the self propelled engaged. I have extra batteries, so never a problem. Thick or wet grass will greatly reduce battery life. I have a steeper backyard area and ditch in the front, and the self propelled rolls right though. No oil or gas which makes it easy. Just remember to charge the battery. Will be interested to see how everything holds up after a year or two, but seems like a quality product.
Date published: 2019-07-01
Rated

5

out of

5
by
Mkmontreal
from
Self propel feature is cool
Just got it today. Very powerful compared to my old gas mower. The self propel feature is unique. There is no lever to pull; it reacts to the pressure when handle bar is in unlocked position. This makes it easy to stop and change directions or to go backwards without having to stop self propel mode. I have 8500 sq ft yard, it went all the way with the 6.0 amp hour battery. Great job Ryobi, now Ego has a contender.
Date published: 2019-04-02
Rated

1

out of

5
by
BLURAYKING
from
Should have tested it before hitting the market.
It didn't take 10 minutes for they mower to start cutting off and Sell-Propelled portion of it just quit all together. I have many Ryobi tools and a riding mower BUT this is the worst mower I have ever bought. After registering it online at Ryobitools.com, I started to use it and it quit on me while cutting at least 20 times. I switched batteries 4 times and it keep cutting out. Then the mower would not move when you push the bar in, so it died as well. If I could give it a "0" rating, I would. This is a Brand New Mower. If I wanted a mower without these features, I could have bought one $$$ cheaper and go at it. Ryobi should have tested this better before they put it on the market.
Date published: 2020-05-16
Rated

5

out of

5
by
thedisbrowfamily
from
WOW!!!! JUST WOW!!!!
Bought this mower for my wife. We have had a gas mower for years and it is getting to where its too hard for her to start. I have several RYOBI 20v tools and love them so we decided to look into other RYOBI products. After reading hundreds of reviews and waiting (3 months for our local Home Depot to stock them) we finally got our hands on one. Mower came with 2- 6ah batteries and a charger. Very sleek design. Lights are bright. Light weight. Easy fold/unfold. And cuts AMAZING!!!! VERY SATISFIED WITH THIS MOWER!!!!
Date published: 2021-03-01