+6
40V 14" BRUSHLESS Chain Saw (Tool Only)
Model: #RY40503BTL
+6
The 40V 14" Brushless Chain Saw delivers GAS-LIKE POWER™ without intimidation. We've taken all the things people love about our top selling chain saw and made it better. This chain saw delivers more power, 2x more run time and is lighter than its predecessor. With a load sensing Brushless Motor at it's core, this high-tech chain saw automatically adjusts the power output for optimal performance. The variable speed throttle starts the chain saw up instantly - saving you the frustration of complicated starting procedures and gas/oil mixes. Features like the side access chain tensioning and automatic oiler make for quick adjustments and longer chain life. The 40V 14" Brushless Chain Saw surrenders nothing but gas.
Features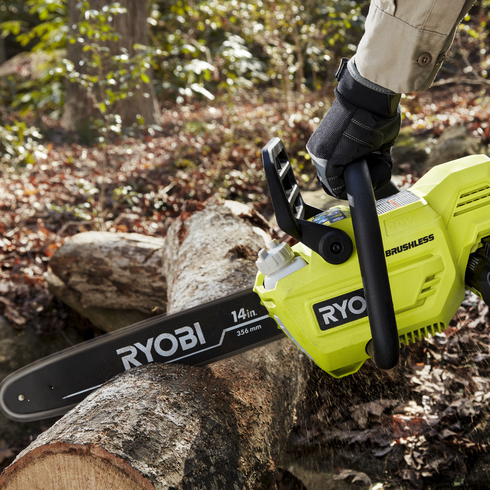 GAS-LIKE POWER™ with Cordless Convenience
More Power. More Run Time. Lighter Weight. Than Previous Model
Variable Speed Throttle for Ultimate Power Control
Side Access Chain Tensioning for Easy Adjustments
Soft Grip Handle for User Comfort
Automatic Oiler for Convenient Operation
Specifications
Motor: Brushless
Bar & Chain Size: 14"
Throttle: Variable Speed
Replacement Chain: Y52 .050
Weight: 8.4 lbs.
Warranty: 5-Year Limited
Includes
40V 14" Brushless Chain Saw
Scabbard
Combination Wrench
Operator's Manual
Reviews
40V 14" BRUSHLESS Chain Saw (Tool Only)
40V 14" BRUSHLESS Chain Saw (Tool Only)
is rated out of
5
by
623
.
Rated

5

out of

5
by
LTCGraham
from
Power Beyond Expectations!
I've used this brushless chain saw a half dozen times since purchasing it last month. It's power is beyond my expectations. This thing rocks! It's battery-powered which made me think I'd get a good powerful hour of work done with it. Not the case at all!! I had four strong hours of cutting. I cut four twelve inch diameter and twenty-feet tall trees into pieces that fit into my City and County-issued green waste bin. I'm not joking. This chain saw will do what you need it to do... and will for a long time. You'll tire out before it will. It's one of the best products I've purchased in a long time. Extremely satisfied!
Date published: 2019-12-14
Rated

5

out of

5
by
Cymbidium77
from
Oh my goodness we love Ryobi 40v tools
Our neighbors recommended these Ryobi combo 40V tools. I run around blowing out garage and back porch constantly. We have two year old twins and life is hectic. We live of huge treed property and now have exchangeable 40volt blower, saw, and edger. If ryobi would now make a 40volt power mop, I'd be the happiest woman on the planet. Bought a battery operated saw (Black and deckard) years ago that was junk. Ryobi has blown me away. These interchangeable battery operated power tools are over the top amazing. Thank you, Ryobi. Now I'll be patient, but can you please develope a power mop tile cleaning tool for Saltillo tile. We own blower, saw, and edger. My husband and I love them all.
Date published: 2020-05-12
Rated

5

out of

5
by
Edjunior
from
So far, so good.
I have only used this chainsaw once, but so far I am impressed. I had a gas and wired electric prior to this, and both did well. The gas is hard to beat for power and ability to use all day. But I had a hard time keeping it running. Anyway, this cordless electric is great. I does what I need it for (mild to moderate use, lots of branches and small to medium trees). I didn't get a chance to run the battery down, so I don't know how long it lasts, but on my blower, I got about 30 minutes out of it. So yeah...have a spare battery charged and ready if you plan on making a day of it with this chainsaw. Otherwise, nothing to complain about.
Date published: 2020-10-26
Rated

5

out of

5
by
Anonymous
from
Sharp tough dependable
When you have 2 giant trees in your backyard a cedar and a redwood you need a tough very sharp and always dependable saw. Being 71 my days of pulling a pull cord and hoping a heavy chain saw will start have passed! But thankfully I've lived long enough for lithium batteries and a company that only sells a product after a proven need and after it's a worthwhile tool! I just bought a second one for my brother for his special bday.! I had an 18 volt model that was stolen along with all of my Ryobis by a theif with great taste! While the 18volt was good the 40volt is light years improvement! Buy it and you can't be disappointed!
Date published: 2020-10-26
Rated

5

out of

5
by
Rkbutcher91
from
Handy and works great
Needed a chain saw to help clear some brush and small trees for a trail. Didnt want to deal with mixing gas. I have other ryobi 40v garden tools so decided to try this. It works great, has the power to cut through thick trees but is light and easy to handle for cutting off braches and get to awkward positions. Easy to start way better than pull starting a gas chainsaw. Plus the the chain slows down fast after you let off. This is a great festure for cutting down small trees then putting the saw down to drag them out of the way without having to leave a chainsaw running. Battery lasts about an hour depending on how much cutting you do, perfect for small jobs.
Date published: 2020-05-18
Rated

5

out of

5
by
Love my trees
from
The right tool for the job
I very hesitant to purchase a battery powered chainsaw thinking that would either not be powerful enough or have enough battery life for the job. I was wrong on both counts. This chainsaw has been amazing. I have 8 trees that surround my home all of which I am pruning this year. The first 2 medium sized trees were pruned without a chainsaw. It was miserable work. The next 3 very large trees were done using this chainsaw and it was an amazing difference. This chainsaw cut through the very thick branches like butter with plenty of power. It was definitely the right tool for the job and well worth the purchase.
Date published: 2021-02-02
Rated

5

out of

5
by
Rayobi
from
JUST LIKE GAS POWER BUT A LOT QUIETER
I purchase it because it was on sale and I already had other 40 volt tools. I have the original blue 18 volt that is in excellent condition. I am still using it for small trimming but the 40 volt for larger jobs. Really has the power. once trimming trees by road side, Sheriff was sitting on road side watching traffic and saw tree limbs fall but heard no noise, came over and saw me cutting , asked me and I told him the owner wanted trees trimmed and I was pulling them back to save them for later pick up. He was amazed how fast I cut tree limbs and very quiet. he went back to traffic watching and I continued to trim threes.
Date published: 2020-02-13
Rated

4

out of

5
by
DoIReallyNeedaNickname
from
Overall Good Saw
Good little Chainsaw for back yards and small estates (an acre or so). Simple, straight-forward, lightweight, low maintenance (no winterizing), quiet, inexpensive, and non-intimidating. The onboard Tool and Blade-Guard are nice inclusions, but like all Chainsaws, this one seeps a little oil, so a custom-molded Case would've been better -- and a Chain-Brake would've been nice as well. Steel Bumper Spikes would be another improvement, as those molded-in plastic 'toothpicks' are almost useless. Also, there's a small delay (a half-second or more) between the time that I pull the trigger (or release it), and when the Motor actually responds, and I've noticed this with all of the Ryobi 40v Tools that I've tried (Self-Propelled Mower, String Trimmer, Chainsaw, and Pole Saw). Not a huge deal but slightly annoying, and kind of a safety issue -- if you could tighten it up, that'd be great. The only other 2 suggestions I can think of would be 1), an onboard fuel gauge (without having to remember the Battery, stop sawing, maneuver around to the Battery, then push a button), and one that's more accurate (showing the actual percentage of remaining power); and 2), a higher torque Motor -- but then both can be said of all cordless Chainsaws -- and all the other Ryobi 40v Tools for that matter.
Date published: 2020-03-17