jaimecostiglio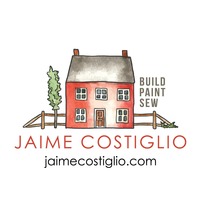 jaimecostiglio
Jaime is a DIY project enthusiast who focuses on all things building, painting and sewing.
She builds, paints and sews just about anything in true DIY fashion. Jaime's focus with each project is to work smart, efficient and economical by making the best use of space with a custom build or designing a craft using unconventional supplies. She loves making a great knock off or doing a simple makeover with paint. Jaime posts her projects in a tutorial format in order to share her experience with readers.
Jaime's home is also one big project – it is a 1740 saltbox farmhouse and is truly a treasure and a diyers dream! The great thing about such an old house is that the projects keep on coming, which means she will be building, painting, and sewing for a long time to come and sharing all of her work on That's My Letter.
Member Since: 02/2015
Follow jaimecostiglio
Jaime Costiglio