Homemade Modern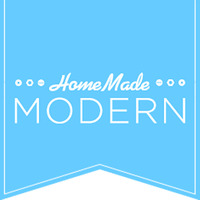 Homemade Modern
'Affordable' and 'modern' mean different things to different people, but most would agree that durable, modern furniture isn't within the financial reach of many. At HomeMade Modern we want to provide affordable, modern home furnishing options without sacrificing design and your wallet.
At HomeMade Modern our goal is to introduce ideas that aren't just about acquiring objects but about managing resources in a way that's useful and accommodates changing lifestyles. By providing easy-to-follow DIY recipes for creating modern home goods, we show that sturdy furnishings made from real materials like solid wood, concrete and steel can cost less than cheap, store-bought plastic and particle board furniture.
HomeMade Modern was launched with the intent of participating in the mass dissemination of good design ideas, not the mass production of value engineered objects. Every project that we publish is created with the belief that design is about communicating how and why something should be made. We want to inspire and encourage people to create heirloom quality goods with naturally durable materials.
Member Since: 06/2012
Follow Homemade Modern