18V ONE+™ 1 Gallon Chemical Sprayer Replacement Tank
Model: #AC1GAL
The RYOBI 1 Gallon Chemical Sprayer Tank is compatible with both the RYOBI 18V ONE+™ 1 Gallon and 2 Gallon Chemical Sprayers. Mix your fungicide, herbicides, or pesticides into their own designated tank so you can store your chemicals separately when not in use. Equipped with a cap that doubles as a mixing cup, this spare tank accessory is built for convenience from prep to clean up. Simply attach this tank to your existing RYOBI 18V ONE+™ 1 Gallon or 2 Gallon Chemical Sprayer, start and spray without manual pumping.
Features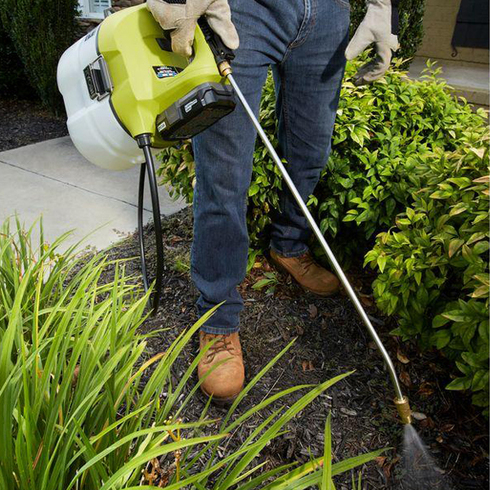 Compatible with both the RYOBI 18V ONE+™ 1 Gallon and 2 Gallon Chemical Sprayers
Translucent 1 Gallon detachable tank for east fluid reference
On-board Measuring Cap for convenience
High Density Polyethylene for durabiliyty
Specifications
Tank Size: 1 Gallon
Tank Material: High Density Polyethylene
Weight: 1.5 lbs.
Includes
18V ONE+™ 1 Gallon Chemical Sprayer Replacement Tank
Measuring Cap
Operator's Manual
Reviews
18V ONE+™ 1 Gallon Chemical Sprayer Replacement Tank
18V ONE+™ 1 Gallon Chemical Sprayer Replacement Tank
is rated out of
5
by
10
.
Rated

5

out of

5
by
PamJS
from
Works beautifully and lightweight!
I bought this for my property/small farm because I need to take care of fence lines, a well, a large custom pavers area and more. As a woman, constantly having to pump and carry a heavy tank sprayer was not working for me, so this was an ideal alternative - even though the tank is only one gallon. It operates and carries with ease and I was able to cover more weed spraying in less than an hour than I could have in two days by breaking the job up. Love it - easy to fill, assemble, operate and is made of quality materials. The metal wand with brass fittings is terrific - my old one was plastic and it didn't hold up in the long run. Well worth buying the kit with the charger and battery (which can be used with other great Ryobi tools I am looking into investing in).
Date published: 2020-06-04
Rated

5

out of

5
by
Hebrews12v2
from
Excellent battery powered sprayer!
I bought this in May/2019 when I was looking for an automated sprayer. I used it this week and I am EXTREMELY impressed! So much so, I just ordered a second sprayer for weed killer applications and a second tank for my garden insecticide applicator, which is the one I am reviewing here. I love that the sprayer has a Brass nozzle and is battery powered. It took about 45 minutes for the initial battery charge. After charging I filled it with water. The unit did not self-prime for some reason, but since I had water in it, I just supplied suction on the nozzle while opening/pressing the handle valve. (Recommend you use water first also). I am impressed how far this can spray. This makes for a fantastic squirt gun to fight with your grand-kids, if you are so inclined :) Also it goes to a very fine spray for an excellent fine mist broad area sprayer. As I stated above, I am so impressed, I am buying 1 more and an extra tank. I heartily recommend this sprayer. I don't know how long it will last, but I suspect I will get many seasons out of it.
Date published: 2019-06-07
Rated

1

out of

5
by
Exoudos
from
Engineers pov
Cap broken after 2 months of use. Plastic cup is defective. No metal alternatives exist sadly.
Date published: 2020-06-30
Rated

5

out of

5
by
BigBadWolfe
from
It's great to have a second tank
I can mix enough to do the whole job and just switch tanks when the first one is empty. No need to stop to mix more just swap the tank in seconds and continue spraying.
Date published: 2021-01-18
Rated

4

out of

5
by
Doc s
from
Very convenient
I purchased a 1 gallon sprayer because my son-in-law got one for my daughter. Just figured I would get an extra tank so I could switch them out quickly
Date published: 2020-09-01
Rated

5

out of

5
by
Chale87
from
Easy chemical tank trade out!
I bought the sprayer kit that came with a second tank so that I could easily trade out bug spray and weed spray, quick and easy!
Date published: 2020-06-08
Rated

5

out of

5
by
fahn
from
spare tank for sprayer
I bought this as an extra tank to hold round-up. Now I have several tanks for different chemicals for the yard and garden
Date published: 2020-06-01
Rated

5

out of

5
by
The Tinker
from
Great spare tank
I bought this one for a spare to put weed killer in because the one that came with it I uses for Roundup.
Date published: 2019-08-28