18V ONE+™ SCORE™ WIRELESS SECONDARY SPEAKER
Model: #P761 | Home Depot Sku #: 1002315420
Introducing the new RYOBI ONE+ Hybrid Score™ Wireless Secondary Speaker. By connecting your Bluetooth® device first to a Primary Speaker, you now have the ability to connect up to four additional Primary or Secondary Speakers instantly using SKAA® technology. Note that only 5 speakers can be connected together within the network, and that you must have a Primary Speaker in order to transmit audio through the Secondary Speaker. This speaker features a high-quality driver and passive radiator, so you will always receive clear, robust sound. With up to 150 ft. of SKAA range from a Primary Speaker, a Secondary Speaker can be placed virtually anywhere in the home or on the jobsite and stream through your walls and floors. Control volume levels easily with independent volume control on every speaker, or, control each volume level simultaneously right from your mobile device. Not only is this speaker compatible with any RYOBI ONE+ 18-Volt battery, it also includes an AC power adaptor that allow for endless runtime.
---
Product Videos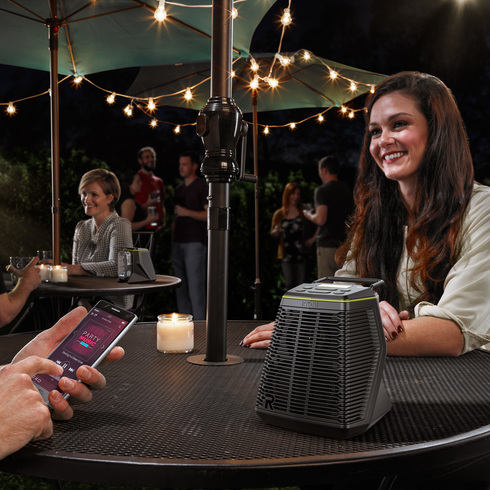 Features
Wireless speaker system that can connect up to 5 speakers instantly using SKAA technology
Hybrid power that works with any Ryobi ONE+ 18-Volt battery or the included AC power adaptor
Up to 150 ft. of SKAA range between each speaker
High quality driver and passive radiator for clear, robust sound
Independent volume control for each speaker
Includes: P761 secondary speaker, 1 AC power adaptor, and an operator's manual
Hybrid: 18V ONE+ battery or AC Power Adaptor
Tool Weight: 1.7 lbs.
Range: Up to 150 Ft. between each speaker
Click the link below to access power tool replacement parts schematics and order parts online.
For those customers that prefer ordering by phone, simply contact the Ryobi master parts distributor at toll free 1-877-545-4099, and place your order over the phone.
Visit Ryobi Power Tools Parts Store
---
---
Register an Account
---
Email Preferences
We may occasionally communicate with you:
* Fields are required
×