+4
HIGH POWER INFLATOR ACCESSORY
Model: #GDM800
+4
Get more out of your garage with the RYOBI Garage Door Opener System. Introducing the High Power Inflator Accessory. This unit is compatible with the RYOBI Ultra-Quiet Garage Door Openers. The inflator has up to 145 PSI and a 25 ft. hose so it is designed to quickly inflate car and bike tires of all sizes. The display gauge makes it easy to accurately measure how much air pressure is in your tire. Get more control by downloading the RYOBI Garage Door Opener App.
Features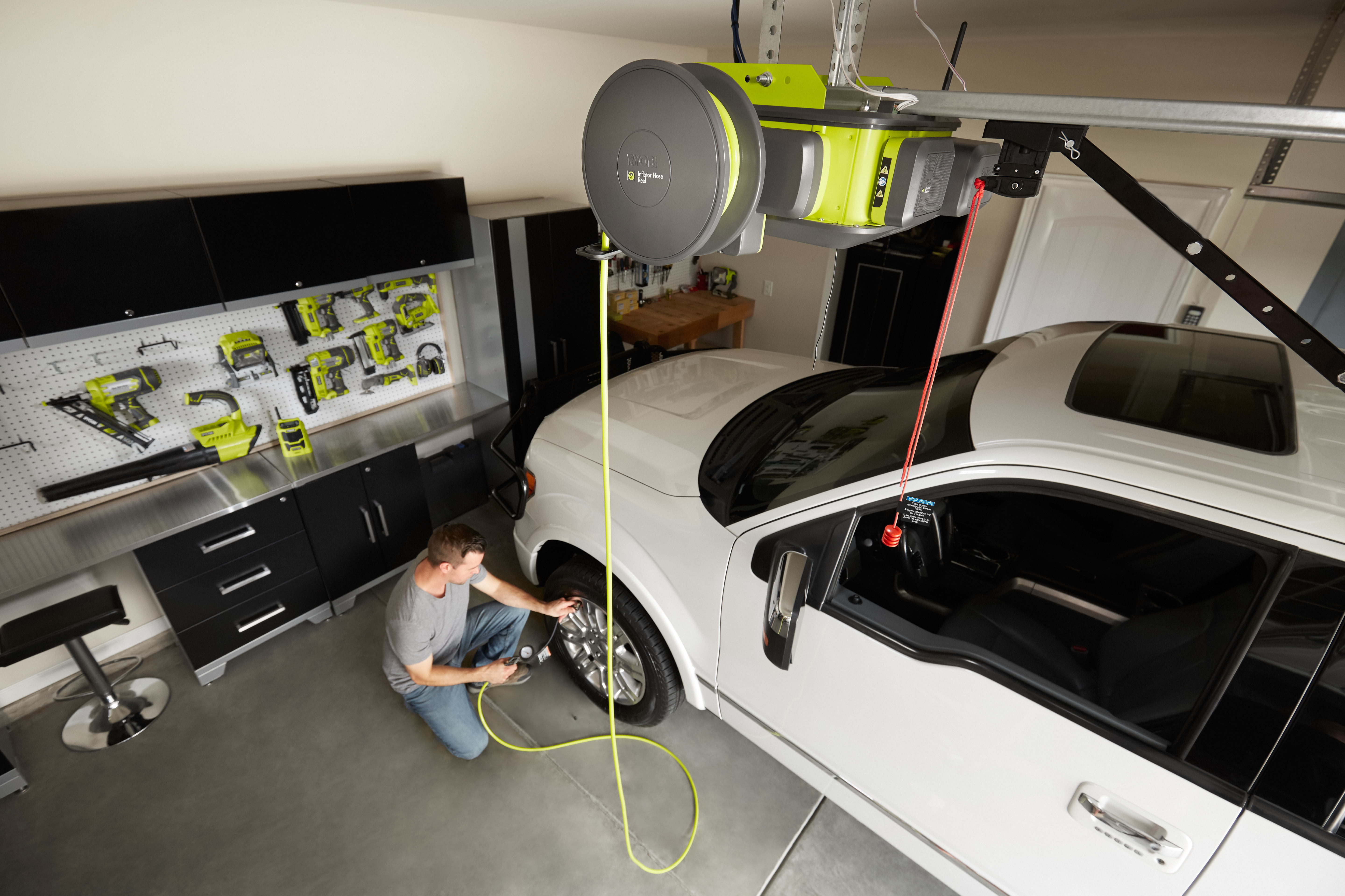 Features
High performing inflator with up to 145 psi
Display gauge for monitoring tire pressure in real time
Ergonomic handle for added comfort
Clip on nozzle for ease of use
25 ft. auto-retracting hose to reach any spot effortlessly
Easy installation, simply attach to your RYOBI garage door opener
Download the RYOBI garage door app for personalized settings
Specifications
145 PSI
Tool Weight: 7.5 lbs
Hose Length: 25 ft.
Reviews
HIGH POWER INFLATOR ACCESSORY
HIGH POWER INFLATOR ACCESSORY
is rated out of
5
by
12
.
Rated

1

out of

5
by
Texas
from
Slow slow slow
Tired to air my tires from 28 psi to 35 psi. Took over 10 mins per tire. Who has this kinda time?mike be ok for bike tiresor balls. Definitely wont run and air tools. Don't recommend If needed for more than a bike tire.
Date published: 2018-09-07
Rated

3

out of

5
by
Equallizer
from
Could be better
Picked this a couple years ago as the freebie with the purchase of the garage door. It works great for filling up sports balls, bike tires wheel barrel etc. Never tried to fill a car tire with it and never would, its no better than your little portable 12 volt car emergency ones. My only complaint is the braided nylon hose at the end cracked in half already. Came on here looking for parts but dont see that exact one. Guess im just gonna chop it off and hose clamp a regular air chuck or fitting on the end. I'd still recommend it you wanna fill small things without having to turn on the big compressor.
Date published: 2020-11-03
Rated

5

out of

5
by
Dang26071966
from
Great tools
I e used Ryobi tools since they first came out it was a risk not knowing anything about Ryobi but it payed off Iverson blower to drain machine ,drills,table saz,digital level, drill bits saw saw, the list goes on radio.sander some tools cordless some with power cord oh the led lights that run cord or batterie are the best they clamo on to 2in x4in stud and swivel perfect Ryobi is great tool can't wait to see what they come out with next count know about warranty becouse only thing I've gotten bad was 1 18volt batteries out of 30 plus batteries quick exchange no problems I've had milwaukie burn out on me dewalt,and makita dam Ryobi still kicking go figure
Date published: 2019-08-11
Rated

2

out of

5
by
Big A
from
Replacement parts not available
I would like to start by saying I have enjoyed the idea of this garage door opener and it's many accessories but... The inflator doesn't not live up to its name. The hose only lasted about a year until it developed a leak. Now it won't inflate anything because it is full of cracks and holes. I can't seem to find replacement parts and aftermarket does not fit rendering the entire feature useless.
Date published: 2020-06-30
Rated

1

out of

5
by
DD5000
from
Umm no
I'm not sure where the HIGH POWER in the name comes from but its not in this inflator, it takes like a minute per psi to fill up a car tire. Maybe if you want to fill up a soccerball or basketball then it works fine, but a car tire? Forget it, its too slow.
Date published: 2020-04-25
Rated

5

out of

5
by
SwampDonkey
from
Great Build Quality!
I have had the inflator for a short time and I really like it. Very convenient having the 25 foot cord which enables you to cover alot of area. I have already added air to all four tires on my wife's car and inflated some basketballs, etc... Very happy with the unit and it has a great build quality.
Date published: 2019-01-06
Rated

5

out of

5
by
Sheetmetalhero
from
It's more than a garage door opener
I received this as a gift got a few other accessories go with the garage door opener I have to be honest I have not used it yet but when I do I'll look forward to it in my neighborhood lot of people with bicycles and there's always a flat tire and nowadays none of the gas stations have inflators also to work once the garage is finished and it'll be good for dusting off and doing other items again I wish I could be more than honest about it because I have not tried it yet
Date published: 2019-06-19
Rated

5

out of

5
by
DYI Ed
from
I love the GDO, and I love the app.
I would like to have a space heater to attach to GDO.
Date published: 2020-02-08