4 IN. Drywall Repair Kit Replacement Plugs
Model: #A10DK42 | Home Depot Sku #: 1001660469
The RYOBI 4" Drywall Repair Kit Replacement Plugs use the Mandrel and Drive Plate from RYOBI 4" Drywall Repair Kit A10DK41 for drywall repair. The single-use hole saws stay in the wall and become the plugs in the drywall. This method is a new, innovative way to repair drywall easily without calling a professional or investing in an abundance of supplies. Get the job done fast with RYOBI's three-step process!
With the RYOBI replacement plugs and using the mandrel and drive plate from the A10DK41 Kit, drywall repair is completed in 3 Easy Steps: 1.) Cover the hole with the template, pressing adhesive firmly to the drywall. 2.) Using your drill, drill the hole saw into drywall, using the template as guide. Drill until the hole saw is flush to the wall. The hole saw will remain in drywall as the plug. 3.) Spackle over the hole saw, then sand and paint the area to complete the drywall repair.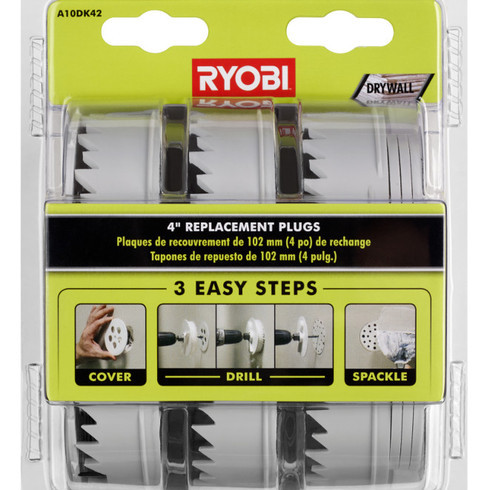 Features
For use with Mandrel and Drive Plate from RYOBI 4 in. Drywall Repair Kit A10DK41
3-Step Process is quick and easy to complete
Simply cover, drill, and spackle to repair drywall
Single-use hole saw is the drywall plug
Gets the job done much faster than a traditional repair
Single thread anchors hole saw into drywall for a secure repair
(3) Templates
(3) Hole Saws
(1) Cover Plate
Instruction Sheet
Click the link below to access power tool replacement parts schematics and order parts online.
For those customers that prefer ordering by phone, simply contact the Ryobi master parts distributor at toll free 1-877-545-4099, and place your order over the phone.
Visit Ryobi Power Tools Parts Store
Register an Account
---
Email Preferences
We may occasionally communicate with you:
* Fields are required
×