38" Electric Riding Mower 75 AH
Model: #RY48110 | Home Depot Sku #: 1002145407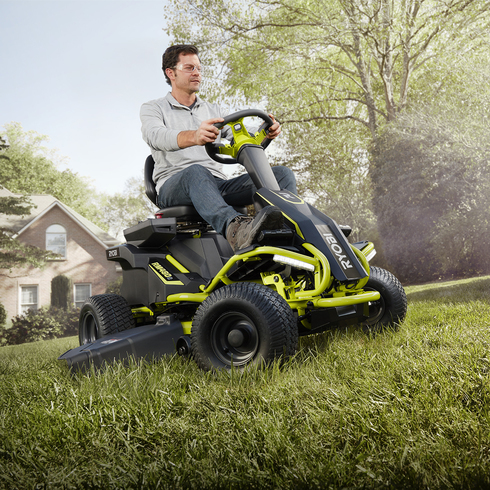 38" Electric Riding Mower 75 AH
Low maintenance: no belts, spark plugs, or filters
Battery operated: no gas or fumes, charge and go
Up to 2 hours of runtime: up to 2 acres per charge
Dual high powered brushless motors
Quiet cutting
Cruise control, USB charging
LED headlights12 position manual deck adjustment
38 in. 2-blade deck
Drive Type: Rear-wheel
Power Type: Cordless Electric
Cutting Height: 1.5 - 4.5"
Acres: 2+
Weight: 595 lbs.
Deck Size: 38"
48V Riding Mower - Model ry48110, ry48111, ry48112, ry48113
Click the link below to access outdoor products replacement parts schematics and order parts online.
For those customers that prefer ordering by phone, simply contact the RYOBI master parts distributor at toll free 1-877-634-5704, and place your order over the phone.
Visit Ryobi Lawn & Garden Parts Store
---
---