Power Tracer
Model: #ESV1000 | Home Depot Sku #: 1002699286
RYOBI Power Tracer is the industry's first all-in-one residential circuit tester and tracer. It allows you to instantly diagnose an outlet's wiring, as well as trace a circuit breaker with the push of a button. It fits into standard 3-prong, GCFI, and AFCI outlets. Power Tracer has an onboard diagnostics chart and neon indicators that tell you if an outlet is wired correctly or not. But it doesn't stop there, it can also easily identify unlabeled or mislabeled breakers and trace outlets up to 100 ft. from the breaker box.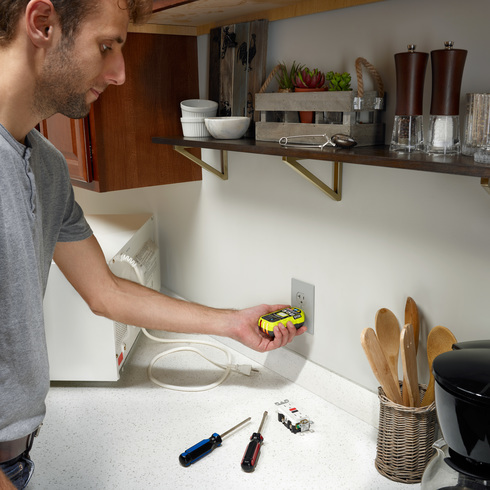 Features
Power tracer is equipped to operate in most commonly sized single-family homes
Safe and easy solution to begin electrical work
2-tools-in-1: circuit tester and power tracer
Can be used on standard 3-prong, GFCI or AFCI outlets
Takes the guess work out of finding the corresponding breaker when plugging into an outlet
Depth: 1.34 in.
Height: 5.12 in.
Width: 2.56 in.
Weight: 0.5 lb.
Control Type: Manual/Analog
Click the link below to access power tool replacement parts schematics and order parts online.
For those customers that prefer ordering by phone, simply contact the Ryobi master parts distributor at toll free 1-877-545-4099, and place your order over the phone.
Visit Ryobi Power Tools Parts Store
---
---
Register an Account
---
Email Preferences
We may occasionally communicate with you:
* Fields are required
×