Phone Works™ Noise Suppressing Earphones with Microphone
Model: #ES8000 | Home Depot Sku #: 1000-938-459
Eliminate noise and protect your hearing with more functionality than ever before. With RYOBI Phone Works mobile app and Noise Suppression Earphones, you get the protection of jobsite earplugs plus the convenience and functionality of noise cancelling headphones. Using the free mobile app, the OSHA- compliant earphones connect to your smartphone, where sounds are measured and can be recorded. The innovative app allows you to selectively block noises up to 82 decibels and amplify sounds you need to hear- such as conversations and alerts. The set includes a microphone, so you can make phone calls and record sound even in noisy environments. All of these functions are controlled from your smartphone screen for easy, adjustable control over noise. Take care of your ears the smart way with RYOBI Phone Works Noise Suppression Earphones and mobile app. RYOBI Phone Works – Transform your phone into your smartest tool.
Apple is not endorsing or sponsoring this product. Apple, the Apple logo, iPhone are trademarks of Apple, Inc., registered in the U.S. and other countries. App Store is a service mark of Apple Inc. The Android App on Google Play logo and Google Play are trademarks of Google, Inc.
---
Product Videos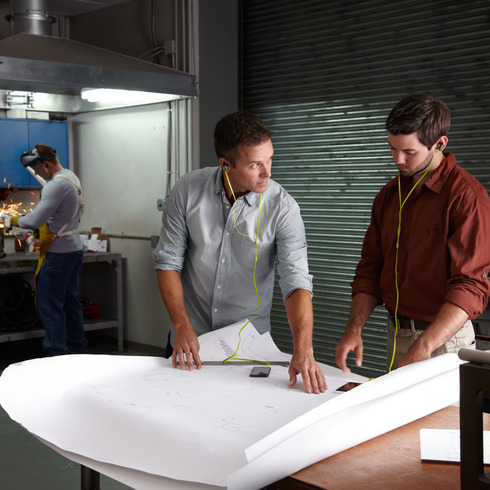 Noise suppression and customized reduction of nuisance noises
Free App with customizable noise protection suppresses noise over 82 Db
Turns your smartphone into an easy noise management system allowing you to customize what you hear based on noise frequency
Safety certified Noise Reduction Rating (NRR) of 30 Db
Meets Applicable OSHA safety standards
Features a noise meter and noise recorder
Displays measured ambient noise and customized auto feed
App available on the App Store and Google play
Optimized for iPhone (OS 6.0 or later) and most Android phones (version 4.0 or later)
Suppression Range – Reduces nuisance noise over 82dB
NRR Rating – 30
Adjustable Suppression
Audio Amplification
Microphone
MP3 Compatible
(1) ES8000 Noise Suppressing Earphones w/ Microphone
Click the link below to access power tool replacement parts schematics and order parts online.
For those customers that prefer ordering by phone, simply contact the Ryobi master parts distributor at toll free 1-877-545-4099, and place your order over the phone.
Visit Ryobi Power Tools Parts Store
---
Register an Account
---
Email Preferences
We may occasionally communicate with you:
* Fields are required
×