Phone Works™ Laser Level
Model: #ES1600 | Home Depot Sku #: 1000-938-424
Find level and customize angles with more confidence and functionality than ever before. The cutting-edge RYOBI Phone Works mobile app and Laser Level device harness the power of your smartphone to produce level lines and much more. The device uses your headphone jack to project a crosshair laser line, and the free app transforms your phone's screen into a digital display of your project. The high-definition display shows measurement data and allows you to match and customize angles. When you have the data you need, the app lets you capture, store and send data/images for an easier way to manage your projects. Now's the time to upgrade from laser levels that only project lines. Get more functions, get more confidence with the RYOBI Phone Works Laser Level and mobile app. RYOBI Phone Works – Transform your phone into your smartest tool.
--
Apple is not endorsing or sponsoring this product. Apple, the Apple logo, iPhone are trademarks of Apple, Inc., registered in the U.S. and other countries. App Store is a service mark of Apple Inc. The Android App on Google Play logo and Google Play are trademarks of Google, Inc.
---
Product Videos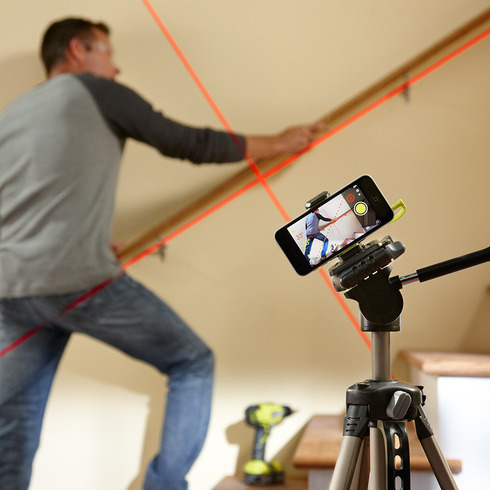 Turns your smartphone into a crosshair laser level
Uses your smartphone's sensors for level detection
Displays images and measurements on your smartphone screen
Match angles and create custom angle settings
App available on the App Store and Google play
Optimized for iPhone (OS 6.0 or later) and most Android phones (version 4.0 or later)
(1) ES1600 Laser Level
(1) Phone Mount Clip
(1) AAA Battery
Click the link below to access power tool replacement parts schematics and order parts online.
For those customers that prefer ordering by phone, simply contact the Ryobi master parts distributor at toll free 1-877-545-4099, and place your order over the phone.
Visit Ryobi Power Tools Parts Store
---
Register an Account
---
Email Preferences
We may occasionally communicate with you:
* Fields are required
×