18V ONE+™ High Volume Power Inflator
Model: #P738 | Home Depot Sku #: 1002309571
Introducing the RYOBI ONE+ 18V High Volume Power Inflator. This tool is great for high volume inflating and deflating of large inflatables such as air mattresses and pool toys. This tool is not just limited to inflation and deflation, it can also be used as a portable benchtop blower to keep your work surfaces clean. The pistol grip handle with GRIPZONE™ overmold provides user comfort as well as a locking trigger feature that prevents user fatigue. These features will help you power through any job effortlessly. The RYOBI ONE+ 18V High Volume Inflator is a great addition to your ONE+ collection.
---
Product Videos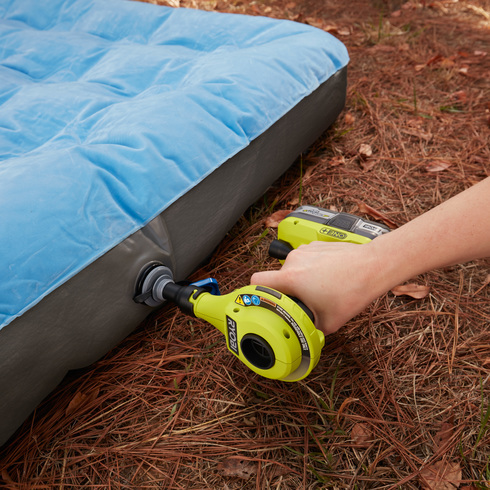 Features
Features high volume inflation and deflation for air mattresses, pool toys, and other large
Convenient on-board accessory compartment for pinch valve adaptor storage
Use as a portable sweeper for work surface clean up
Locking trigger feature to prevent user fatigue
Pistol grip handle with GRIPZONE™ overmold
Powered by any RYOBI 18V ONE+ battery
Battery: 18V
Flow Rate: 7.1
Tool Weight: 0.7 Ibs
Click the link below to access power tool replacement parts schematics and order parts online.
For those customers that prefer ordering by phone, simply contact the RYOBI master parts distributor at toll free 1-877-634-5704, and place your order over the phone.
Visit Ryobi Power Tools Parts Store
---
---