+4
Garage Security Camera
Model: #GDM610
+4
Get more out of your garage with the RYOBI Garage Door Opener System. Introducing the Garage Security Camera Accessory. This unit is compatible with RYOBI Ultra-Quiet Garage Door Openers. Use the RYOBI Garage Door Opener App to monitor your garage 24/7. With 720p imaging you will receive clear, quality video and night vision, giving you the ability to monitor your garage at any time of day. You can also save any video on the included memory card or purchase additional available cloud storage you can always go back and reference it when needed. This security camera can detect movement and will alert you via the smartphone app when there is movement in your garage. Visit RYOBITools.com/GDO
Features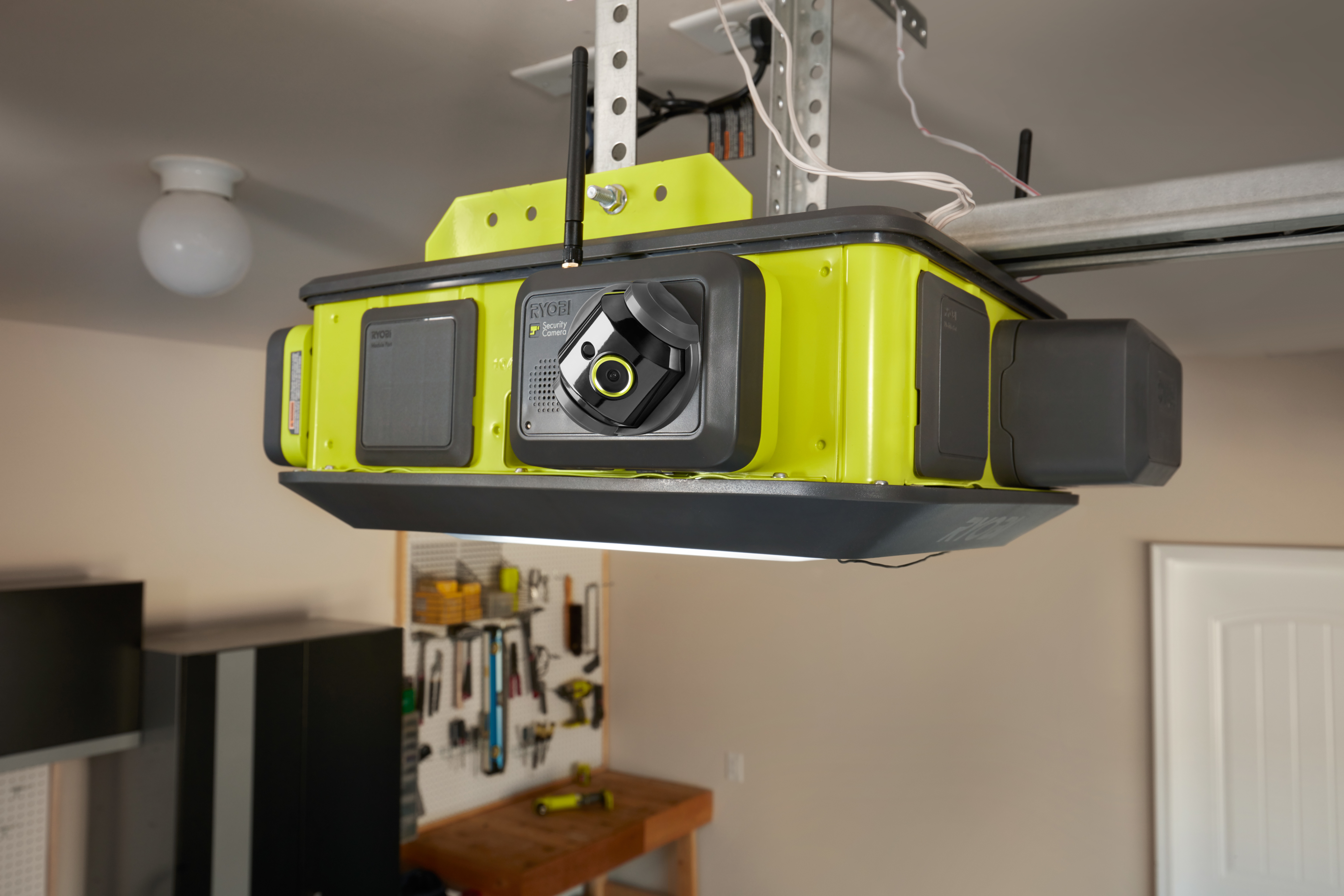 Features
Record video directly to cloud storage for yearly fee of $50 or included memory card
Up to 720p imaging
Features 2-Way communication from your phone to the security camera accessory
Can automatically turn on when motion is detected
Easy installation, simply attach to RYOBI Garage Door Opener
Compatible with RYOBI Garage Door Openers
RYOBI Garage Door app connectivity for personalized settings
Specifications
Tool Weight: 1.0 Lbs
Resolution: 720p
Reviews
Garage Security Camera
Garage Security Camera
is rated out of
5
by
46
.
Rated

2

out of

5
by
Lanester
from
Just stop working
The camera installed fine originally about 6 months ago. No big issues and the install video was very helpful. I checked it using the AP and it worked as advertised. However, the camera icon portion recently disappeared from the AP eliminating the only way to access it. If it went offline I would at least expect it to still be shown on my phone with some sort of error message. Having it just disappear like it never existed is not a good design. It's being used in a second home so no way to diagnose it from here. After reading the other reviews I'm starting to get a bad feeling about this product. Can't find any trouble shooting info yet. I'll continue to look......
Date published: 2018-06-19
Rated

1

out of

5
by
Jstubbs104
from
Doesn't live up to advertised features.
Bought this camera a few weeks ago after my dad got one and so far all it does is record. I am unable to view to live feed. And when I say that I mean that I get 1 frame of video every 10 seconds. Playback of the video works fine though. Also the 2 way audio does not work.(not that it would do any good not being able to view live) These are key features that the camera doesn't deliver on. I asked my dad about my problems and he is having the exact same trouble. I also cant change the time stamp. It just defaults to central time. I dont recommend at all. This could of been great just a massive let down.
Date published: 2019-02-08
Rated

1

out of

5
by
Hondadoc
from
Garbage not garage
This camera is the worst thing Ryobi has ever manufactured. As a long term Ryobi owner it is sad that they would even market such a low quality product. Ryobi doesn't stand behind this product and tech support is non existent. Unless you want someone telling you it will work next week for 6 weeks straight and it still not work. Then if you would like your money back for this junk; they say talk to Home Depot they are the only supplier. But I bet Ryobi hasn't informed Home Depot that this product is flawed and should be removed from the shelves. Please don't waste your money or time on this cheap camera want to be.
Date published: 2020-02-15
Rated

2

out of

5
by
Jimmy613
from
Started off Great
When I first received the camera (a gift from my wife) I thought it was pretty cool.It comes with an SD card that you are supposed to be able to record on. That worked for about 3-6 month not exactly sure when it stopped recording. I have camera from Ring and Wemo. This Ryobi camera does not come close to either brand. It lags on connection and there is no message that tell me about movement. I love the garage door opener and all of the other attachments but you should pass on the camera.
Date published: 2018-05-31
Rated

1

out of

5
by
Johnt
from
Can't even connect to wifi
Got the camera with the garage door opener for Christmas. 3 months later and still cannot get it to connect to the WiFi. Worthless.
Date published: 2019-03-15
Rated

1

out of

5
by
AtlTonycurtis
from
Camera doesn't work.
Camera worked for 2 months. I called customer no service. They didn't know anymore about the camera than I did. Camera is absolutely worthless. I suggest you don't waste your time or money on this camera.
Date published: 2018-12-09
Rated

3

out of

5
by
Hitman11
from
Great tool need work
I really love this new fresh idea I love my garage opener and the camera is just the cherry on top! When it connects I have 0 problems with any of the attachments or the garage opener from the installation it's so easy, the camera you click it and add it to the app which is a 5 min process if your app is working right I love this camera is clear you can see what is going on, night vision is good, it looks great every body who comes to my garage loves it my BIG problems is with the app errors all the time slow connection I have about 300mbps in my garage with an internet extender right next to it and Still takes a long time to connect once again not the tool issue when it connects its great but I can list a long list on the app issues but that's a review for an other time.
Date published: 2019-05-07
Rated

3

out of

5
by
Andy
from
keeps getting disconnected from my wi-fi
My security camera keeps getting disconnected from my wi-fi.... also it seems like my camera keeps restating by it-self.
Date published: 2018-04-11