EXPAND-IT™ Sweeper Attachment
Model: #RYSWP25
The RYOBI Expand-It Sweeper Attachment tackles tough dirt and debris from a variety of surfaces. The 9 in. nylon bristles dislodge heavy dirt from hard to reach places that can be difficult to remove with a standard broom or blower. Equipped with adjustable and removable wheels, this sweeper is easy to transport, easy to use, and easy to store. Backed by a 3-Year Limited Warranty, the RYOBI Expand-It Sweeper is designed to deliver results for years to come.
---
Product Videos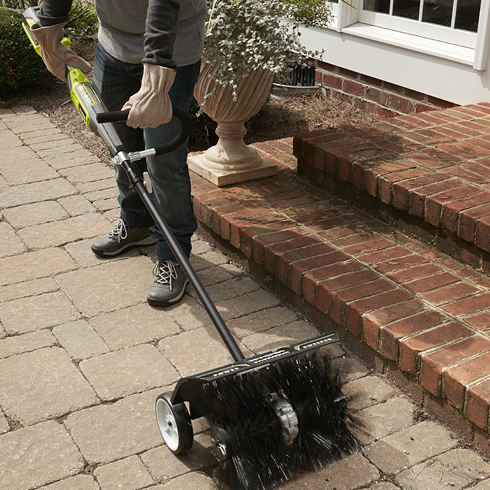 Compatible with RYOBI Gas 2 Cycle, 4 Cycle, 40V-X and 10 Amp Power Heads
Compatible with Most Brands
Durable 9 In. Nylon Bristles
Cleans Heavy Debris and Dirt From All Types of Surfaces
EXPAND-IT™ Sweeper Attachment
Attachment Hanging Cap
Operator's Manual
Click the link below to access outdoor products replacement parts schematics and order parts online.
For those customers that prefer ordering by phone, simply contact the RYOBI master parts distributor at toll free 1-877-634-5704, and place your order over the phone.
Visit Ryobi Lawn & Garden Parts Store
---