+1
Air Grip Compact Laser Level
Model: #ELL1002
+1
The AirGrip™ Compact Laser Level features a non-marring vacuum base that adheres to most surfaces using AirGrip™ technology and does not require the use of pins, tacks or tape to mount.
Features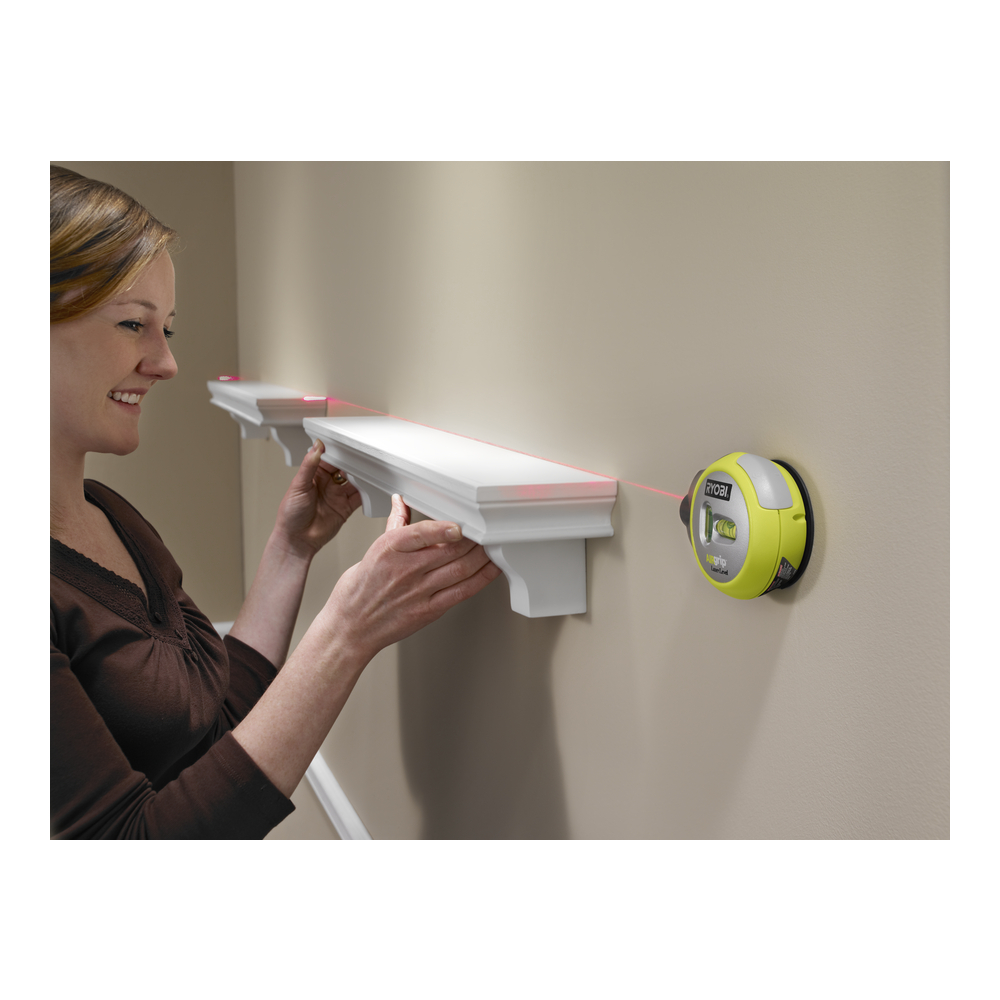 Horizontal and vertical vials for easy leveling
Measures distances up to 30 ft.
Accurate within 1/8 in.
Sticks to virtually any flat, smooth surface using AIR Grip technology
Non-marring vacuum base
Does not require pins, tacks or tape to mount
Great solution for laser tools needs
Specifications
* This product is a consumable item. Therefore it is warranted against defective parts and labor only and not from misuse or deterioration of the product through normal wear and tear.
Includes
Laser Level
Rough Surface Adapter
(2) AAA Batteries
Operator's Manual
Reviews
Air Grip Compact Laser Level
Air Grip Compact Laser Level
is rated out of
5
by
50
.
Rated

4

out of

5
by
Gamma
from
My project would be harder without this -
I bought this gadget for my husband for his birthday, and he doesn't use it often - but when we need it, it is nice to have it! I am decorating a very large room, and it will include a horizontal molding. I don't think I could have gotten the line straight and level across the full length of a 20+ ft wall nearly so easily trying to do it with a regular spirit level. This tool made the marking process so easy! It did leave a mark on the primered wall everywhere that it suctioned on, but it was not damage and was easily painted over.
Date published: 2018-05-05
Rated

4

out of

5
by
ASmith7
from
One of the best levels
This is one of the best tools and must haves for anyone hanging pictures, shelving, etc. The one problem with this is that I can't find a replacement for my non marring suctioned pad. I lost mine, and haven't been able to use this tool since, as my textured walls do not allow the level to suction properly.
Date published: 2018-04-19
Rated

5

out of

5
by
Jab2020
from
My way loves my straight hung pictures !
I bought this to hang our pictures straight in a line. And it's perfect !
Date published: 2021-05-10
Rated

5

out of

5
by
Akerleyc
from
The Results were more than I Expected!!!!!
I really was doubtful when my wife brought this product home, but from the moment I opened and felt the quality, my mind slowly started to change!!!! This product is super amazing and is top notch and top Quality, it is very accurate and the laser is vibrant and easy to see even in light areas!!!! I would recommend this product to professionals or anyone in need of a great self level/laser system. Ryobi very great Product
Date published: 2019-12-27
Rated

1

out of

5
by
Lynnie11
from
Worked Once then failed to work again
This was a great tool the first time we used it. When we brought it out several months later, it wouldn't suction to the wall. We changed the batteries, still no suction.
Date published: 2019-01-04
Rated

5

out of

5
by
RuSLMaN
from
Ryobi Air Grip Laser, Levels the Competition!
I bought this device to replace on older version of this level that finally quit after ten years. This level works even better than its predecessor did! It is hard to improve on a good tool, but Ryobi did. This version has a stronger vacuum and holds to most any wall tenaciously. I like the Ryobi Air Grip Laser Level because it is easy to use and leaves no marks on the walls. It is the only level of its kind to my knowledge that does not use pins or adhesivies, and it works great. Kudos to Ryobi for building a great product.
Date published: 2019-09-05
Rated

5

out of

5
by
Madjewel
from
Great for any surfaces, even upside down!
Bought it a few months ago, to help me with by basement reno and it's been such a great help! I was able to stick it to any surface, and when the suction cup gets dusty, wipe it off with a wet rag and it's brand new again. It wasn't complicated to set up or cumbersome like some other brands. It was also very accurate! Love it! <3
Date published: 2019-04-26
Rated

5

out of

5
by
Flip3dout
from
Huge help!
Bought this for the sole purpose of using it when hanging picture frames. Put up a collage of picture frames on the family room wall! Helped keep everything level and lined up! The fact the it grips to the wall, freed up both my hands to do other things. If y'all need to hang up tons of pictures, then this will definitely help!
Date published: 2019-04-14