+13
75 AH 42" Zero Turn Electric Riding Mower
Model: #RY48ZTR75
Fully Electric: Requires no spark plugs, belts, filters, oil, or gas
A single battery charge delivers up to 2.25 acres of continuous mowing
4 brushless motors produce unrelenting torque for blade cutting and drivetrain systems
+13
Fully Electric. Fully Capable.
Features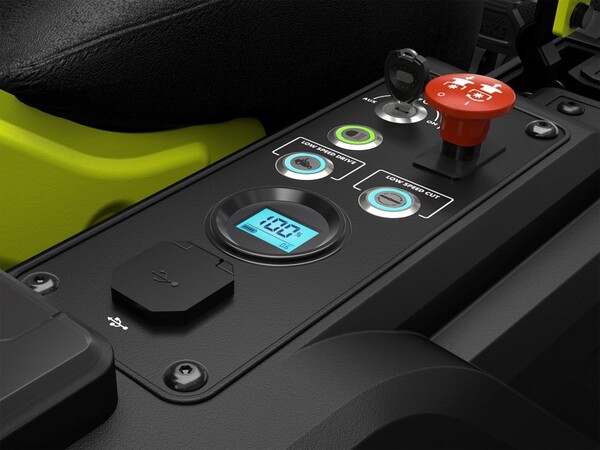 Fully Electric
Requires no spark plugs, belts, filters, oil, or gas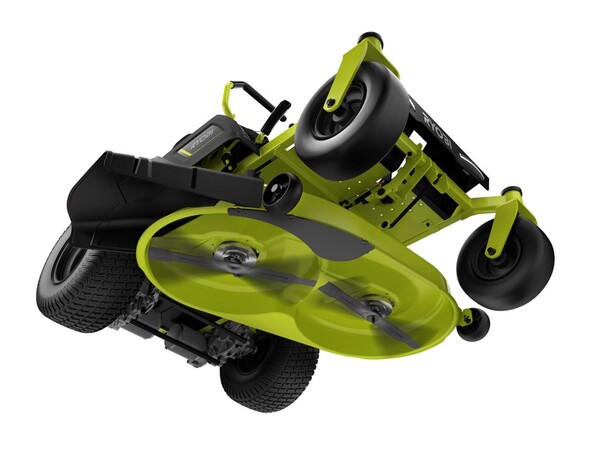 4 Brushless Motors
Produce unrelenting torque for blade cutting and drivetrain systems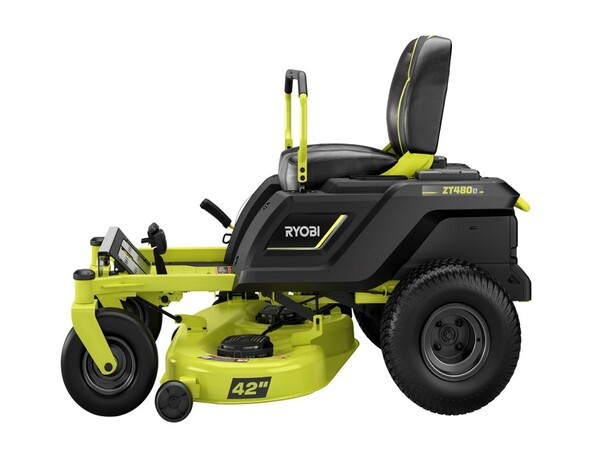 Rugged Steel Frame Design and Heavy Duty 42" Steel Deck
For superior durability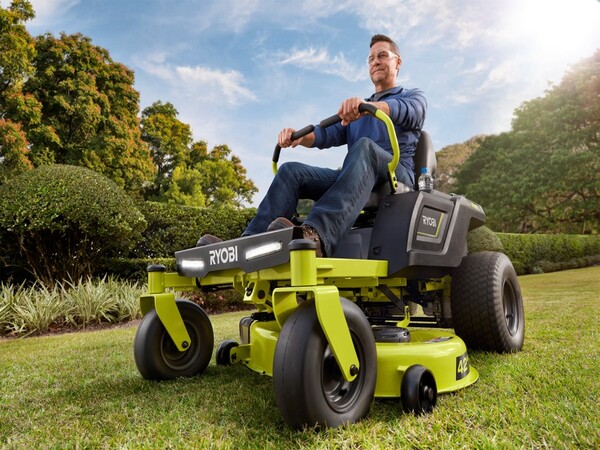 User Comfort
Quiet operation, 4-position seat adjustment, overmold dual-drive levers, and spacious foot resting area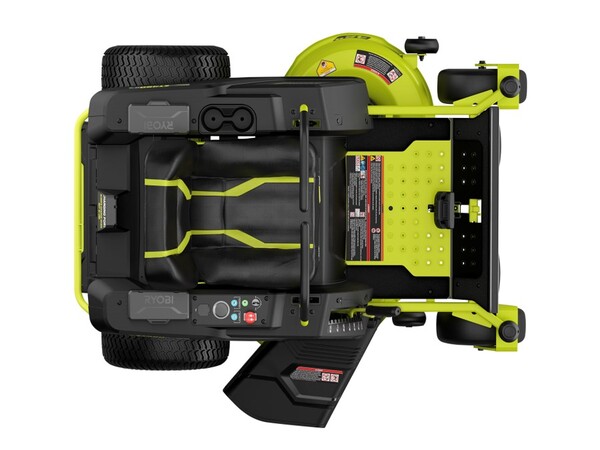 User Convenience
Enclosed storage compartments, cup holders, USB charger, and LED lights
Specifications
Dimensions
Battery

48V 75Ah

Charging

Standard 120V Outlet

Cutting Area per Charge

Up to 2.5 Acres

Deck Size

42"

Cutting Height

1.5" - 4.5"

Deck Height Adjustments

12

Max Speed

7 MPH

Replacement Battery

Leoch model LPC12-75

Warranty

3 year tool and 1 year battery

Weight

617 lbs.
Includes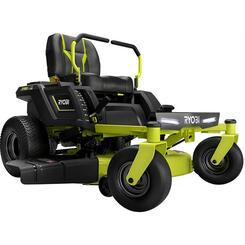 75 AH 42" ZERO TURN ELECTRIC RIDING MOWER
[#<ProductFeature id: 3029, title: nil, content: "75 AH 42\" ZERO TURN ELECTRIC RIDING MOWER", photo: "bae8e87b-bd6d-4fc5-b2a6-c3098a6ecbd8.jpg", created_at: "2020-09-10 02:50:58", updated_at: "2020-09-10 02:50:58", product_id: 1084, sort: 0, enhanced_type: "included_item", enhanced_group: nil, enhanced_icon: nil>]
Reviews
75 AH 42" Zero Turn Electric Riding Mower
75 AH 42" Zero Turn Electric Riding Mower
is rated out of
5
by
108
.
Rated

5

out of

5
by
mdmorris52
from
Totally Impressed
I have had this mower for about 3 months now and am totally impressed with it. I have 21/2 acres to cut and have not seen the battery gauge down below 40%. My mowing time has been cut in half because of the speed that I can mow. The build quality is solid as a rock, the comfort of the seat in relation to the control arms is very comfortable. So far, I have found nothing that I would complain about. The only sound that you hear as you are mowing is the whirring of the blades, no loud engine noise, no gas fumes, no oil, no belts to change. I cannot see myself ever going back to a gasoline powered mower. Thanks Ryobi for a quality product.
Date published: 2019-07-25
Rated

4

out of

5
by
Airriedel
from
Great Mower, Mediocre Manual
I purchased the 100ah mower a few weeks ago. It took a few uses to get used to driving a zero turn. The mower cuts beautifully, much better than my old lawn tractor. I am also finding that the batteries last long enough to mow for about 1-1/2 hours. That is not quite what was claimed if you consider proper battery care. I would have given it 5 stars but I found the manual to be a disappointment. It has almost nothing on breaking in or caring for the batteries. It also lacks a parts diagram with all parts numbers listed. These things and the current lack of spare parts and especially replacement blades does not bode well for Ryobi's commitment to this product and their customers. I hope I am proved wrong.
Date published: 2019-06-15
Rated

5

out of

5
by
amiles
from
So easy to use. AND QUIET!!!!
Bought my 75AH as soon as it came out. LOVE IT! Easy to operate and use, the low speed drive is a must for beginners to zero turn mowers. In high speed, this baby almost near flies! I went through some 6 inch grass in my back property that usually gives most mowers an issue, went through it like a hot knife through butter. I mow a little over an acre and it shows 60-65% left of battery, definitely believe it will do the rated 2.25 acres on a charge. Maintenance is non existent. Check the blades, tires, that's about it. No oil, gas, or belts to look at. No engine maintenance or tear down. Definitely recommend it if you are looking for a new mower for a first time owner or as a replacement for your old gas one. Now we wait and see how the durability holds up.
Date published: 2019-04-11
Rated

5

out of

5
by
owej
from
My opinion: Very best 42in mower in the world.
This mower is tops on quality. From the start I was impressed by the package it was shipped in. First cut was about an acre with battery level dropping to 65% and back to fully charged in less than 5 hrs. The lawn looks smoother and more evenly mowed than I have ever seen it before. The ride is very comfortable and non-tiring. Cutting height is straight forward and easily adjustable. Removing the mowing deck was a pleasant surprise as only 3 pins had to be pulled and 2 electrical cables disconnected. I easily slid the deck out and turned it over to clean the grass buildup. Putting it back seemed even easier. It is expensive but for the years of service I am expecting and the convenience of always being ready to go with so little maintenance, it is economical. The biggest surprise of all: It is actually fun to mow grass.
Date published: 2019-05-14
Rated

5

out of

5
by
GKatulka
from
WOW!
This is my 2nd zero turn mower. My 1st is a gas-powered mower from a reliable, popular manufacturer. This electric Ryobi provides a much different experience from the other mower. The Ryobi has very good power and speed. The power is surprising. The Ryobi is very maneuverable and turns tighter than my other mower. The Ryobi drives better than my other mower - whether the mowing deck is engaged or not. The mower deck height is incredibly easy to adjust. The seat position also adjusts easily. The seat is comfortable and well-supported for bumpy terrain. This mower also has several features which stand out - namely the LED headlamps, USB port, 2 compartments for storage (with snap-back tops) and both low-speed drive and low-speed mow features for greater control in tight or challenging spots. This mower also features a rear-towing attachment. The battery life seems good as after 1 hour of operation, the remaining power was just above 50%. Most importantly, this mower cuts grass very well. The only features I would suggest for the Ryobi zero turn mower would be a roll bar and arm rests. When driving on uneven terrain, I tended to slide in the seat a bit to the left or right. Arm rests would probably add some stability for mowing on uneven yards. Overall, this has been an excellent experience. My other mower will be up for sale by end of this week.
Date published: 2019-03-19
Rated

5

out of

5
by
Joey31
from
Great product!
I purchased this zero turn just about a month ago and I absolutely love it. The ease of use is phenomenal, the fact that I don't need gas or oil anymore is a beautiful thing. My old John Deer ride on used to take me 3 hours to mow my 1 acre all grass lot now takes me half the time. Battery life is more then plentiful I can do the entire lawn start to finish and still have 50% battery left over. If I had to give one minor complaint about this mower it would be that it is a little bumpy, my lawn isn't the most smoothest lawns ever but none the less it does bounce you around pretty good especially when you're going max speed. However I might try to fit this thing with a universal suspension seat to try and take out some of the bounce. Price point I'd say it's pretty reasonable, I did catch it on a sale though. All in all like I said this machine is awesome and I would recommend it to anyone looking to make the switch from gas to electric.
Date published: 2019-06-22
Rated

1

out of

5
by
barry70592
from
Poor design
1. Why would u use lead acid battery? Lithium can cycle 3000 times vs 300. Lithium has steady power supply unlike lead acid that reduces as battery depletes. 2. Motors need either more torque or need to be programmed/wired for more umph. They tend to get bogged down way too ez for electric motors 3. Battery/charging/electric components not sealed. Very vulnerable to water. Needs to be as water resistant as gas competition 4. CAN NOT CUT 3 ACRES. more like 1.5
Date published: 2020-07-24
Rated

3

out of

5
by
mepps
from
Amazing Mower, Frustrated w/ Terrible Battery Life
This mower is amazing. It previously took me approximately 90 minutes to mow my entire one-acre yard because of the number of obstacles to mow around; however, this mower has greatly decreased the time it takes to cut the more complicated sections of my yard. It was easy to assemble and the instruction video was very helpful. I'm giving this mower a 3 out of 5 because of battery life (see below) but it would deserve a 5 out of 5 if I did not have so many issues with poor battery life. My major complaint is that the battery life is not living up to the claims of other reviewers. My mower lost 10% of its battery life in 7 minutes of use. The battery life then dropped an additional 5% after 4 minutes more of use, which brought the remaining battery life to 85%. This occurred while using the mower in low speed cut in an attempt to preserve battery life -Photo #1: Taken when powering on at 5:46pm on Wednesday, July 10. [100% battery] -Photo#2: Taken at 5:53pm on Wednesday, July 10. [90% battery] -Photo #3: Taken at 5:57pm on Wednesday, July 10. [85% battery] After about four uses of stopping around 30% battery life to charge the mower and finish the next day, I tried to finish mowing my property in one go. By the time I finished mowing my one-acre property, my battery life dropped to 15%. I don't allow the areas of my yard that I mow to become overgrown and I was using the mower in low-speed cut. I understand that my 75aH mower will not have as much juice as the 100aH but nearly running out of battery life to cut a one-acre yard seems like an unreasonable difference. I should also point out that I have followed all of the instructions for proper battery care (i.e. I charged the mower for 10+ hours before its first use; I leave it continually charging when not in use). I considered returning the mower because of the battery life but decided against it because it does have many great qualities. Pros: -No more gas and tedious maintenance. -It's amazingly quiet when the blades are disengaged. A few of the children in my neighborhood have stopped in awe that a lawnmower can drive around without making noise. I haven't tested it at night because there are multiple families in my neighborhood with young children and I would rather not test their patience. -It moves FAST. I highly recommend putting the mower in low-speed drive the first few times you use it, regardless of whether or not you have experience driving a zero-turn mower. You will be amazed at how quickly this machine moves. (I don't steep inclines to mow, so I cannot speak on its ability to continue moving at a rapid pace when mowing on a large incline). -Extremely ergonomic. I'm 6'4 and I have (for the first time in my life) had to scoot the seat forward to sit comfortably. The chair is also very comfortable and has a high back that makes sitting in this a joy. I've caught myself sitting in the seat while attempting to read through plans for various shop projects. Cons: -Battery life is problematic (see above) Poor rear wheel traction that cannot handle the incredible torque of the machine. -When both lap bars are fully engaged, my mower pulls to the left. This has been happening ever since I carefully drove it off of the metal frame it was shipped on. -The ride is generally smooth but you will bounce around more than usual on bumpy areas in your yard. I assume it has something to do with the seat suspension but it hasn't bothered me enough to do much about it (yet). -I understand why you cannot power wash this machine but I spent an additional 45 minutes cleaning out caked grass from my tires (lawn was not as dry as it appeared to be). Overall, this is an amazing mower and I do not regret my purchase. Am I disappointed in the battery life? Of course. I catch myself "rubber necking" every 2 minutes to ensure that I'm not about to suddenly run out of juice. However, it's user friendly, ergonomic, and powerful, which are all things I am genuinely happy about. Furthermore, the added benefit of no longer smelling like gasoline or walking into the house feeling the terrible aftereffect of the mower's vibration is enough to keep me satisfied. I finally look forward to doing yard work again and I have recommended this mower to all of my friends and family. Well done, Ryobi, well done.
Date published: 2019-07-12