+2
6 IN. Bench Grinder
Model: #BG612G
+2
Featuring a rugged 2.1-Amp induction motor, the RYOBI 6 in. Bench Grinder utilizes an integrated LED work light to provide ideal illumination while you work. Convenience features such as adjustable tool rests and magnifying glass eye shields. The heavy-gauge steel base helps to reduce vibration and improves stability during use, offering a workshop or garage-ready bench grinder.
Features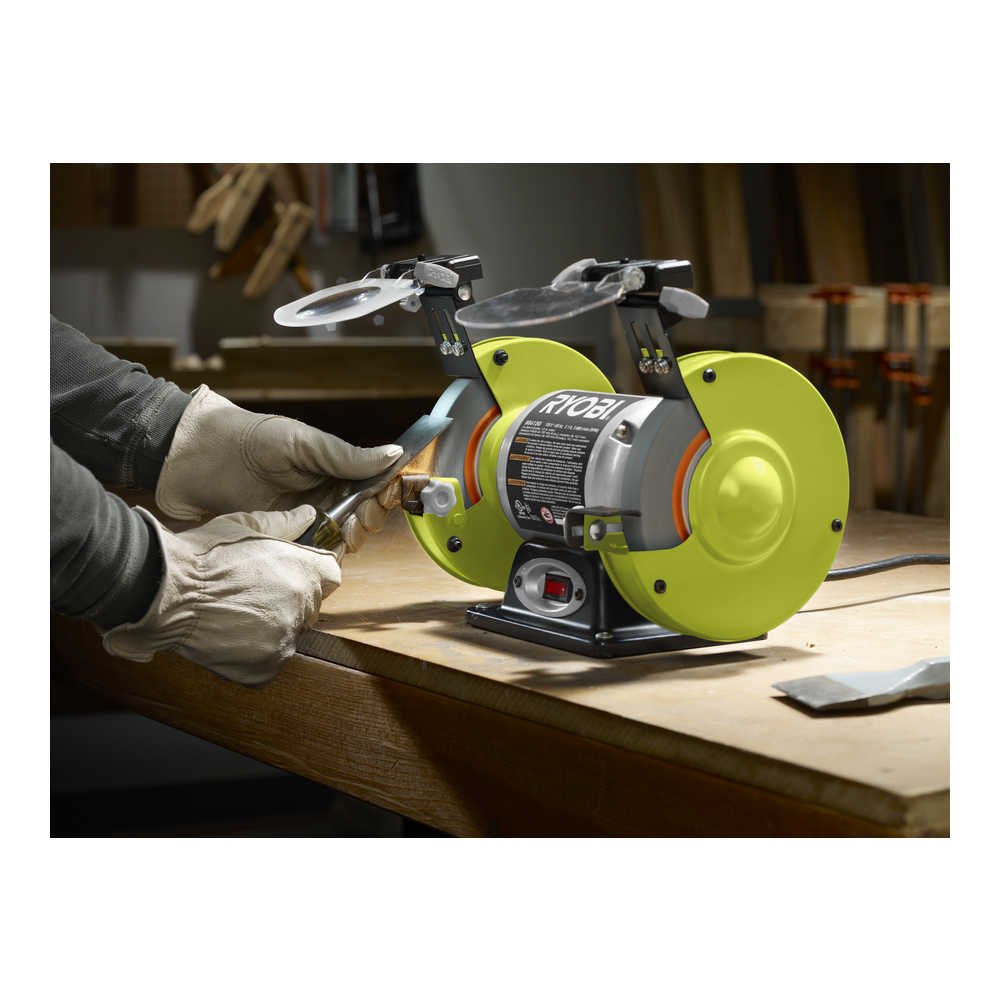 Heavy duty 2.1 amp induction motor for dependable operation
LED lights for superior visibility of application (4 AAA batteries included)
Heavy gauge steel base reduces vibration and improves stability during use
Adjustable work rests for wheel longevity and maximum grinding control
Integrated adjustable spark shields including one with magnifying lens
Specifications
Motor: 2.1 Amp, 120V AC, 60 Hz
RPM: 3,600 r/min. (RPM) (No Load)
Arbor Size: 1/2"
Cord: 6 ft.
Wheel Diameter: 6 in.
Wheel Face: 3/4 in. Max
Includes
BG612G 6" Bench Grinder
(1) 36 Grit Wheel
(1) 60 Grit Wheel
(1) Spark Shield
(1) Spark Shield with Magnifier
(2) Spark Deflectors
(2) Work Rests
Hardware
(4) AAA batteries
Operator's Manual
Reviews
6 IN. Bench Grinder
6 IN. Bench Grinder
is rated out of
5
by
48
.
Rated

5

out of

5
by
PapaBear1
from
Life's a GRIND
The RYOBI 6 inch Bench Grinder is a 'must have tool' in my shop. It's size, power and features are everything I need to perform prep work for maintaining tools and cleaning up edges on rough cut metal repairs. The features give me what I need to handle my projects. I have mounted mine to a base plate that allows me to store the grinder 'out of the way' when not in use, but easily set up when needed. I have been a RYOBI TOOL user for many years and find them innovative and reliable for my shop needs. They have come a long way since their introduction and I still have and use most of the the older versions. I recommend them. Give them a try, you will be glad you did.
Date published: 2019-05-05
Rated

4

out of

5
by
RyobiCurt
from
Perfect for small jobs
I set-up the bench grinder right away. Out of the box, I had one small issue though, one of the protection shields was cracked at the mounting point so I could not mount it. I also immediately swapped out a wire wheel for the fine stone wheel to use. Once I got it up and running, it was great. A few slow downs if I pressed in hard on something hard but overall, decent power. I had yet to mount the grinder to the bench yet so the vibration was a little much. I am sure that is from a combination of it not being secured to the work bench along with the non-Ryobi wire wheel on the opposite side of the coarse stone wheel. Overall - very happy - I am rebuilding an old snow blower and use it often to clean-up parts.Also, I have a support ticket in to get the protection shield replaced but have not gotten a response yet.
Date published: 2019-08-02
Rated

4

out of

5
by
Dragonbiker40
from
Very useful
Everything i needed and then some with the LED so ypu can see what ypu are doing.
Date published: 2019-04-21
Rated

5

out of

5
by
TheBandit
from
Great grinder for the price
Best grinder for the price. Sharpens lawn mower blades great.
Date published: 2019-04-28
Rated

5

out of

5
by
Pooh
from
Grinder
Works great!! Light lights on top of protective lens.
Date published: 2019-04-30
Rated

5

out of

5
by
Fishbulb
from
Does the job while looking nice too
This bench grinder is very smooth (pun partially intended!). Gets up to speed nicely. Has a fine grit wheel and a coarse grit wheel for your grinding needs. Spark shields are handy, along with the built-in magnification. I've used it to sharpen lawnmower blades, axes, and other yard tools. I've also used it for shaping some tools and rounding off edges on sharp material. Definitely a valuable member of my Ryobi team. I love that it is in Ryobi green too!
Date published: 2019-07-24
Rated

4

out of

5
by
Ebonweaver
from
Great core, fluff additions
The grinder itself is spot on price to performance and features and it works grand, no complaints. The one thing that I find just crazy silly is that the lights are battery powered!! I mean... what? It plugs in to the wall and these little LED use no power, why would they need little batteries?? It's a really cheap silly add on that makes no sense and brings down the overall quality. That said, by no means a killer issue.
Date published: 2020-09-09
Rated

5

out of

5
by
Edmund S
from
Best in class.
I bought this to sharpen lawnmower, machete and axe blades, maybe put a bevel on my larger chisels. (I do the bevels on my fine woodworking chisels by hand.) Plenty of power. Strangely, I did not have to change the wheels as they have adequate bite, required no dressing and were perfectly balanced out of the box. There was virtually no vibration once the machine was fully up to speed. Despite the sticker being a little crooked and a few scuff marks on the paint out of the box, the overall build quality was very good for a $45 grinder. The tool rests are more substantial and sturdy than the previous model.The LEDs are quite effective. If I REALLY need a heavy duty precision grinder, I will spring for a Baldor. But there is really no need for anything larger, more powerful or expensive for homeowners, DIYers or even most pro shops, unless they are doing very heavy metalworking. In that case, it is best to just skip most entries in this field and spend at least $3-400, minimum. I worried that I would need the 8", but the 6" has met all my needs, occasionally requiring a little finesse on the larger items. Investing in higher grade wheels and maybe a wire wheel are possible in the future, but the wheels that came with it are surprisingly decent, just remember all wheels eventually need dressing. With a heavy steel base and a 3 year warranty, you really don't need anything larger, more powerful or more expensive, unless you are a machinist or do very precise or very heavy metalwork. The virtually non existent vibration was a huge plus. Just go get one. It will probably still be running for your kids. A very solid effort.
Date published: 2018-08-03