+3
5 IN. Random Orbit Sander
Model: #RS290G
+3
The RYOBI 5 in. Random Orbit Sander features a powerful 2.6-Amp motor and 12,500 orbits per minute to deliver a smooth performance in a variety of sanding applications and an ergonomic design for comfort as you work. The sander accepts hook and loop sandpaper for fast and easy grit changes.
Features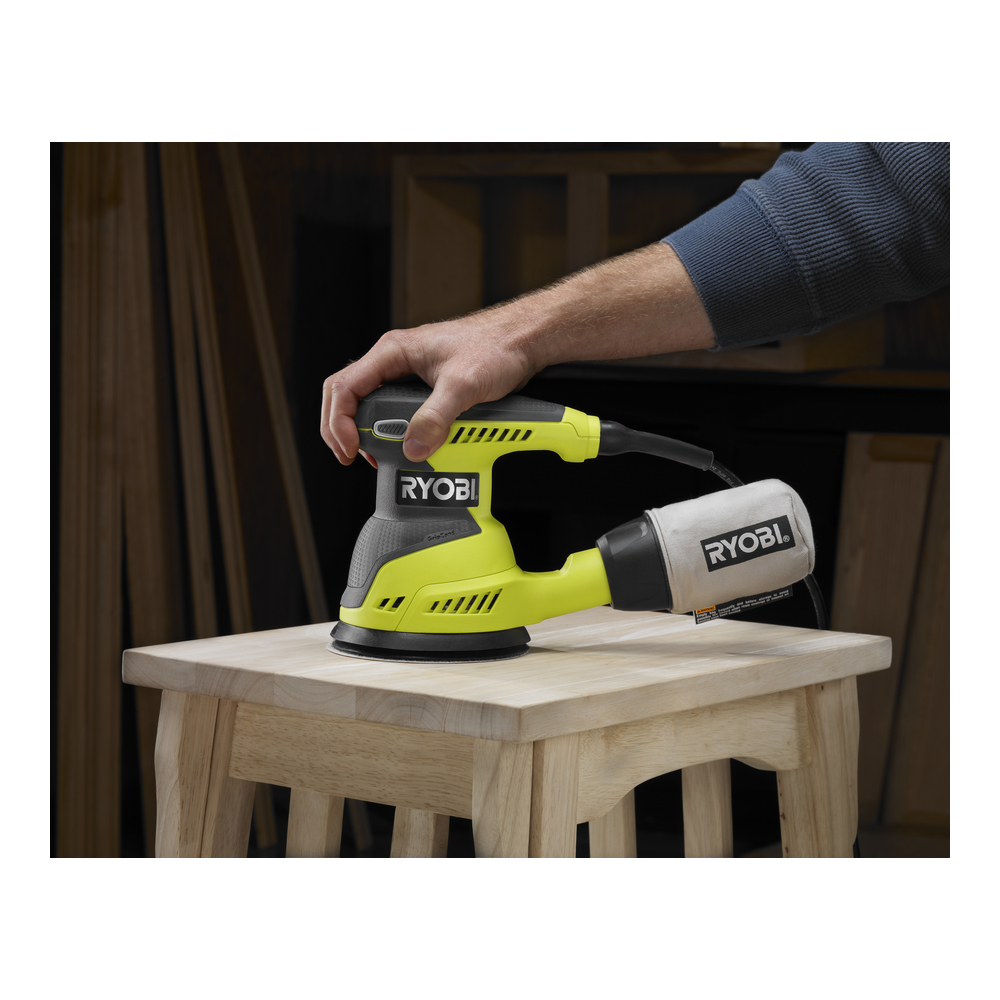 Ergonomically designed to allow various hand positions
Active dust collection for a cleaner work area
New and improved GRIPZONE™ with microtexture for optimum grip and user comfort
Spin-control braking helps eliminate gouging during start-up
Accepts hook-and-loop paper
Specifications
Motor: 120 V AC, 2.6 Amp
Speed: 12,500 OPM (No Load Speed)
Pad Size: 5 in. Cord Length: 6 ft.
Net Weight: 3.5 lbs.
Includes
RS290G Sander
Sandpaper Assortment
Dust Bag
Operator's Manual
Reviews
5 IN. Random Orbit Sander
5 IN. Random Orbit Sander
is rated out of
5
by
91
.
Rated

5

out of

5
by
ambenisar
from
Power, power, power!
We are renovating a century home and were removing decades of layers of paint from the doors and baseboards. We loved this sander because not only does it have the power to get the job done, but it is very comfortable in the hand, the ergonomics are great. Good balance, easy to hold (even after several hours of sanding) and light weight. The dust collection bag, while small is very effective. I have several Ryobi tools both corded and cordless. They are a great value and have always performed as well or better than some of the big name brands. This random orbit sander is no exception and we are very pleased with this tool and expect many years of service from it.
Date published: 2019-04-02
Rated

4

out of

5
by
Chesapeake Woodworker
from
Great Sander With Hookup To Shop Vac
My last 3 random orbital sanders bit the dust and I could no longer get parts for them and I was in need of a new sander quickly. While I have battery operated Ryobi nail guns, both 23 gage and 18 gage, a palm router, 5' circular saw and a Ryobi stick vacuum and they have all served me well, I did not need a battery powered random orbital sander because it will never leave the shop. My biggest requirement for a new ROS was a dust port to connect it to my shop vac. A lot of the ROS that I looked at did not have this feature and dust control is very important in my shop. The sander does a very good job at what it was designed for and the price was very good.
Date published: 2020-08-29
Rated

1

out of

5
by
Cdcmoto
from
weak rotation
I bought this yesterday from Home Depot to sand jams for 19 pocket doors. My 30yr old craftsman finally stopped. After borrowing a Harbor Freight Orbital I decided Orbital was the way to go. Bought this and started to use it and noticed there was no rotation with contact to the wood. The sander is virtually a vibrating (at best) only sander. Turn it on and it spins like crazy, touch it with one finger and the spinning stops and it simply vibrates. I went back to using the Harbor Freight tool. This would be ok for a light sanding job requiring only vibration, anything more would be too much for this sander.
Date published: 2020-08-03
Rated

4

out of

5
by
Anonymous
from
Great for hobbyist use, beats doing it by hand!
This is my first power sander and I honestly can't believe I've been using a sanding block for this long. The Ryobi 5in Orbit Sander is a nice small size that's easy to store in my apartment but has the power to handle my DIY projects quickly. Dust collection seems pretty good for the most part - again, way better than using a block. The only downside so far is that if I lay the sander on its left side for whatever reason (flipping a board or something), the on/off switch isn't recessed and I'll accidentally turn the sander on. I'm training myself to lay the sander down on its right side which doesn't cause the problem. It'd be nice if the switch were recessed or protected to avoid turning the sander on by accident.
Date published: 2020-08-24
Rated

5

out of

5
by
Giorgio65
from
Great value tool
this is my second orbital sander I'm heavily use and they are very good. Price is right quality is good. Highly recommend.
Date published: 2020-09-20
Rated

5

out of

5
by
HotCarl
from
Just what I needed!
Bought this sander at the beginning of the year and have used it on multiple projects. Let me tell you...it can remove a lot of material! I previously had a detail sander that I was using and it wasn't well suited for the scale of the projects I've been working on. The footprint of the sander covers a lot more surface than the detail sander I had and is a lot more capable. Different grits of sand paper for the various stages of sanding and the quick-moving action of the sander makes finishing a project a breeze. The only gripe I have about it is the dust collection bag doesn't collect everything, but attach your shop vac to the sander and you're set! I highly recommend this product based on price, quality, and reliability. This thing has exceeded my expectations. I'm now a big fan of Ryobi products!
Date published: 2019-04-21
Rated

1

out of

5
by
geebreak
from
I really expected to last more than 3 years
I very seldom (maybe once a year) use my sander and only use it for 2 or 3 days a year and probably only four hours at most in a single day. So you can imagine my surprise when the foam pad gave out. First there was a tear and then it just kind of came off. The rubber gasket, which is most of what fell off, is all cracked like it was a hundred years old. I have used Ryobi tools forever and up until now was pretty brand loyal. However, I think I'll buy a Black and Decker next time.
Date published: 2020-06-19
Rated

3

out of

5
by
Mrs Sheila
from
Unfortunately, I was disappointed.
We bought this because we've had good luck with our Ryobi leaf blower. I know leaf blowers & sanders are 2 entirely different products but we went with the Ryobi sander because of the Company's reputation & the quality of the other product. We used heavy duty sanding disks suggested by the person at Home Depot. It barely removed the stain on the floor of our deck. My husband wants to keep it in case we can use it for another project but I'm not holding out much hope.
Date published: 2020-06-17