+13
115 AH 54" ZERO TURN ELECTRIC RIDING MOWER
Model: #RY48140
5 High-Powered Brushless Motors
Battery Operated: Quiet Cutting, No Gas, Fumes, Charge and Go
Zero CO Emissions
+13
CUTS UP TO 3.5 ACRES PER CHARGE
Features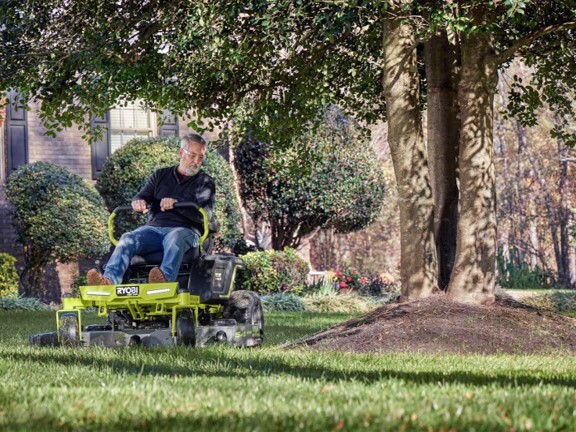 5 High-Powered Brushless Motors
For Ultimate Power and Efficiency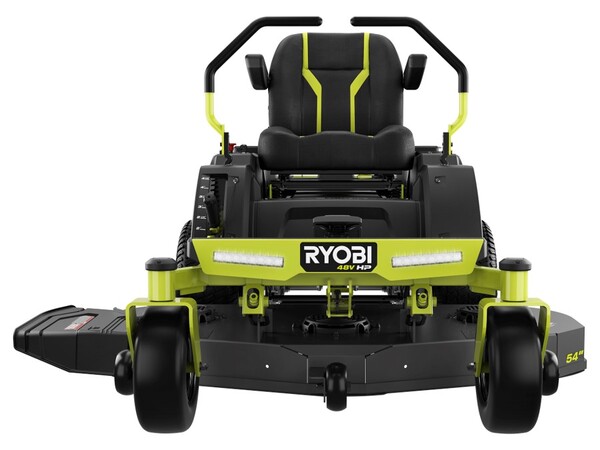 Low Maintenance
No Belts, Spark Plugs, or Filters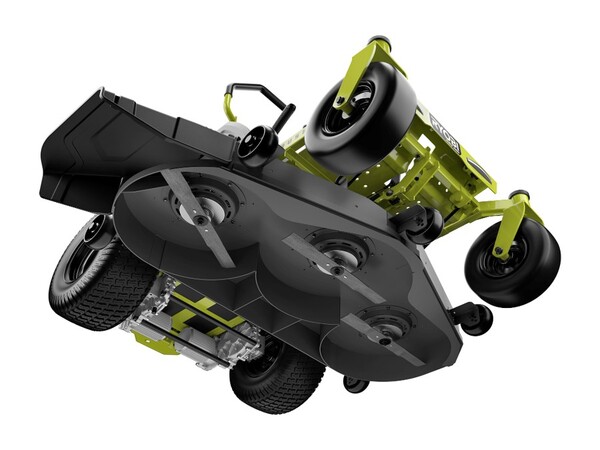 54 in. 10 Gauge Fabricated Steel Deck With 3 Precision Cut Steel Blades
For Durability and Clean Cuts Every Time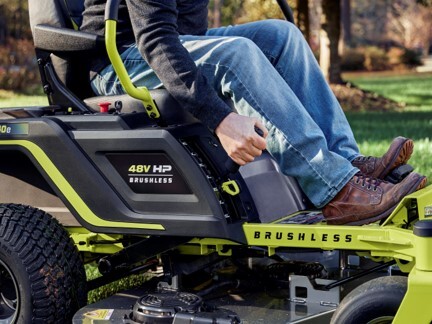 12 Position Deck Adjustments Ranging from 1.5"-4.5"
For Absolute Cut Height Control and Precision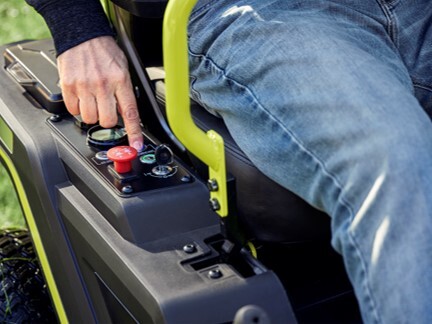 Armrests, Ergonomic Control Handles, 2 Cup Holders and Included Towing Hitch
For a Luxurious Mowing Experience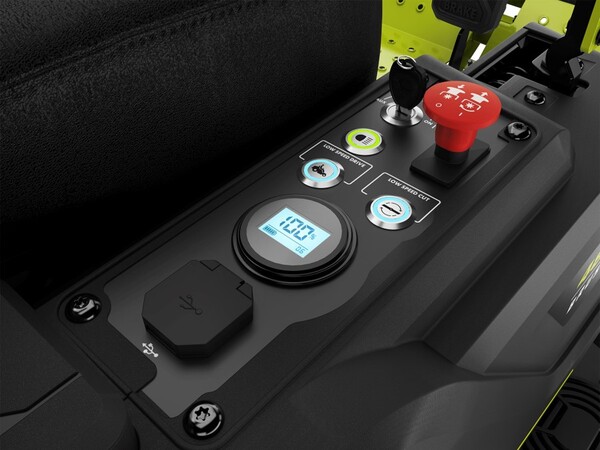 Advanced Control Panel
Includes a Slow Speed Option, Slow Blade Option, Reverse Mow, LED headlights, Battery Gauge, USB Charging Port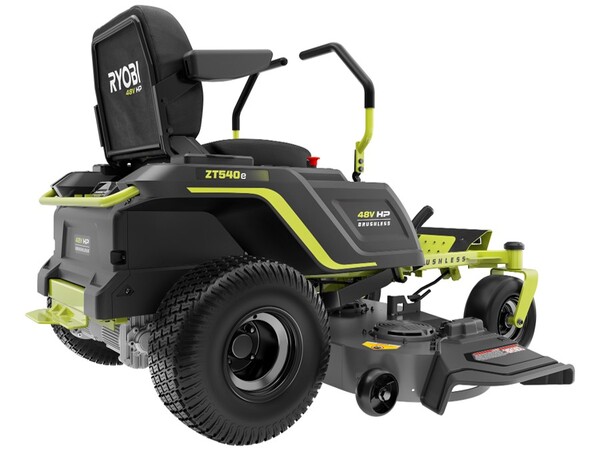 Side Discharge or Mulching
To Adapt To Whatever Your Project Requires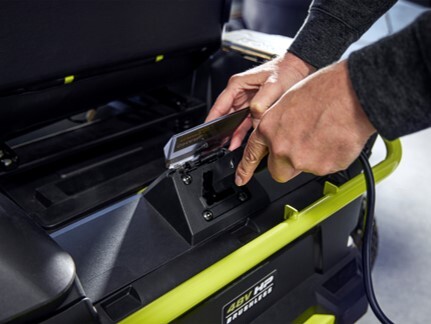 Easy Access Rear Charging Port
Charges Through Standard 120V Outlet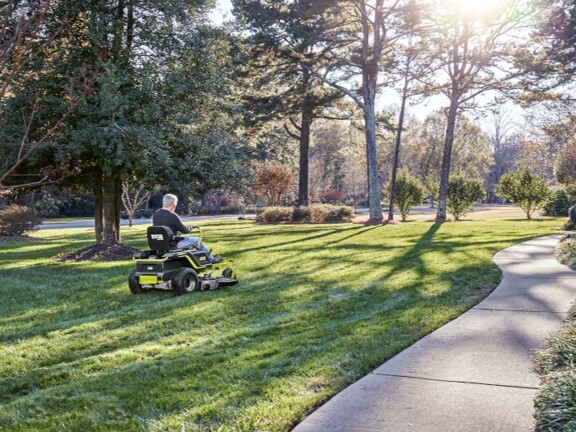 Zero CO Emissions
For a Clean, Green Experience Every Time
Specifications
Dimensions
Deck Size

54"

Cutting Height

1.5"-4.5"

Weight

796 lbs.
Details
Battery

48V 115Ah

Charging

Standard 120V Outlet

Cutting Area per Charge

Up to 3.5 Acres

Deck Height Adjustments

12 Position Manual Adjustment

Max Speed

7 mph

Replacement Battery

Leoch Model LDC12-115
Warranty
Warranty

3 Year Tool Warranty and 1 Year Battery Warranty
Includes
48V Zero Turn Electric Riding Mower with 115Ah Battery
[#<ProductFeature id: 4498, title: nil, content: "48V Zero Turn Electric Riding Mower with 115Ah Bat...", photo: "a2cd3af9-a182-4b86-a5a3-ddf4fc58c9dc.png", created_at: "2021-02-16 21:21:34", updated_at: "2021-02-16 21:26:23", product_id: 1653, sort: 0, enhanced_type: "included_item", enhanced_group: nil, enhanced_icon: nil>]
Reviews
115 AH 54" ZERO TURN ELECTRIC RIDING MOWER
115 AH 54" ZERO TURN ELECTRIC RIDING MOWER
is rated out of
5
by
6
.
Rated

5

out of

5
by
terrifl
from
Finally a mower without the noise!
This Ryobi 54" mower is so smooth and does not require user to wear hearing protection. The seat is the most comfortable I have experienced allowing me to cut large areas for hours at a time. The noise is minimal & when the mower is not engaged there is a little hum of the battery as you glide along. Battery charge lasts up to 3+ hours depending on height and thickness of cutting surface. The controls are well suited for easy reach during operation. There are two compartments to hold cell phone, etc. and easy to reach drink holders. The design was very well planned for ease of operation. Environmentally friendly using no gas & oil and little noise.
Date published: 2021-04-17
Rated

5

out of

5
by
Bronco Coldsteel
from
State of the Art Mower...needs Bagger!
I am very happy with my Zero Turn purchase. It works beautifullly - it's so nice not to have to start up a gas engine, wait for it to heat up - and all the noise and fumes. Electric is the way to go and this is a great unit! It's so nice to roll around silently with the blades off - and the cut is immaculate! The only down side - is when I purchased from Home Depot it indicated that a bagger is often purchased with it - however it turns out that there is no Bagger attachment for this mower. I sincerely hope Ryobi is working on a bagger/blades for this unit - then it would be absolutely dominant!
Date published: 2021-05-04
Rated

4

out of

5
by
Bob28
from
Recommended improvements
Pros: industry leader in the shift to electric with a wider mowing variance and zero turn Recommended: 1. Seems to still be using a lead acid battery which degrades over fewer cycles than lithium like they use in smaller mowers 2. Batteries would be nice if they were swappable on the go. Not as big of a complaint but still would be nice 3. That's pretty much it, just recommend they keep up with battery technology that they use in the rest of their lineup. I should be able to buy an extra/replacement battery without going through warranty or through an arduous process
Date published: 2021-06-02
Rated

4

out of

5
by
JLCL
from
I just might keep it, but...
I wasn't looking for a mower nonetheless an electric zero turn. My wife got an offer from Home Depot, she showed it to me, I looked at the sales pitch and the reviews. I watched some videos and thought wow, 3.5 acres and I have almost 2.7 that I cut so I should be good for battery life. I have cut once and will update as I have 30 days to return so I have at least 3 more cuts to evaluate this device. I have had electric cars and electrical tools that use batteries. I understand depredation very well and I also have experience all the upsides they speak of regarding gas and belts as I have a Husqvarna 54" tractor I run almost everyday. My terrain is not flat has several slopes and one small hill. The land is not smooth so ride is important. Besides getting use to handle bars, the mower demands very small adjustments in steering when hitting all those animal holes and ruts. The hills will be my learning area as this zero turn feels light in comparison to my tractor. The cut of the grass was superior to my tractor and I take great care to show a good cut to impress my wife and neighbors. The assemble as others have noted was very simple at about 30 minutes whereas the assembly of my Husqvarna was about 4 hours. No gas, no belts and away I go, I have a good feeling for this mower but I am concerned about battery life. I was not able to finish 2.0 acres. 5% was left on the mower and I started with a fresh 100% charge. It said on the clock 1.8 hours when I was done which is much faster than my tractor. Yes some running around to get use to it was done but not that much and not on hills or with the PTO running. I will update about battery life with the next cut as I will change my mowing strategy to accommodate the zero turn. Traction can be an issue with the tires even with dry grass on hills but not a serious issue. Like all electric vehicles I own milage is always calculated with ideal conditions. Electric demand is determined by conditions such as speed, hills and then the use of the mower itself when cutting. I will address this again. I am sold on the potential but don't like to be oversold so I am being quite careful for saying it is a keeper.
Date published: 2021-05-30
Rated

5

out of

5
by
Rickraz
from
Love the title,lets get it done
Bought this with snow on the ground, so just got it out of the box! Runs great so tired of my gas mower! Love electric!
Date published: 2021-03-10