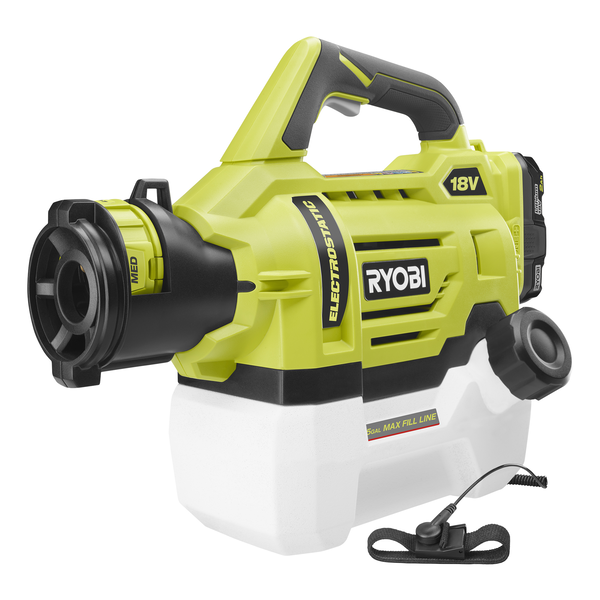 18V ONE+ 1/2 GALLON ELECTROSTATIC SPRAYER Kit
Model: #P2890
Ideal for Use with Disinfectants, Cleaning Solutions, and Most Lawn and Garden Chemicals
Electrostatic Spray Technology for Maximum Coverage and Precise Application - Grounding Strap Required
Over 225 ONE+ Tools – All Work With Any RYOBI 18V ONE+ Battery
+11
The RYOBI ONE+ 18V Cordless ½ Gallon Electrostatic Sprayer allows you to spray water-soluble disinfectants and other cleaning solutions with the convenience of battery power. RYOBI Electrostatic Sprayers utilize best in class electrostatic charging technology to positively charge particles in the solution being sprayed, to deliver quicker and better coverage of surfaces. These charged particles enable solutions to more effectively adhere to and cover a wide range of surfaces. This handheld sprayer is compact and lightweight for comfortable, one-handed operation. Engage the on/off switch to activate the electrostatic technology or deactivate it when using chemicals best suited for conventional spraying.  You can spray up to 30 gallons per charge with the included 18V ONE+ Battery, which is compatible with all RYOBI 18V ONE+ tools. The 3-in-1 adjustable nozzle selector allows you to choose from three spray patterns for a variety of spraying applications. Simply turn the nozzle to choose between low, medium, and high, spraying 65 microns up to 2 ft. away, 85 microns up to 5 ft. away and 160 microns up to 10 ft. away. This sprayer comes equipped with an integrated ½ gallon tank for fewer refills.
18V ONE+™ Charger

18V ONE+™ 2.0 Ah Battery

18V ONE+™ Cordless 1/2 Gallon Electrostatic Sprayer
Specifications
Dimensions
Weight (Full)

8.4 lbs.

Weight (Empty)

4.2 lbs.
Details
Battery

18V ONE+ 2.0Ah Battery

Capacity

0.5 gal.

Spray Patterns

Low (65 microns up to 2 ft. away), Medium (85 microns up to 5 ft. away), and High (160 Microns up to 10 ft. away)
Warranty
Warranty

3 Year Limited Warranty