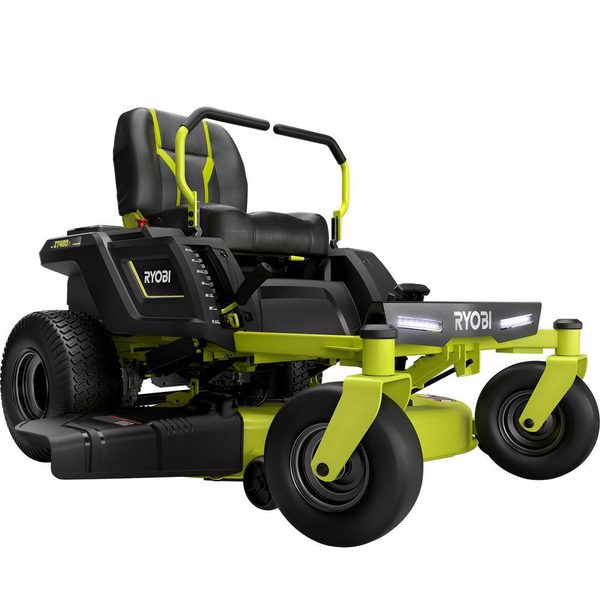 42" 75 AH Zero Turn Electric Riding Lawn Mower
Model: #RY48ZTR75
Fully Electric: Requires no spark plugs, belts, filters, oil, or gas
A single battery charge delivers up to 2.25 acres of continuous mowing
4 brushless motors produce unrelenting torque for blade cutting and drivetrain systems
+8
Visit interactive landing page to learn more about this riding mower. The future of mowing has taken a turn. The RYOBI ZT480e Electric Riding Mower uses zero turn technology with lap bar steering to help cover more yard in less time. Cutting over 2 acres on 1 charge, it's quietly and quickly changing the way America mows. A simple push of the lap bar steering delivers unrelenting torque directly to high-powered brushless motors. They quietly drive the wheels and blades, without the hassle of belts, spark plugs, gas and fumes. Mobile Service available in select regions. If your riding mower requires attention, a certified RYOBI support technician can diagnose & service right from your home. Some services may require you to bring your mower to one of the 300+ service centers nationwide. This feature-packed mower delivers extraordinary performance, convenience, comfort and durability. Surrender nothing but gas!
Fully Electric
Requires no spark plugs, belts, filters, oil, or gas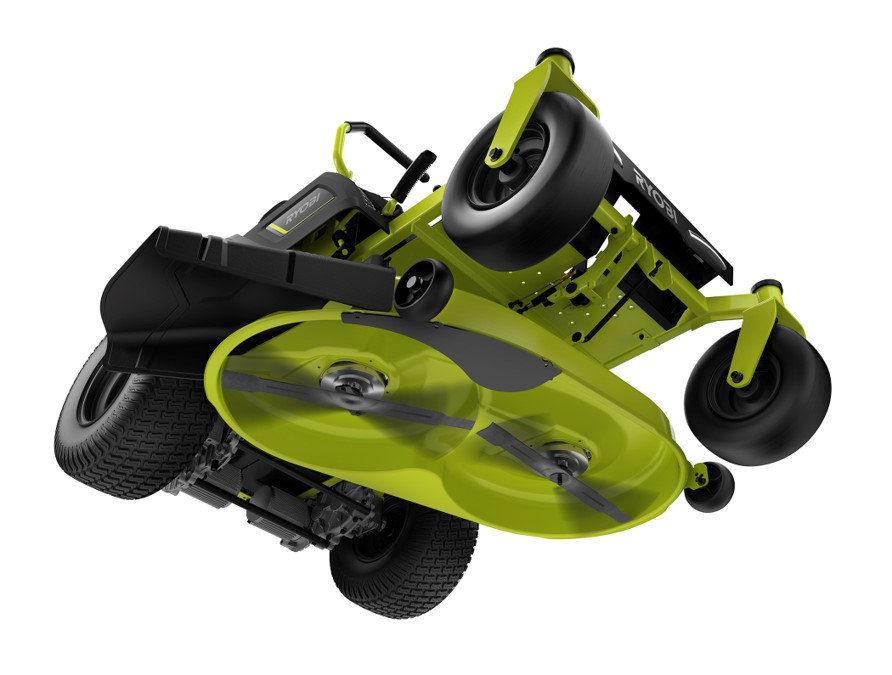 4 Brushless Motors
Produce unrelenting torque for blade cutting and drivetrain systems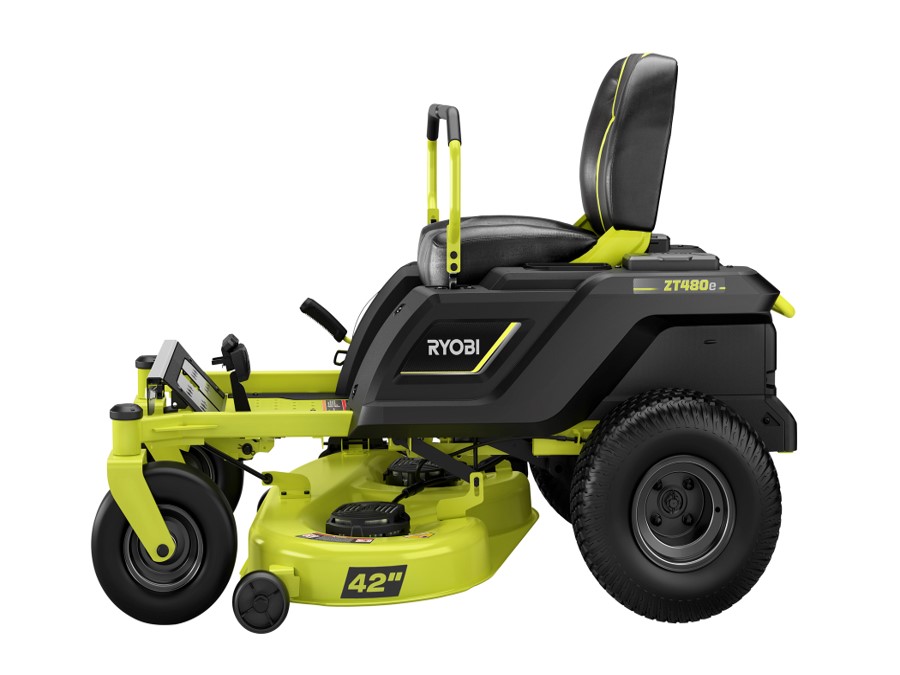 Rugged Steel Frame Design and Heavy Duty 42" Steel Deck
For superior durability
User Comfort
Quiet operation, 4-position seat adjustment, overmold dual-drive levers, and spacious foot resting area
User Convenience
Enclosed storage compartments, cup holders, USB charger, and LED lights
75 AH 42" ZERO TURN ELECTRIC RIDING MOWER
Specifications
coverage
Warranty

3 year tool and 1 year battery
detail
Replacement Battery

Leoch model LPC12-75

Max Speed

7 mph

Deck Height Adjustments

12

Cutting Area per Charge

Up to 2.5 Acres

Charging

Standard 120V Outlet

Battery

48V 75Ah
dimension
Weight

617 lbs.

Replacement Battery

Leoch model LPC12-75

Cutting Height

1.5" - 4.5"

Deck Size

42"