40V LITHIUM-ION CHARGER
Model: #OP401A
Charge your 40-Volt lithium-Ion batteries with this charger from RYOBI. Compatible with all RYOBI 40-Volt batteries, this charger is compact and wall-mountable for convenient storage. Featuring innovative charging technology, it is equipped to protect and extend the life of the battery. Backed by a three-year warranty, you can trust this charger to keep your batteries work-ready all season long.
Features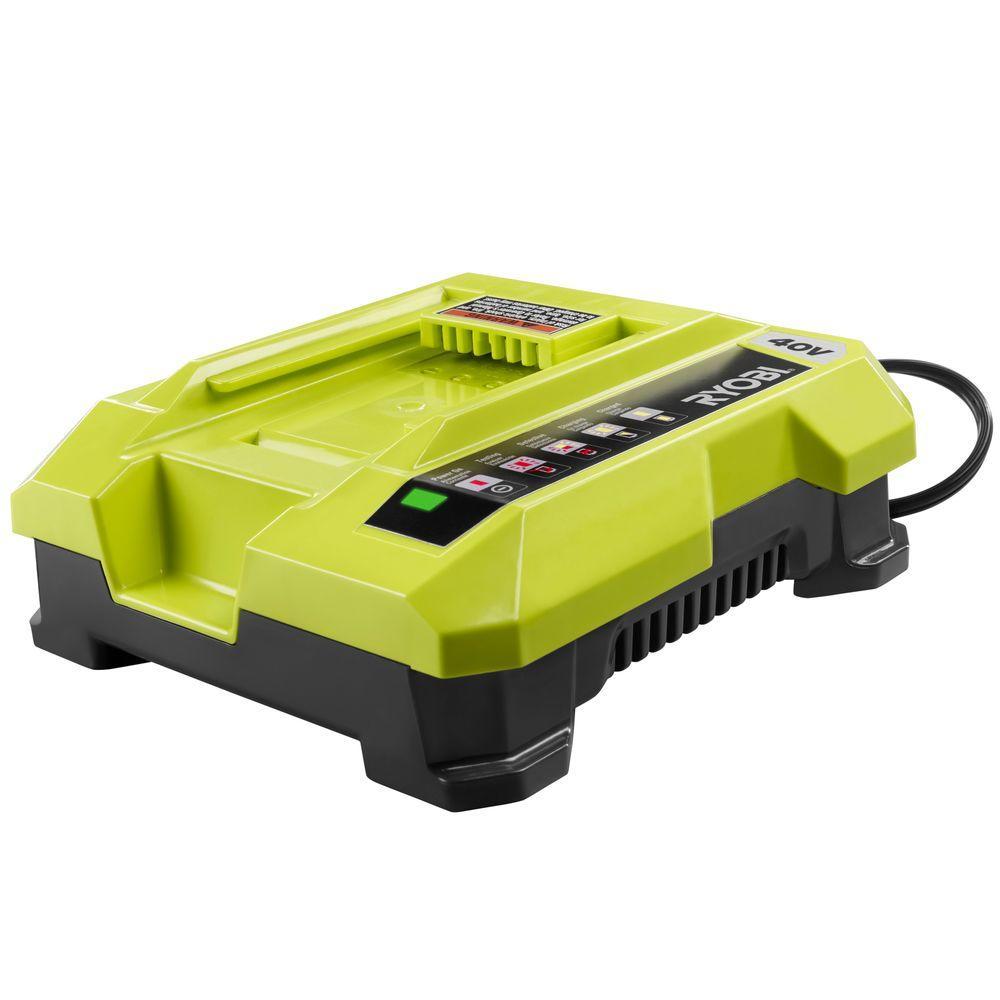 RYOBI 40V Charger
Compatible with all RYOBI 40-Volt lithium-ion tools and batteries
Advanced charging technology for battery protection and extended life
For use with RYOBI 40-Volt batteries only
3 year limited warranty
Specifications
Cord Length: 3 Ft.
Voltage: 40V
Includes
40V Charger
Operator's Manual
Reviews
40V LITHIUM-ION CHARGER
40V LITHIUM-ION CHARGER
is rated out of
5
by
503
.
Rated

1

out of

5
by
Bennie
from
Good or Bad
The first week of June 2016 I purchased a Ryobi lawnmower, lithium battery, and the charger. I plugged the charger into the 120V AC source (wall outlet), and attached the battery for charging. So far the battery is not charging after nearly 16 hours. It looks like either the charger and/or the lithium battery is/are not tested before leaving the factory; tested together. When I get a new battery or charger, whichever proves to be the culprit or bad device, I am hoping that the lawnmower will work. It too may not have been tested before leaving the factory with the lithium battery it is designed to operate with, the OP401 charger. At this point, I have doubts about the charger.
Date published: 2016-06-06
Rated

5

out of

5
by
KenB
from
Just what we needed !
Yes, we are the proud owners of your RYOBI Battery Powered Lawnmower Model# RY40108. It is exactly what we were looking for. During my recovery from back surgery, my wife is going to be in charge of lawn mowing. A pull-starter mower was out of the question for her to operate and eventually for me. Our battery powered mower is simple to use, the battery pack is easily removed and reinstalled after charging. We were also surprised on how easily the wheels could be adjusted if needed. It is doing a GREAT job. The smartest purchase we have made in a long time. This was my get-well gift to my wife - as you can see by the attached photos - she loves it !
Date published: 2017-06-20
Rated

1

out of

5
by
Jim2780
from
Great Tools-Lousy Chargers
I have purchased 2 String Trimmers and two Leaf blowers that I use at two properties. The four tools work great and the batteries all work well. The chargers however have been a constant source of frustration. 3 out of the four have now failed forcing me to transport one charger back and forth. I can't remember when I bought these products but I am guessing they are about 4 years old. The chargers starting failing within the first year one after the other. I was not aware of the 3 year warranty but obviously from my experience and that of others these chargers have significant design flaws.
Date published: 2018-06-17
Rated

1

out of

5
by
POed
from
Very unreliable Charger
This charger is the second one I have had fil in just over one year. I just got off of a call to Ryobi to have them troubleshoot and, if necessary, replace it. The end result is this. I was told they won't replace the battery because I didn't retain the letter that was sent to me to prove the charger was a replacement. What???? They don't keep electronic records in this 21st century??? This must save them money on replacements. Bad product and worse procedures!!
Date published: 2017-05-20
Rated

2

out of

5
by
BenH
from
2 out of 3 have failed
I want to start by saying i love the Ryobi 40 volt products. I have the trimmer, mower, and blower. They all work great and i have gotten them at different times over the past 3 years. The problem i do have is with the chargers. I have 3 of them that i have gotten with each product. At this time i only have the 1 that works and it is the one i have had the longest (3yrs). The other 2 charges i have (1 from the mower and 1 from the blower) have both died. The one i got with the blower (purchased only 4 months ago) never worked, but did not worry about it since i already had 2. Now the one i got with my mower (purchased 1.5 yrs ago) has now stopped working. I don't know if it is due to this new design (my older one is much larger) or i am just lucky.
Date published: 2016-08-17
Rated

3

out of

5
by
MowMan
from
Too much time is needed to charge the battery.
Ryobi has some great products I think they probably have the best products I really like the 40 volt push behind lawn mower it will mow a fifth of an acre on One battery. Okay now for the meat of the problem; it takes several hours to charge the 40 volt 5 amp hour battery. If I use three of the 18 volt batteries they charge in 30 to 45 minutes, I would buy more Chargers and more batteries and be able to accomplish the task much more quickly. I believe the battery should charge almost as quickly as you can use it as with the 18 volt equipment. In my opinion the charger does not really do its job overall I like Ryobi it's free advice take it for what it's worth.
Date published: 2018-06-02
Rated

5

out of

5
by
MrJim
from
A powerful, quiet machine
I bought this product about a month ago and very happy with it. It is very quiet, easy to start and I can cut our small lot twice on a single charge. Also it is much faster than using a corded lawn mower since I do not have to watch for the cord or move it out of the way. Our machine is self powered and I can change the speed so easy as the control is right at our finger tips. Now the wife can use it; right...maybe. Remember, easy to start dear. The mulching feature works well and do not have to rake up after the grass is cut. Note to manufacturer: I hope in the future the price of replacement batteries comes down and the time to recharge the batteries is reduced.
Date published: 2018-06-25
Rated

4

out of

5
by
Keith17
from
Nice to have
Receiving the Lithium-Ion Charger with the purchase of the Chain Saw is perfect. Part of the reason that I chose this Chain Saw was because the battery and Charger came with it. So far I am thrilled to have my chain saw that now I don't have to rely on my neighbors to cut the trees and bushes I have want to clear. I chose the cordless saw because I got tired of multiple pulle of th cord on a gas saw. I love the fact that now I just have to charge the battery, put it in the saw and press a button. Thank for this convenience, and I can use the charger or battery with other Robinson tools I plan to purchase.
Date published: 2018-10-13