+4
40V EXPAND-IT™ ATTACHMENT CAPABLE POWER HEAD WITH 4.0AH BATTERY & CHARGER
Model: #RY40226
+4
GAS-LIKE POWER™ meets versatility with the 40V EXPAND-IT™ Attachment Capable Power Head. We've taken all the things people love about our top selling Power Head and made it better. Simply add and attachment to convert this power head in to a cordless edger, blower, pruner, cultivator and so much more the RYOBI EXPAND-IT™ Attachment System. The RYOBI 40V EXPAND-IT™ Attachment Capable Power Head surrenders nothing but gas.
Features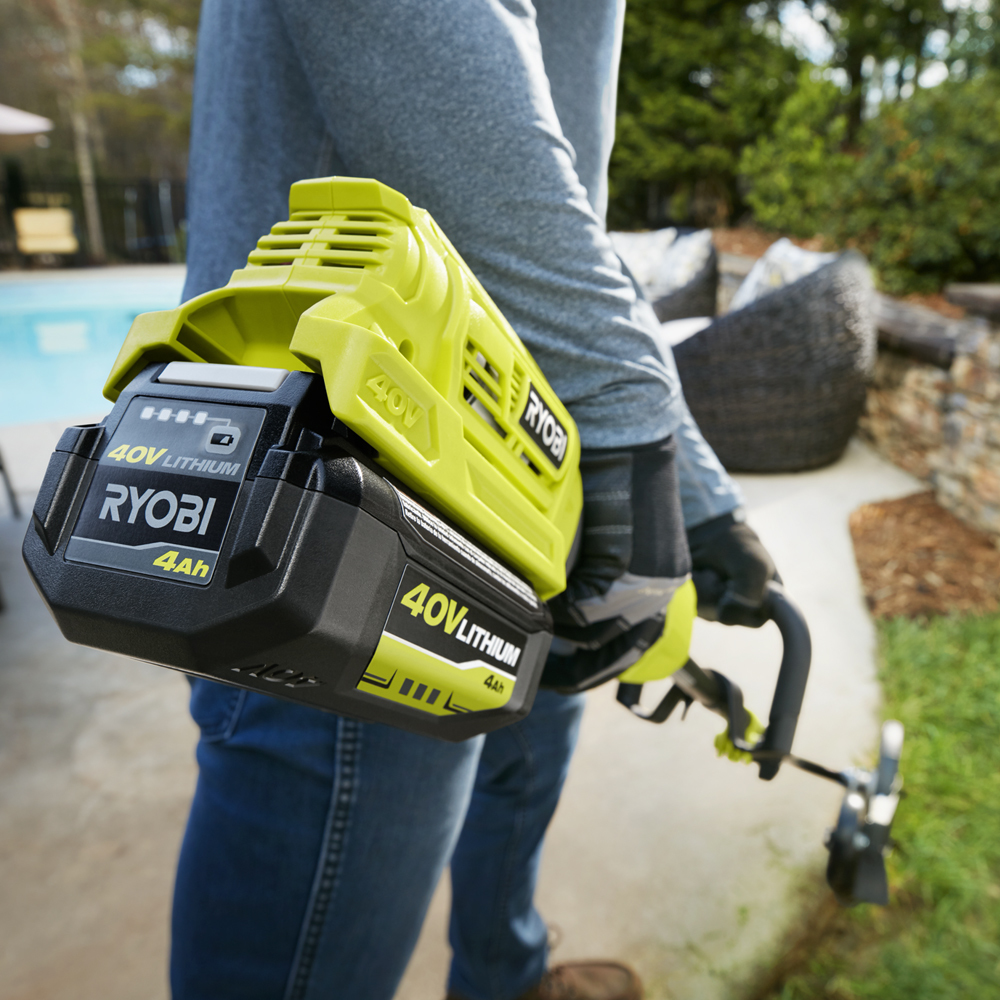 GAS-LIKE POWER™ With Cordless Convenience
More Power. More Run Time. Lighter Weight. - Than Previous Model
EXPAND-IT™ Attachment Capability For Ultimate Versatility
Variable Speed Trigger For Superior Cutting Control
Specifications
Battery: 40V 4.0Ah Lithium-ion
Connection Type: EXPAND-IT™ Attachment Capable
Trigger: Variable Speed
Warranty: 5 Year Limited
Includes
40V EXPAND-IT™ Attachment Capable Power Head
40V 4.0Ah Battery
40V Battery Charger
Overmold Handle
Grass Deflector
Operator's Manual
Reviews
40V EXPAND-IT™ ATTACHMENT CAPABLE POWER HEAD WITH 4.0AH BATTERY & CHARGER
40V EXPAND-IT™ ATTACHMENT CAPABLE POWER HEAD WITH 4.0AH BATTERY & CHARGER
is rated out of
5
by
108
.
Rated

5

out of

5
by
hedgeNJ
from
Don't miss gas
was always happy with my old gas power head, never had maintenance complaints until this season, when it would not start even after a repair visit. figured it was time to switch to electric, but had no idea what i was missing! . . . the simplicity of the battery unit is a luxury, and i really enjoy the step down in noise level, it makes it less intense to use than my old gasoline unit. I'm sure my neighbors do too. power and duration of battery power are great, it was just a seamless user experience. construction is very solid. unit is a bit on the heavy side when battery installed, but only noticed it doing hedge work (lots of lifting). it works with all of my existing attachments.
Date published: 2020-06-01
Rated

5

out of

5
by
Gordie 10
from
Reduces time spent on lawn maintenance!
I bought this about a month ago, to replace my electric lawn trimmer, and edger. It came with the string trimmer attachment, but I also bought the edger, and blower attachment. It took me two times to master the string trimmer. The secret for me was to use low speed selection, and to only partly depress the speed switch. This made it very easy to trim the edges of the lawn and not use excessive amounts of string. The edger works GREAT, much better and faster, and easier than my old electric edger that you had to push through the grass. The blower also is GREAT. It saves me about 30 minutes compared to my electrical attachments, and having to move the 100 foot cord from front yard to back yard..
Date published: 2020-07-05
Rated

5

out of

5
by
Shepardboi
from
Well built, Powerful, and Versatile
I was not sure about this tool because of the price and what other more expensive alternatives were. But I am extremely happy with my purchase. I ordered online and got next day shipping built in. I was also very happy that a battery and charger came with the main body for a great price for me ($160). I also got the string trimmer and chainsaw attachments. It was great being able to go straight from out of the box and not having to wait. the attachments are also built very well. Plug and Playing the attachments making yard work much faster and consolidating the tools saves a lot of space.
Date published: 2020-04-28
Rated

5

out of

5
by
Pony trice
from
Surprisingly powerful
I wear out before the battery. Great price for the quality. Replaced my gas Ryobi multi tool with this so its great that all the attachments work with this model as well. Not only do you get the convenience of not having to fool with gas and all that goes with it, now you can use this machine without wearing earplugs as it is very quiet. Love the light weight and full power at the squeeze of a trigger. The safety cutoff when you hit something that stops the spin is nice and once you clear the offending object, you are just a squeeze of the trigger from being back in business.
Date published: 2020-04-25
Rated

4

out of

5
by
Old gardner
from
Good, but be aware of battery auto reset
I bought this powered to replace my gas one that I had for 20 years and finally quit running. So I had three tools to use with it; string trimmer, cultivator, and edger. It works very well with the string trimmer. However, be aware that with the edger tool it will quickly trip the battery auto reset. This does not prevent usage, but requires stopping every 30 seconds or so to release trigger to reset the battery reset. Can get the job done, it just takes longer and going slowly. Battery did not feel hot so it must be tripped by motor current required to run the edger.
Date published: 2020-05-12
Rated

5

out of

5
by
Dan the tool user
from
Great backward compatibility!
Had an older gas powered Ryobi trimmer that had outlived it's usefulness. Still had 5 Expand-It accessories and I was hoping a cordless unit was available. Luckily, a 40v power head was available which I purchased and confirmed it allowed me to connect all of my existing accessories to it! The power delivered appears to be equivalent to what my gas powered power head provided so I'm looking forward to using this great new and cordless power head! Good job Ryobi!
Date published: 2019-10-21
Rated

5

out of

5
by
IllinoisJohn
from
Great Yard Tool
We bought the Power Head, the Edger, Trimmer, and Pruner attachments. Used the chain saw type pruner with the extension first on a tall Magnolia, and it worked great. We could not reach the top anymore with our old 22" sawtooth type trimmer and a ladder; and we paid someone well over $100 last year to trim it. The edger was used second, and my wife loved it. She's the edger and really did not like the old corded edger. Battery life seems sufficient for what we need to do. Bonus is there's more room in the garage now, too; after getting rid of the older bulkier tools.
Date published: 2020-07-21
Rated

5

out of

5
by
Dependable
from
The 40V EXPAND-IT™ ATTACHMENT CAPABLE POWER HEAD
The 40V EXPAND-IT™ ATTACHMENT CAPABLE POWER HEAD WITH 4.0AH BATTERY & CHARGER MODEL: # RY40226 is a nice addition to my Ryobi outdoor power equipment. I already have an extensive line of the 18 volt tools. This 40 volt power head is a major upgrade. The Power Head is part of the 40 volt Expand-It line and gives the consumer the ability to easily change attachments. I bought this along with the 15 IN. Articulating Hedge Trimmer Attachment. I like the extra length and the 40 volt 4.0 Ah battery last long enough to allow me to get my trimming project completed.
Date published: 2020-06-16