+6
40V 21" BRUSHLESS Self-Propelled Mower with 7.5AH Battery & Charger
Model: #RY401130
Brushless Motor delivers GAS-LIKE POWER™
Self-Propelled technology with rear-wheel drive for user convenience
Easy-lift lock-and-release bagger for single motion bag removal
+6
Self-Propelled Rear Wheel Drive
Features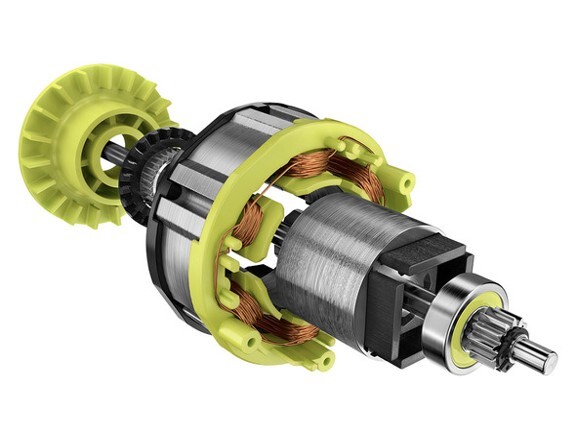 Brushless Motor
Delivers GAS-LIKE POWER™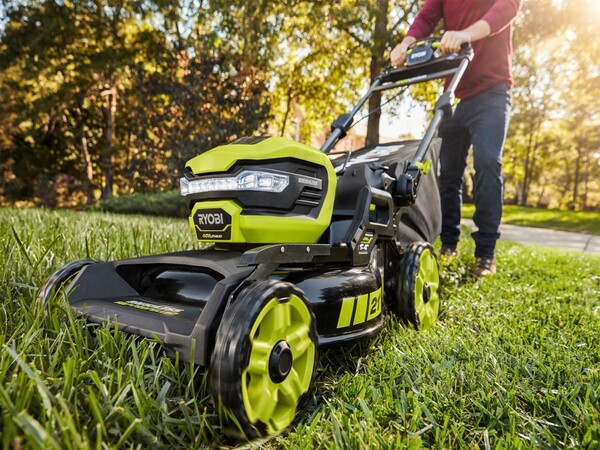 Self-Propelled Technology with Rear-Wheel Drive
For user convenience
21 in. Steel Deck
For durability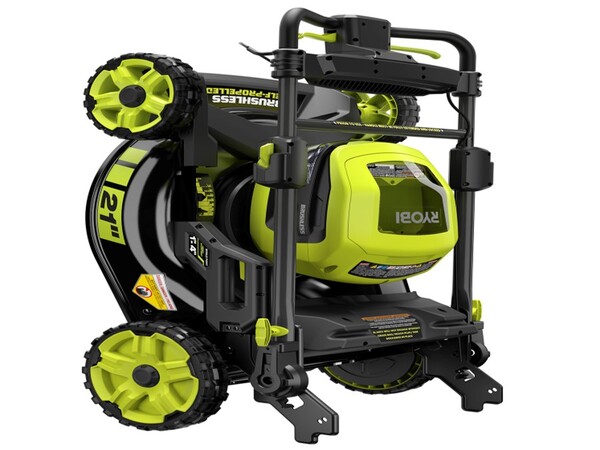 Collapsible handles
For compact storage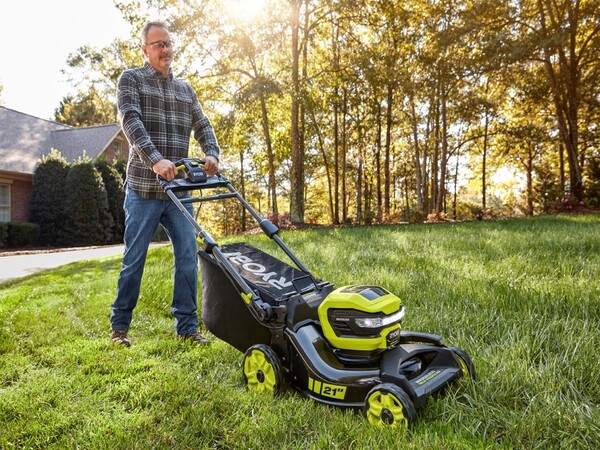 Push Button Start
For hassle-free starting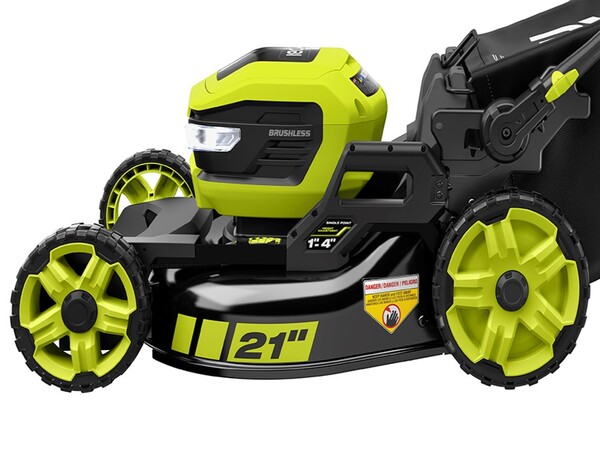 7-Position Single Point Deck Height Adjustment
For height adjustments from 1" - 4"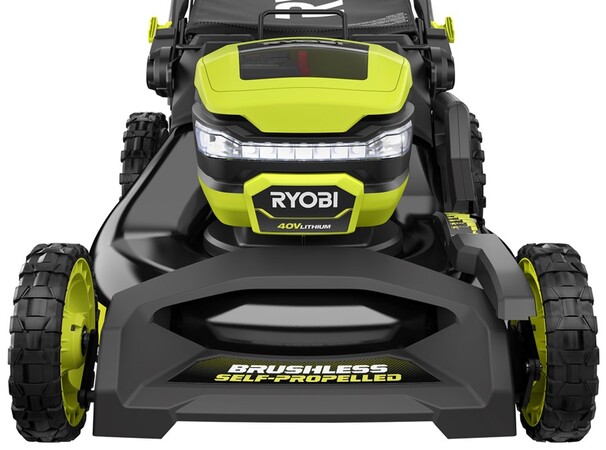 High-Intensity LED Lights
Provide light for mowing in the evenings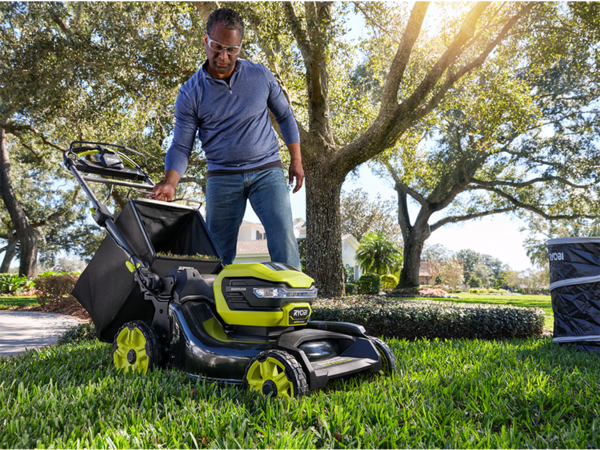 Easy Lift Single-Motion Release & Lock Bagger
For emptying grass and easily locking bag back into place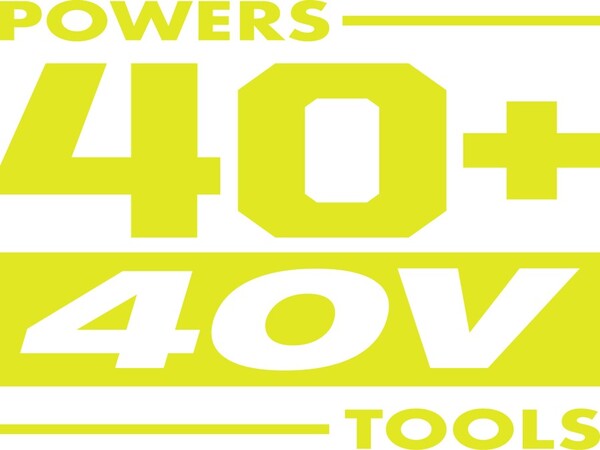 System Compatibility
Compatible with all Ryobi 40V tools and chargers
Specifications
Dimensions
Deck Size

21"

Cutting Height

1.5" - 4"

Weight

72 lbs.
Details
Battery

40V 7.5 Ah Battery

Deck Height Adjustments

7-Position Single Point

Recommended Yard Size

Up to 1/2 Acre

Mower Function

Mulching, Bagging, and Side Discharge (Accessory Sold Separately)
Warranty
Warranty

5 year tool warranty and 3 year battery warranty
Includes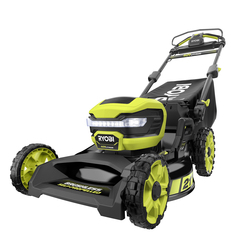 40V 21" Brushless Self-Propelled Mower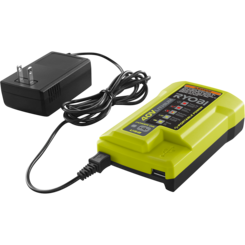 [#<ProductFeature id: 2619, title: nil, content: "40V 21\" Brushless Self-Propelled Mower", photo: "d48b754b-1e52-427b-b1ea-37999879bfda.jpg", created_at: "2020-09-03 19:59:10", updated_at: "2020-09-03 19:59:10", product_id: 1216, sort: 0, enhanced_type: "included_item", enhanced_group: nil, enhanced_icon: nil>, #<ProductFeature id: 2621, title: nil, content: "40V Charger", photo: "1ea3bd24-998e-49ed-a6c4-7dec0b8b2b70.png", created_at: "2020-09-03 19:59:14", updated_at: "2020-09-03 19:59:14", product_id: 1216, sort: 2, enhanced_type: "included_item", enhanced_group: nil, enhanced_icon: nil>, #<ProductFeature id: 2634, title: nil, content: "40V 7.5 Ah Battery", photo: "6a6189eb-2545-4847-9068-62f7660e46bb.jpg", created_at: "2020-09-03 20:53:05", updated_at: "2020-09-03 20:54:27", product_id: 1216, sort: 1, enhanced_type: "included_item", enhanced_group: nil, enhanced_icon: nil>]
Reviews
40V 21" BRUSHLESS Self-Propelled Mower with 7.5AH Battery & Charger
40V 21" BRUSHLESS Self-Propelled Mower with 7.5AH Battery & Charger
is rated out of
5
by
224
.
Rated

5

out of

5
by
Jamie54
from
OMG! I love this mower!
Long story, suffice to say I bought one a couple of years ago, had problems, Ryobi replaced the mower! Problem solved. I now have a mower I love and even though I have psoriatic arthritis, this mower helps me power through THICK grass over the septic tank, it pulls me uphill when I'm running out of steam and the bag attachment lets me mulch my clippings. The variable speed self-propelled feature works amazingly well. Between my 5'3" frame and my husbands 6'5" frame, we can each find a speed that works for us! The battery lasts longer than 30-35 minutes, as that's usually all the sustained exercize I can do before arthur starts beating on my joints. Thanks Ryobi.
Date published: 2020-02-23
Rated

5

out of

5
by
Nanagrams
from
This mower is a breeze to use! Does a great job!
I'm a 69 year old woman and I just bought a house with a large backyard. I bought this mower a couple of months ago and have used it many times since. The setup and operations instructions were easy to understand and spot-on. The self-propelled feature is a lifesaver for me. At 60 pounds the mower is a bit heavy to manhandle manually but once I got used to holding and letting go of the self-propelled levers I was able to handle the yard with no issues. I am in Texas so have to mow nearly every week in the summer. The grass catcher bag is the perfect size for the Home Depot yard waste bags, too, which makes emptying the grass catcher easy. Very clever of you!
Date published: 2020-06-11
Rated

4

out of

5
by
Ty_Maryland
from
Its battery powered
I purchased this one I didn't want to mess with the gas powered mowers that I had been using since a youth. My back yard is sizable and it has an incline so the push assist was definitely a pro that I wanted. It takes me one 7.5aH battery and two 6aH batteries to get through my entire yard. Everything works well and I took a star off because the handle part is only aligned to this little peg and mine is bent slightly because I've had to move it when pushing it while cutting grass. If it bends any more the little peg wont fot through the hole and keep the handle/frame straight. The little pins that they used to have back in the day wouldnof helped out a bit...
Date published: 2020-05-22
Rated

5

out of

5
by
BatMobile of Mowers
from
WOW
For anyone reading this I am going to be honest here. I am a young 60 year old woman and my almost 20 year old mower wouldn't start yesterday so I went and bought a new spark plug (which usually does the trick) but it didn't work. So I hauled my happy self to my nearest Home Depot and looked at mowers. I planned to get another simple gas engine 21" and go back home. But then I laid my eyes upon the magnificent Bat Mobile of lawnmowers! This thing is sharp! And, by gosh, it actually has a headlight! So I stood there comparing mowers and then got on YouTube to see videos and reviews. Save yourself the time - the YouTube reviews for this mower are good. They just said that if you have a big lawn you will want an extra battery and that you need to empty the bag a little more often than you might for a gas mower. No big. If it saves the environment for me to bend down and work a tiny bit harder, its worth it. But I was still uncertain about some newfangled electronic BatMobile mower, so I went to the Customer Service desk and asked if they have many electric mowers returned. The young lady said, "Never" and then also told me that I have a FULL 90 DAYS no questions asked if I decide I don't like the mower. That sold it. So I bought it and took it home. Now remember, I am 60...not over the hill yet...but alas, no longer a spring chicken. I un-boxed and set the thing up with no problems. I charged the battery and after reading all the directions, I anxiously started BatMower up. It is sooooo smooth! It's quiet and moves very easily even without engagement of the self-propel. So, I tried the self-propel. It is really great but you ought to check the speed adjustment before engaging it and not be like me and have it try and take off while you ungracefully run behind it. Start on lowest and work your way up. After getting used to the mower - which only took 5-10 minutes because I was used to my noisy gas push mower, I have to give this a big thumbs up. I like it! Now I will be showing off my BatMobile looking mower often. I may even have to buy a matching black and neon outfit.
Date published: 2020-03-09
Rated

5

out of

5
by
Seph1930
from
Powerful and Quiet
I purchased this mower to avoid the noise and smell of a gas mower, and to be better to the environment. Wow, have electric mowers come a long way! This one is quiet and powerful and the 7.5 hour battery lasts 3/4 acre. Also, this self-propelled mower is so light and maneuverable that I barely have used the self-propelled feature. One thing though- One of the pins that secures the handle locking mechanism slipped part way out of its hole and the handle fell off. I had to search the yard to find it. When I put it back together, I put a dab of glue in both holes, on both handles to be safe, and now it stays in place.
Date published: 2020-06-19
Rated

5

out of

5
by
Moegal
from
Easy to operate!
We bought this mower approx 3 weeks ago and I have used it 3 times. I have a reasonably large back yard and smaller front yard. I can almost get everything done without switching over to 2nd battery. I am a woman (+60) and have no problem using this mower. My only issue is when both batteries are loaded in the mower I have a problem lifting them out when done due to the fact they weigh over 5 pounds and they are bigger around than my hand grip and they are a snug fit with both in. I resolved this by only loading in one battery and removing it when depleted and inserting the 2nd one. More room to grasp the battery to lift out.
Date published: 2021-04-26
Rated

5

out of

5
by
drano21
from
PERFECT Mower for our yard
I have had a Husqvarna mower for years and frankly, there was nothing wrong with it. I went to mow my in-laws and they had this mower. I couldn't believe how easy it was to use, quiet, no maintenance, and mowed through some medium high grass with absolutely no issues at all. I was very interested in not buying gas, pushing a button to start, and having something that will only need a blade sharpening each year. Very happy, know you will be as well. If you have a VERY large yard, perhaps an extra battery would be needed. I don't need it and if I just mowed front and backyard...it would probably take about 25 minutes.
Date published: 2020-04-29
Rated

5

out of

5
by
Michael The Nurse
from
Works just like a gas mower
I just purchased this product and I was sketchy at first because it is battery powered but I got it home, comes assembled right out the box. No pull start to mess with and no gas use which means you just squeeze the throttle and press the button and your on your way. I di my whole lawn and still had 3 bars on the battery indicator. Great product, great experience, no fumes and less noisy then a gas mower. Defiantly recommend this mower if your looking to replace your gas powered one.
Date published: 2020-06-19