+2
40V 1500 PSI Cordless Pressure Washer
Model: #RY40PW01DG9
Portable, easy-to-use, and low maintenance power washer
1500 PSI & 1.2 GPM (Boost Mode)
Turbo nozzle for up to 50% more cleaning power
+2
Portable, innovative, and easy to use. The RYOBI 40-Volt Lithium-ion 1500 PSI Pressure Washer includes two 5.0 Ah batteries and eliminates the hassle of gas and electrical cords. Simply connect to a garden hose or external water tank, insert the batteries and start cleaning with the push of a button. Equipped with two active battery ports you can choose to use one battery or two for extended run time. This pressure washer features a Brushless Motor and is designed with two modes of operation. The default setting produces 1000 PSI to extend run time for less demanding tasks and the Boost Mode delivers 1500 PSI of cleaning force for tougher cleaning jobs. Quickly clean windows, patio furniture, bikes, cars and many other applications at home or on-the-go with the included 5 Gallon water tank. The on-board soap detergent tank offers hassle-free cleaning, eliminating the need to carry a bucket of soapy water behind you. This model includes 3 nozzles: 15°, Soap and Turbo for 50% faster cleaning. The RYOBI 40-Volt 1500 PSI Cordless Pressure Washer combines portability with convenience and allows you to go anywhere the cleaning task awaits.
Features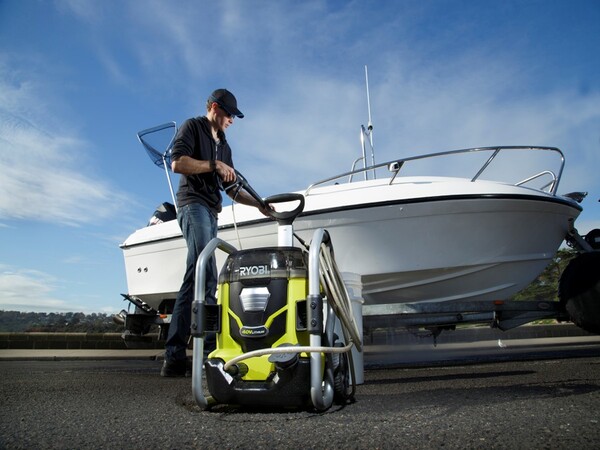 Portable, easy-to-use, and low maintenance
For customer convenience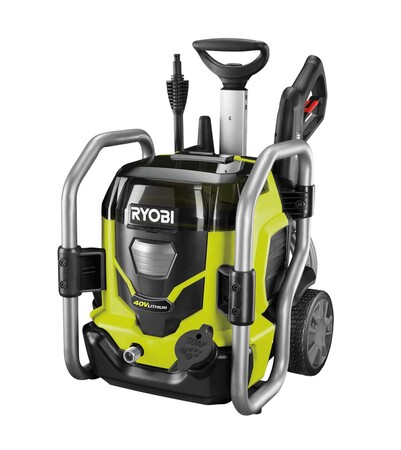 Water Resistant Battery Enclosure
For added protection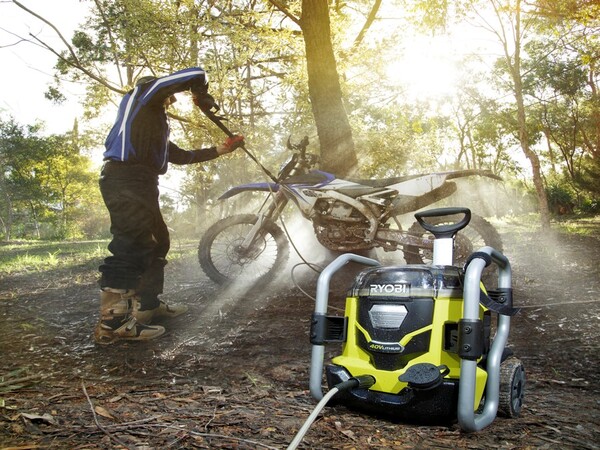 Turbo Nozzle
For up to 50% more cleaning power
Durable Frame
Wheels and telescoping handle for easy transport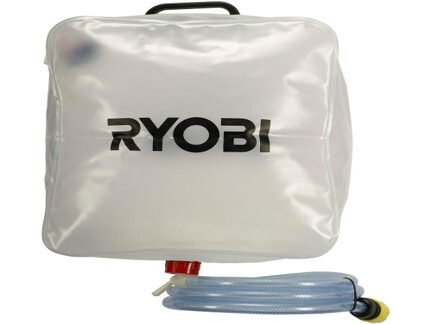 Detergent Tank
For easy soap application
System Compatibility
Compatible with all Ryobi 40V tools and chargers
Specifications
Motor: Brushless
PSI: 1500
Flow Rate: 1.2 GPM
Pump: Axial
Hose Length: 30 ft.
Wheel Size: 6 in.
Weight: 32 lbs.
Includes
40V Cordless Pressure Washer
(2) 40V 5.0Ah Lithium-Ion Batteries
40V Lithium-Ion Charger
30 ft. High Pressure Hose
Trigger Handle
Spray Wand
Nozzles (15°, Soap, Turbo)
Operator's Manuals
Reviews
40V 1500 PSI Cordless Pressure Washer
40V 1500 PSI Cordless Pressure Washer
is rated out of
5
by
7
.
Rated

5

out of

5
by
DennyM
from
Despite the poor users manual, this is Fantastic!
I have owned this unit for about one month now and I must say that it is all I hoped it would be. However, an honest review would have to also include shortcomings. EXPLOIT THE BENEFITS OF THIS UNIT: - The versatility of this unit could be improved with including an inexpensive foldable stainless steel stand for the portable water bag. In the poorly presented instruction manual it implies that the water bag should be 20" off ground but pretty much quits there. Perhaps a relatively inexpensive stand would help better show-off its true portability without having to look for a chair or 20" high bucket to serve as a movable platform. And the manual to help the user understand and appreciate the benefits of this unit really sucks as explained below: MANUAL NEEDS REVISIONS AND OVERALL IMPROVEMENT: - Owners manual is not near the quality level one would expect for such a nice unit. For example, after going through the obligatory disclaimers and safety concerns, I was hoping to get some good basic directions. The manual talks about keeping the inlet screen clean, well guess what there is none. Apparently RYOBI re-engineered some of their units to not need the screen from the hose to the unit, but failed to know this when they wrote the manual. Also, the usability of the water bag feature should be better explained with not only instructions but the many possible benefits as well. - The manual references small drawings for instructions as references to the written instructions. A MUCH BETTER APPROACH would be to spend a little more time and include photos or illustrations along with the written instruction guidance. - RYOBI could spend a few extra $ and time and print out a users manual on larger and thicker paper. Thin paper with small print is not comparable with the quality of the unit (this is also true for my RYOBI 40V tools in general e.g. mower). Well RYOBI, you asked for my review and you got it. Please don't get me wrong, I love this unit and am a loyal RYOBI and Home Depot customer, but I just gotta tell you where you could really up your image.
Date published: 2020-07-03
Rated

4

out of

5
by
JMF1205
from
Added to family of Cordless!
We just purchased the cordless pressure washer and went right to work on deck furniture! Liked what we saw so far and one great feature...pretty quite no more loud motor sound. Good pressure removing dirt with ease. In the last handful of years we have replaced our 2-speed gas tools with battery including the Ryobi Lawn Mower last spring! That too so quite I had a phone call while mowing and conversation easily heard.
Date published: 2020-06-04
Rated

4

out of

5
by
Chevyracefan24
from
Great for washing vehicles
Great for washing vehicles. Tried a neighbor's house worked good but had to keep stopping to recharge batteries which take quite a while. For around the house cleaning cant beat the easy of use. Which is why I bought it.
Date published: 2020-07-26
Rated

3

out of

5
by
Anonymous
from
Easy to use, not enough power
Very easy to use and I can see where this powerwasher would come in handy in certain situations. the only problem is didn't have enough power to do some of the simple jobs I wanted to do around the house. Had to return it.
Date published: 2020-07-20
Rated

5

out of

5
by
malski1
from
No more tangled hoses or tripping! Portability and RYOBI 40V batteries remove the hassle, danger and smell of gas. Also much safer to transport as gas won't leak out of unit during transportation. Great Product
Date published: 2020-06-12
Rated

5

out of

5
by
SRG2217
from
Great pressure, easy to use!
Bought this to clean out around the exterior of the house and has not failed me yet!
Date published: 2020-07-17
Rated

5

out of

5
by
Marilyn65
from
Amazing product
I bought this a month ago and it's been wonderful for my driveway !
Date published: 2020-12-16