+7
4000 Watt Inverter Generator with CO DETECT
Model: #RYi4022X
UL certified to ANSI/UL2201 as a low CO portable generator
Includes CO Detect shutdown sensor for added safety
Operates with greater fuel efficiency and less noise
+7
the perfect solution for any scenario
Features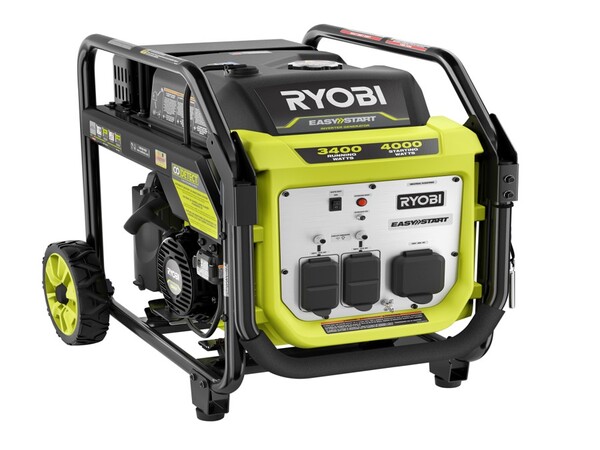 Power
3,400 running watt, 4,000 starting watt
12 Hours Run Time
At 50% load
Flat-free Wheels
For easy transport
Certified to ANSI/UL2201 & CO Detect Shutdown Sensor
For added safety
Specifications
Dimensions
Running Watts

3400

Starting Watts

4000

Engine Size

212cc

Starting

Recoil

Fuel Tank Size

3.2 Gallons

Run Time at 50% Load

12+ Hours

Outlets

(4) 120V 20A & (1) 120V 30A TT-30R RV

Weight

85 lb.

Warranty

3 Year
Includes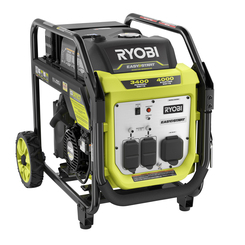 4000 Watt Inverter Generator with CO Detect
[#<ProductFeature id: 2821, title: nil, content: "4000 Watt Inverter Generator with CO Detect", photo: "fa2d97d5-070d-43fa-bda6-0356acb844eb.jpg", created_at: "2020-09-08 19:02:49", updated_at: "2020-09-08 19:02:49", product_id: 1128, sort: 0, enhanced_type: "included_item", enhanced_group: nil, enhanced_icon: nil>]
Reviews
4000 Watt Inverter Generator with CO DETECT
4000 Watt Inverter Generator with CO DETECT
is rated out of
5
by
137
.
Rated

4

out of

5
by
blybrook
from
Full Review Pending
I bought this for an upcoming trip and am still breaking it in. I am writing this review with rating of 4 stars as I found that there was a plastic plug in the oil drain line extension preventing an oil change. Nothing in the manual about having to remove this in order to drain the oil. It was not something I anticipated having to deal with. Also, my testing of audio readings results in readings that do not concur with the dB rating posted. At idle, to get 67dB, I am nearly 10 feet away. Without using the auto-idle feature, 10 feet gives me a reading of nearly 80 dB. As I use this unit, my review is subject to change.
Date published: 2020-08-02
Rated

5

out of

5
by
clu455
from
We bought this generator after we lost power due to a rainstorm. This generator was super easy to put together and ran considerably less quiet than other generators we heard in our neighborhood. In fact my neighbor two doors down questioned what we were using because he said he could barely hear ours running and was going to buy one because of that reason even though he already owned one (16 years old) It has 4 power outlets to run on and we were able to get through 3 days without power with no problem! I highly recommend this product for its ease in putting it together and its quietness and efficiency.
Date published: 2019-09-26
Rated

4

out of

5
by
Scooter2
from
Nice Generator....only two missing features
Bought in middle of power outage. I had a generator, but it would start and then 'die'. So, I went to Home Depot and bought the best size fit I could find. Not a lot of selection....was not willing to pay $2000 for a Honda. And pleasantly surprised generator was inverter model. Simple assembly. Oil fill location requires funnel. Started right up.....and then, lol, the power came back on. Bought under 'no time to research' conditions. So, with power back on, did some research. Price and features were very competitive. I am keeping. I WISH I could run it in parallel....and I WISH is was dual fuel.
Date published: 2020-02-09
Rated

3

out of

5
by
Jed328
from
Good generator
I live in California and due to power shut offs I needed a generator, so I bought a Ryobi thinking it would be a good product. I am a little disappointed at how hard it is to start and how loud it is,I thought that inverter generators were a lot quieter than this one, I know it is a open frame but I still expected it to be quieter. It does rattle alot. With that said, it did power the thing I plugged into (two refrigerators at the same time) the fuel economy is great and I like the auto-idle feature. I think if I had to do it again I would spend a little more and get a honda even though I hate hondas
Date published: 2019-12-03
Rated

5

out of

5
by
Ace 76
from
Ryobi easy start 4000 W generator inverter.
I just bought this Ryobi generator at home I just bought this generator inverter at home Depot, brought it home unboxed it put it together, very easy to put together poured the oil in put some gas in it pull the rope and it started on the first pull.
Date published: 2020-09-21
Rated

5

out of

5
by
Ronnz
from
Happy GeneratorPerson
Purchased this generator because of planned power outage in California. I shopped and rewiewed approximately 15 plus generators. I searched the internet for hours. My criterior for a generator were something to run a refrigator, microwave, small space heater, coffee maker and LED lights. Then the price was an important factor, quality and last factor was the noise. Well the generator is a little to noise. Weighting all the other factors this generator fit my needs. Yes, I could have gotten a quiter generator but the cost was quite a bit more. This was the "Best Bang for the Buck".
Date published: 2019-10-28
Rated

5

out of

5
by
Billyboy1
from
JUST GREAT!
Recently purchased this product. I HAVE NO COMPLAINTS. Met all my power and portability expectations (tested with assortment of home appliances). Very easy to start. Noise level is (especially) totally acceptable. Want to cut another ~10dB?...simple...Place 4 plywood boards on each side and angle them at ~45 - 60 degrees (don't cover exhaust, of course). Like magic...sound drops, significantly. It is well worth protecting the boards for use in varying weather conditions.
Date published: 2020-05-04
Rated

5

out of

5
by
orbofconfusion
from
Best for sudden outages
We own several Generators one being a 6800 watt that runs the whole house on 240 volts. Compared to that one this is very quiet and better suited for neighborhood use. Due to Florida storms it is a must have for anyone with a fridge and basic electronics they must keep running. Between storms it is run every month for 30 minutes, the fuel changed out once a year. We have used fuel stabilizer and never had any issues with fuel even going past 1 year in storage.
Date published: 2019-10-23