+2
3300 PSI HONDA Gas Pressure Washer
Model: #RY80942
Features a powerful HONDA™ GCV190 engine
Idle Down technology for fuel savings, reduced noise, and longer engine life
5-in-1 nozzle for easy spray-pattern changes
+2
The RYOBI 3300 PSI Pressure Washer is engineered to handle even your toughest jobs. With a powerful HONDA™ 187 cc gasoline engine, this RYOBI Pressure Washer delivers 3300 PSI of force for quick cleaning of driveways, decks, windows and other areas around the house. The engine is equipped with Idle Down Technology to decrease fuel consumption, reduce noise and increase the overall life of the engine and pump. The on-board soap detergent tank offers hassle-free cleaning by eliminating the need to drag a bucket and hose behind you and the 50 ft. hose gives you 2X more reach than your standard hose. The included 5-in-1 nozzle allows you to easily change between 0°, 25°, 40°, Soap, and Soap Jet nozzles for all of your pressure washing needs. Featuring a durable and compact roll-cage frame and folding handle this pressure washer is designed for easy transport and compact storage.The RYOBI 3300 psi Gas Pressure Washer is backed with the RYOBI 3-year limited warranty and is guaranteed to deliver results for years to come.
Features
Engine
Powerful HONDA™ GCV190 (187 cc) engine
Idle Down Technology
For fuel savings, reduced noise, and longer engine life
5-in-1 Nozzle
For easy spray-pattern changes
Maintenance Free
Aluminum pump
On-Board Detergent Tank
For hassle-free cleaning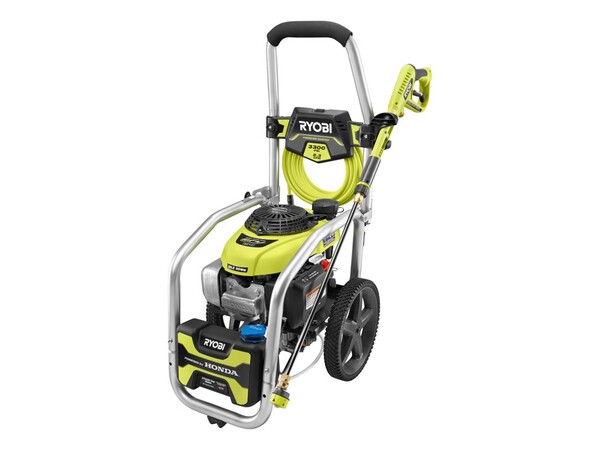 Role Cage Frame Design
Keeps engine protected in rough conditions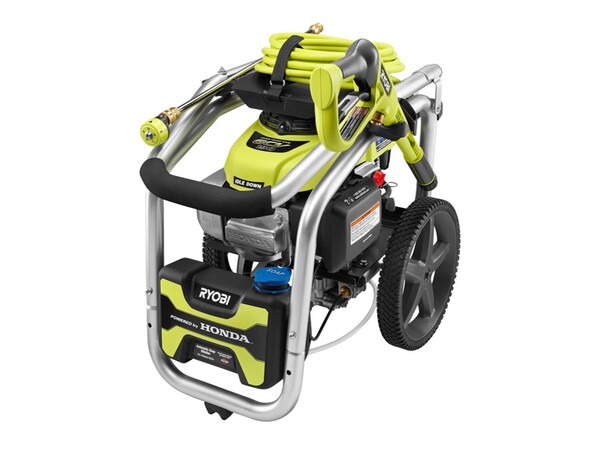 Folding Handle
For easy and compact storage
Specifications
Engine: 187cc Honda GCV190 4 Stroke Engine
PSI: 3300
GPM: 2.3
Pump: Axial Cam
Hose Length: 50ft.
Maximum Inlet Water Temperature: 104°
Weight: 68 lbs.
Includes
Pressure Washer
50 ft. High Pressure Hose
Trigger Handle Holder
Spray Wand
5-in-1 Change-Over Nozzle (0°,25°,40°,Soap, and Soap Jet)
4 Cycle Engine Lubricant (SAE 30 or SAE10w30)
Reviews
3300 PSI HONDA Gas Pressure Washer
3300 PSI HONDA Gas Pressure Washer
is rated out of
5
by
530
.
Rated

5

out of

5
by
cassidyfk
from
OBSESSED with this pressure washer!
Recently purchased this pressure washer from our local Home Depot and we are OBSESSED. As first time homebuyers, we wanted a product that would carry us throughout our many years in our home. We have a whole lot of concrete from the driveway, RV parking and patio including 2 sheds in the back! We needed a product that was reliable and easy to use. The lightweight and clean design of this pressure washer allows a newbie like myself to get the full use out of this thing! Honda engine is a no-brainer and a BIG selling feature. Powerful with a built-in soap dispenser, this pressure washer is going to take us from concrete cleans, siding, car washes and more!
Date published: 2020-05-02
Rated

5

out of

5
by
Rwardlaw18
from
Awesome power and easy start
I have used this thing well over 25hrs since I bought it 3 weeks ago. I bought all the attachments that Home Depot had for it including turbo nozzle and surface cleaner and man it sure does make a world of difference! I have cleaned my house, concrete, porch vehicles, and side by side and this thing make it easy! I highly recommend this pressure washer. It's easy to operate and start and the 3300psi is more than enough to get any job done. The idle down feature is very nice as well. Won't go wrong choosing this product! Be sure to buy all the attachments when buy the washer so you can get the full effect on what this thing can do!
Date published: 2020-04-24
Rated

2

out of

5
by
GLMace
from
Horribly disappointing
We looked at several models. All in the same price range with similar specs and Honda engine. I selected this one due to the 50' pressure hose. However this unflexible hard plastic garbage excuse for a pressure hose is so utterly useless... you will be lucky to get 20' from the pressure washer before it coils tight in a dozen places. So far... everything else seems to work but this is basically worthless to me until I go out and buy a real pressure hose. So now this junk has cost me more than all the rest I looked at would have. Buyer beware! If you buy this... plan on spending money on a pressure hose that is actually useable. Ryobi should be ashamed.
Date published: 2021-05-15
Rated

5

out of

5
by
James864
from
Exceptional pressure washer
I've had this pressure washer for a few months and can not be more impressed. It continually starts on the first pull, maybe two if it's colder outside. Ive pressure washed all around my house, including an entire large drive way and the machine hasn't skipped a beat. One of my favorite aspects of the pressure washer is the 5 setting nozzle it came with. It eliminates the need to keep track of expensive tips and is made of metal which stays true to the durability of the product. Would highly recommend for homeowners, and the array of attachments ryobi has available are second to none. The only negative I can think of is the fuel tank is slightly undersized.
Date published: 2020-09-18
Rated

4

out of

5
by
Ken1154
from
Works well
Brought the unit home and read all the instructions. Added the oil, gas and soap and connected the water hose. Started the unit and began using to wash. After about 6 minuets the 'O' ring failed on the hose where it connects to the wand. I tried calling Ryobi customer service TWICE and was on hold better than 30 min each time. I procured an "O" ring on my own and all is well at the present time. Used it a few times after that and working well. Bottom line, if anything major happens and you can't get in touch with Ryobi customer support.....bring it back. I won't recommend Ryobi because their customer support failed me. I am sure this review will get squashed.
Date published: 2020-07-20
Rated

5

out of

5
by
Penguy42
from
Great pressure washer
I bought this pressure washer to replace a 20 year old pressure washer with a bad pump. The Honda engine starts easily, and the idle down feature is nice. The 50 ft high pressure hose means I don't need to move the machine as often when cleaning the patio and sidewalks. I purchased the turbo nozzle to clean the patio, sidewalks and several large rocks in the landscaping. The turbo nozzle cleans cement, brick and rocks ,faster and better than a fan nozzle. Don't care much for the way the handle used to roll the machine is made to go towards the front of the machine instead of toward the rear of the machine. Overall great machine, very happy with purchase.
Date published: 2020-09-20
Rated

5

out of

5
by
Happy Camper 14
from
Great Customer Service
Purchased unit as Father's Day present at Home Depot based on sales rep advise on performance and service. He owned smaller model. The first use was fantastic but unfortunately had a failure of an oring which ended in some disappointment but overall the unit performed as hoped. After contacting Customer Service about the oring they went above and beyond in resolving the issue quickly and have more than adequately taken care of the problem. You never purchase a tool hoping you have to repair it soon but its good to know that if that happens there are still companies that will stand behind the product. So overall I am very satisfied at this point with my purchase!
Date published: 2020-07-25
Rated

5

out of

5
by
mmoore
from
3rd Time Is A Charm
So I recently decided to but a pressure washer to replace my old excel pressure washer. I went first with a craftsman from Lowes and had issue with it even getting it started for the first time. Then got it started and it would cut off and wouldn't stay started. Then I returned that one and bought a Simpson from amazon and got it. Figured it would be good with a Kohler motor on it. Boy was I wrong the same thing happened as with the Craftsman and then it wouldn't even start at all anymore so that went back. I decided to go to Home Depot for one and for this one with the Honda motor. Boy I could not have found a better pressure washer. This thing started right away and I used it all day literally all day without a single issue. Third time is a charm!!! I am so glad I found this product and I will be purchasing more products from Ryobi because they are well built and actually run. I definitely recommend this product.
Date published: 2020-04-26