+4
3200 PSI ONE+™ E-Start Pressure Washer
Model: #RY803111
+4
This RYOBI 3200 PSI Pressure Washer is the first of its kind while featuring ONE+ Electric Start. The included 18V ONE+ Lithium+ battery starts up your pressure washer with a simple press of a button – getting you back to work faster and the job done sooner. This powerful pressure washer produces 3200 pounds per square inch of pressure (PSI) and delivers 2.4 gallons per minute (GPM) of cleaning force. This pressure washer is guaranteed to deliver professional results for years to come with a 3-year limited manufactures warranty.
Features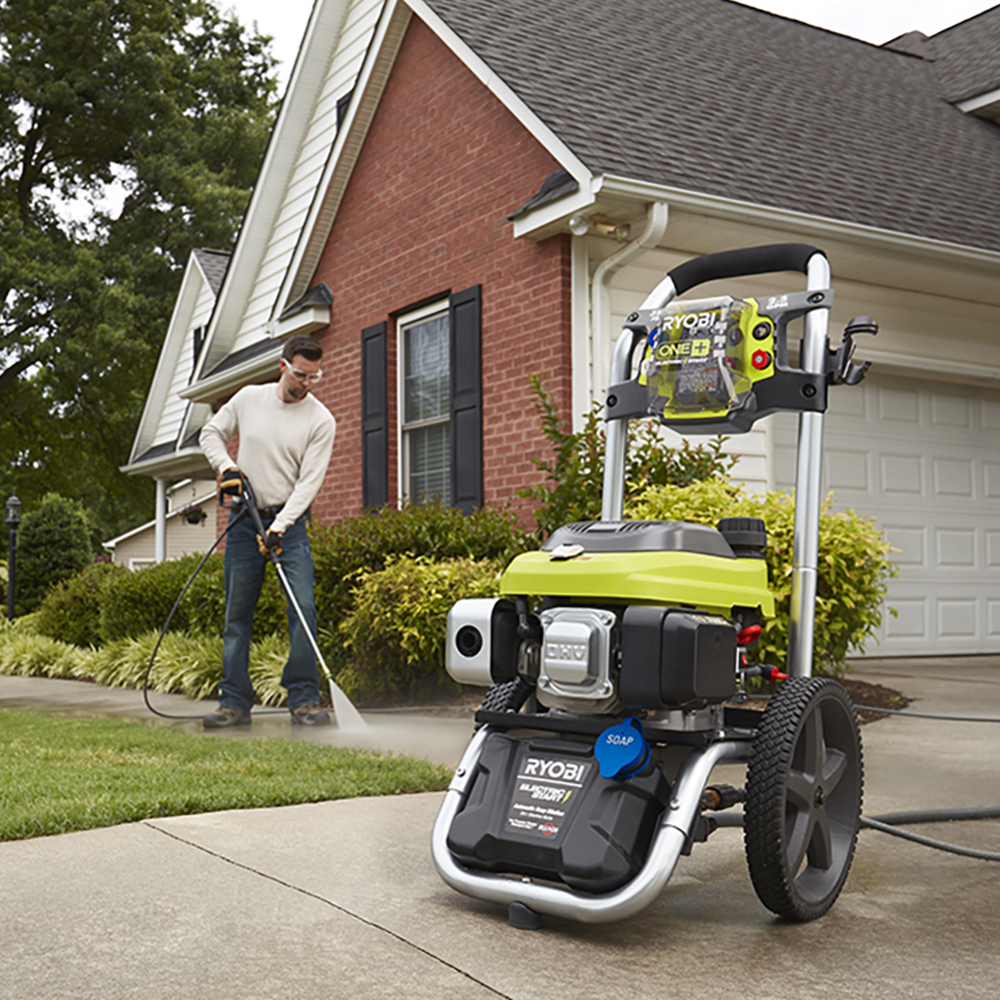 Powerful 3200 PSI 2.4 GPM engine
ONE+ Electric Start for quick and easy starting
Durable Hand-truck design for easy transport
On-board soap tank for easy detergent application
On-board storage for user convenience
Specifications
PSI: 3200
GPM: 2.5
Start Type: Electric
Pump: Axial Cam
Fuel Tank Capacity: .25 Gallon
Hose Length: 25 ft.
Wheel Size:12 in.
Weight: 72 lbs.
Includes
3200 PSI ONE+ Electric Start Pressure Washer
RYOBI 18V ONE+ Lithium+ battery and charger
Trigger Handle with M22 Connections
Metal Spray Wand
25 ft. High Pressure Hose
0, 25, 40 Degree Nozzles, Soap Nozzle & Turbo Nozzle
Operators Manual
Reviews
3200 PSI ONE+™ E-Start Pressure Washer
3200 PSI ONE+™ E-Start Pressure Washer
is rated out of
5
by
134
.
Rated

5

out of

5
by
BE2164
from
Ryobi one+
Purchased about two months ago and really appreciate the easy start capability. The machine is well built and the assembly out of the box is easy. The performance is what you would expect from Ryobi and it gets the job done well. My only issue was the first time I ran the machine it went through the fuel faster than I expected. Totally my fault, I failed to adjust the choke lever from the start position to the run position. A solid machine and the easy start feature is great especially compare to my old pressure washer which was always difficult to get going. I actually was able to start with a single pull when I tried it without the easy start feature.
Date published: 2019-09-03
Rated

5

out of

5
by
ldnaar
from
Great Features
We have been needing a new pressure washer and started the process of researching the various models. My wife wanted one with an electric start as our old one was a "mean" pull cord. Our search brought us to the RYOBI E-Start Pressure Washer The battery pack feature is a plus for the electric start and has plenty of power to start the washer. It is much more efficient then a standard outdoor equipment battery. The various nozzles are well designed and work well for various applications. I like there are several attachments available for this pressure washer. The 18' ft extender is perfect for a two story house. The washer is easy to maneuver.
Date published: 2019-04-30
Rated

4

out of

5
by
Mitcline
from
Ryobi - 3200 PSI ONE+
Bought this online two months ago. When it arrived the soap tank was cracked and had to get it replaced as it leaked. Used it to power wash a very large wooden back yard fence. The different spray nozzle attachments worked great. Did a good job washing the fence to remove some heavy mold/mildew. One caution, my friend was helping me power wash and he when he drug the hose that attaches to the wand around to the exhaust side of the power washer he touched the exhaust with the hose and it melted a hole through the hose and I had to go out and buy a new hose. So be care walking around the machine with the hose. Overall the machine worked great. Overall good buy for the price.
Date published: 2018-05-17
Rated

3

out of

5
by
Kegman
from
Good Machine
Well i want start out by saying that I absolutely love that I can use all of my batteries to start this thing. With that said when I purchased mine it was missing the start switch and I didn't notice it until i gassed and oiled it up making it difficult to return. After 4 hours of research and about 10 phone call Ryobi finally found the part and is going to send it to me. Long story short, buy one that has an engine that you can find parts for and not some off the wall made in japan thing that you can't find parts for.
Date published: 2018-04-06
Rated

3

out of

5
by
Suzican
from
So disappointed
I bought this pressure washer with so much excitement! My first gas powered pressure washer! Nothing but trouble. My first one came and parts were broken. I tried to use it but to no avail had to get a new one. The second one came and it was broken as well. Now I have to return and exchange again. I'm hoping third times a charm. Normally Ryobi is my go to tool! I'm really disappointed. I have the sprayer, three drills, the blower, the glue gun, the work light and the power stapler. Seriously disappointed.
Date published: 2019-05-11
Rated

4

out of

5
by
Quaddad2
from
Nice PW with plenty of power, but one design flaw
Bought this PW because I wanted lots of power and an electric start. The fact that I already own many Ryobi One+ tools was the clencher. I've used it to clean my entire patio, front porch, sidewalks, and driveway; a total of 6 hours. It starts easily and the noise is minimal for such a machine; about the same as a Honda generator. The flaw is with the gas tank design. There is no visibility to see how much is left and the fill neck is narrow and too close to the handle. Filling it is a bit awkward and slow. Several times it nearly overflowed before I was able to stop. A second "flaw" may be limited to my machine. The choke lever wants to return to the choke position while the washer is running, thereby decreasing the available power. I was able to attach a wire to it to keep it in place and had no further trouble. Overall, I'm very pleased with this purchase.
Date published: 2018-03-24
Rated

5

out of

5
by
Normandrc
from
Initial issues with GREAT resolve !
I originally purchased this pressure washer in early April for my patio project and other chores. The original order arrived and looked like it was used, and internal packaging disrupted - with the smell of fuel. Concern, I called Home Depot and they gave dollars off. However, then noticed the off function did not work properly. Ryobi proactively contracted me and apologized for the inconvenience and are in the process of sending me a replacement at no charge. I admired their proactiveness with a resolve in order.
Date published: 2018-05-24
Rated

4

out of

5
by
DarrylW
from
electric start a nice feature
I bought this a month ago to clean my back deck of the heavy pine pollen. It did a great job and the nozzle options cover a wide variety of pressure jobs. it is pretty mobile. it would be nice if the hose was a little more flexible. The electric start makes for an easy start even though the switch had apparently was installed upside down according to the usee manual. Just be careful which detergent you use. I purchased a gerneral purpose and also washed my car. It left streaks on my windows that i still am having trouble getting rid of. Overall a nice washer.
Date published: 2018-05-17