+7
30" Electric Riding Mower 50 AH
Model: #RY48130
Low maintenance: no belts, spark plugs, or filters
Battery operated: no gas or fumes, charge and go
Up to 1 hour of runtime: up to 1 acre per charge
+7
Goodbye gas. Hello convenience.
Features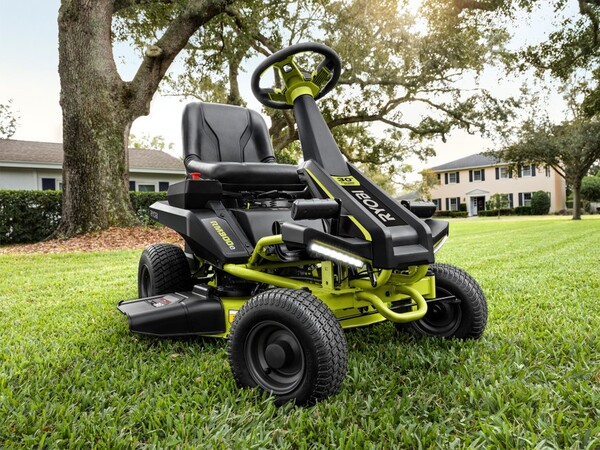 Low Maintenance
No belts, spark plugs, or filters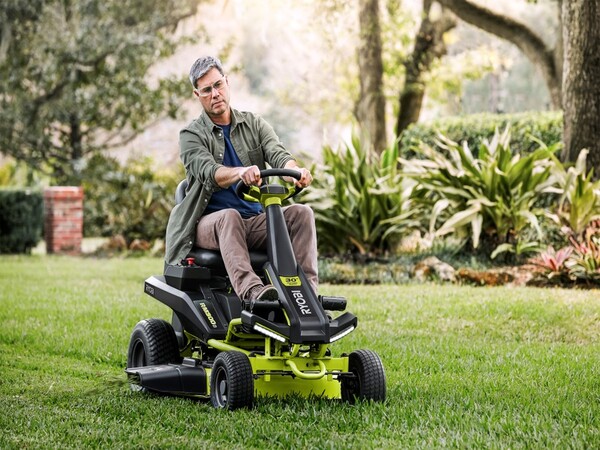 Battery Operated
Fully electric mower with zero emissions
Up to 1 Hour of Runtime
Up to 1 acre per charge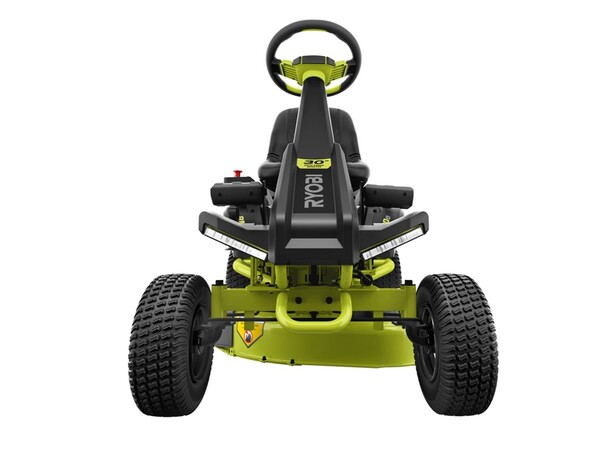 3 High Powered Brushless Motors
Deliver GAS-LIKE POWER™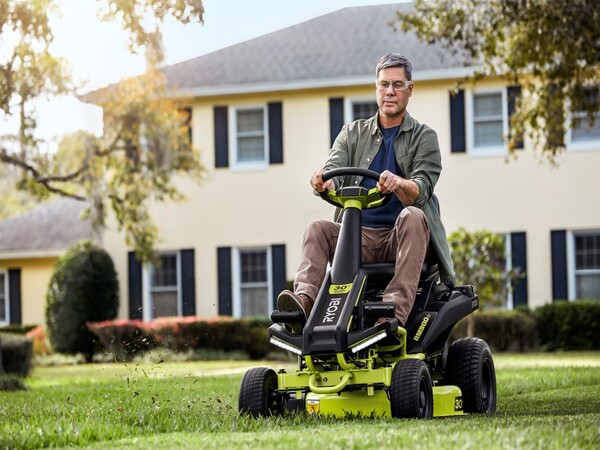 Cruise Control and Quiet Cutting
For user convenience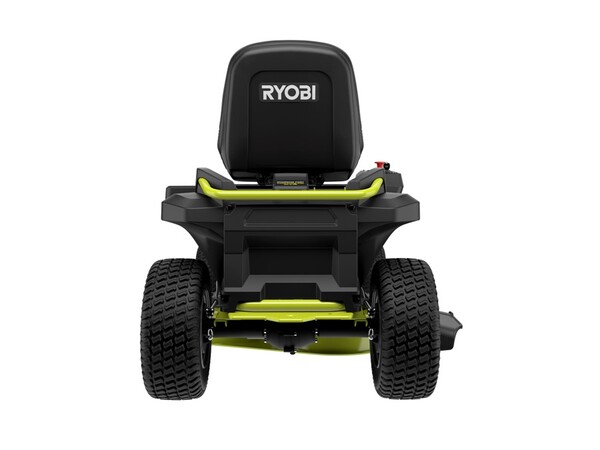 Cutting Options
Mulching, side discharge, and bagging (bagger sold separately)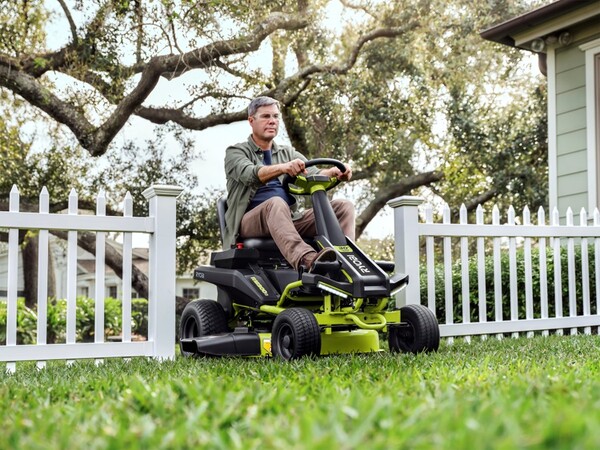 User Convenience
Fits through a standard 42" fence gate
Specifications
Dimensions
Cutting Height

1.5" - 4.5"

Weight

442 lbs.

Deck Size

30"
Details
Battery

48V 50Ah

Charging

Standard 120V Outlet

Cutting Area per Charge

1 Acre

Deck Height Adjustments

7-Position Manual Deck Adjustment

Max Speed

5 mph

Replacement Battery

Leoch model 6-EVF-50
Warranty
Warranty

3 Year Limited Warranty
Includes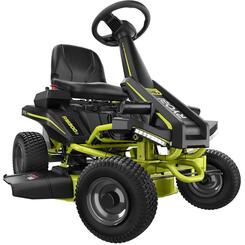 30" Electric Riding Mower 50 Ah
[#<ProductFeature id: 3093, title: nil, content: "30\" Electric Riding Mower 50 Ah", photo: "3e90c462-aa1a-408a-8562-2c0996e6c7f6.jpg", created_at: "2020-09-10 21:42:00", updated_at: "2020-09-10 21:42:00", product_id: 1241, sort: 0, enhanced_type: "included_item", enhanced_group: nil, enhanced_icon: nil>]
Reviews
30" Electric Riding Mower 50 AH
30" Electric Riding Mower 50 AH
is rated out of
5
by
35
.
Rated

4

out of

5
by
Danny T
from
Great mower and quiet ride
This was my first riding mower and I didn't want to deal with taking care of an engine. Online reviews were very helpful. Buying the smaller version for 1/2 acre it initially took me an hour to more, but have reduced it down to 40 minutes. The battery never goes below 50%. In the fall I use it every other day to remove leaves with the bagger and it is excellent. Only draw backs would be that it is rough over uneven ground and the tires pick up sand and dirt easily. I hose it off when done and use a leaf blower to clean it off when finished. I am able to use ear buds to listen to music or podcasts which wasn't possible with a gas engine.
Date published: 2020-10-24
Rated

5

out of

5
by
Bud21
from
excellent machine
I took delivery of my new mower about one month ago. My lawn needs mowing several times a week during the summer month. I also purchased the bagging attachment. I have now mowed 8 times and my lawn has never looked so good. The cutting speed has produced a perfect cut. I have about a quarter acre of lawn. It used to take an hour with my walk behind mower. I now can finish in less than 30 mins and clear of clippings. The mower is quiet and fast. I have several sloping areas and the mower climbs them with no problem. Excellent quality machine. I am very pleased with the power and performance.
Date published: 2020-08-24
Rated

5

out of

5
by
Sensei Jeff
from
So far so good
Seems sturdy and shipped well. Only a couple of trash days needed for shipping crate. I've ran it twice and it is quite when riding to my mow site. The mowing part is where it kinda "whirles" for the noise. I only had to do a small section on my newly hydroseeded areas. About 1/8 of an acre. Didn't even make the battery go down more than 1 notch. I REALLY like the fact I'm not dealing with gasoline and loud noises, fumes etc from an actual engine. The fact that I have solar panels makes this all the more sense for me.
Date published: 2020-08-04
Rated

4

out of

5
by
ridinghappy
from
Heart saver
I have CAD and suffer angina while pushing a mower. I hated having to buy gas and change oil, plugs, etc. with my last riding mower. My 40V Ryobi push mower was 3 years old and starting to have issues such as a broken wheel and finicky safety switches. It took all my energy over several hours with multiple batteries to finish the whole yard. Now, while seated, with a single charge I am done in less than an hour with plenty of energy and battery life to spare. It is certainly not a powerful machine but it does a pretty good job now that I have found the right cutting height and have filled in a few lower spots in my yard. It is a bit pricey but so far I think it is a good value.
Date published: 2020-08-29
Rated

5

out of

5
by
Steele1428
from
Great Features/Great Value
I received this mower a short time ago, it was easy to assemble and easy to charge for next day use. I can't believe the power the 3 brushless motors provide to the blades and rear drive , it provides a clean, quiet, and powerful cut. You are going to love the low maintenance, no more gas, oil, belts, or spark plugs, only maintenance needed is to keep blades sharpened. Mower will provide full cutting power up to 1 hour or one acre, with charge to spare. Steele
Date published: 2020-04-26
Rated

5

out of

5
by
twhalen
from
Great mower!
Bought this mower about a month ago for my yard (just over 1/3 acre). It used to take me 2-1/2 hours to mow/edge the yard with my old push mower, it now takes me just over an hour with this! (and no more gas!) The mower is quick and easy to maneuver, gives a comfortable ride, and is VERY quiet. True Story: I ran out to the store last week on an errand, and when I returned I hopped on to do a little mowing without going into the house. After about 20 mins my wife called me on the phone to find out where I was. I had mowed almost half my lawn and she didn't even know I was home! Excellent purchase!
Date published: 2020-07-13
Rated

5

out of

5
by
Tony Marr
from
Into the electric age...
We had an old 30" cut Craftsman rider that had outlived it's useful life. Was looking to stay with a small rider because it fits into our small shed. I've been looking at the Ryobi riders and this one was on sale for the month so I pulled the trigger. Was delivered earlier than expected and assembled easily. Does a nice job cutting/mulching the heavy St. Augustine grass. Plenty of battery power to cut our 3/4 acre property. A bit or a bumpy ride but that's pretty much par for the course with the small riders. My son loves using it because it's a lot quieter than the old gas rider so that's also a plus. I liked it so much I got rid of the old gas push mower and bought a small Ryobi electric push mower.
Date published: 2020-07-12
Rated

5

out of

5
by
SamuelW
from
Great Machine
I purchased this mower one month ago a have not regretted the purchase. My wife wanted so ethi g small and I wanted to go battery power. The mower is great and very easy to operate. My only complaints so far are that the front wheels are easy to come off the ground while turning, the front wheels seems to lock when turned all the way to the max and mulch plug is installed with stretchy bands. When the mulch plug is installed the grass chute will but completely close. Other than that I love the mower.
Date published: 2020-08-30