+4
3 1/4 IN. Portable Hand Planer
Model: #HPL52K
+4
The RYOBI 6-Amp 3-1/4 in. Corded Hand Planer has more power and is more compact than the previous model, and has up to 1/8 inch depth of cut. This tool features a kickstand which allows you to set the planer down on a work piece or table area without damaging the work piece or the blade.
Features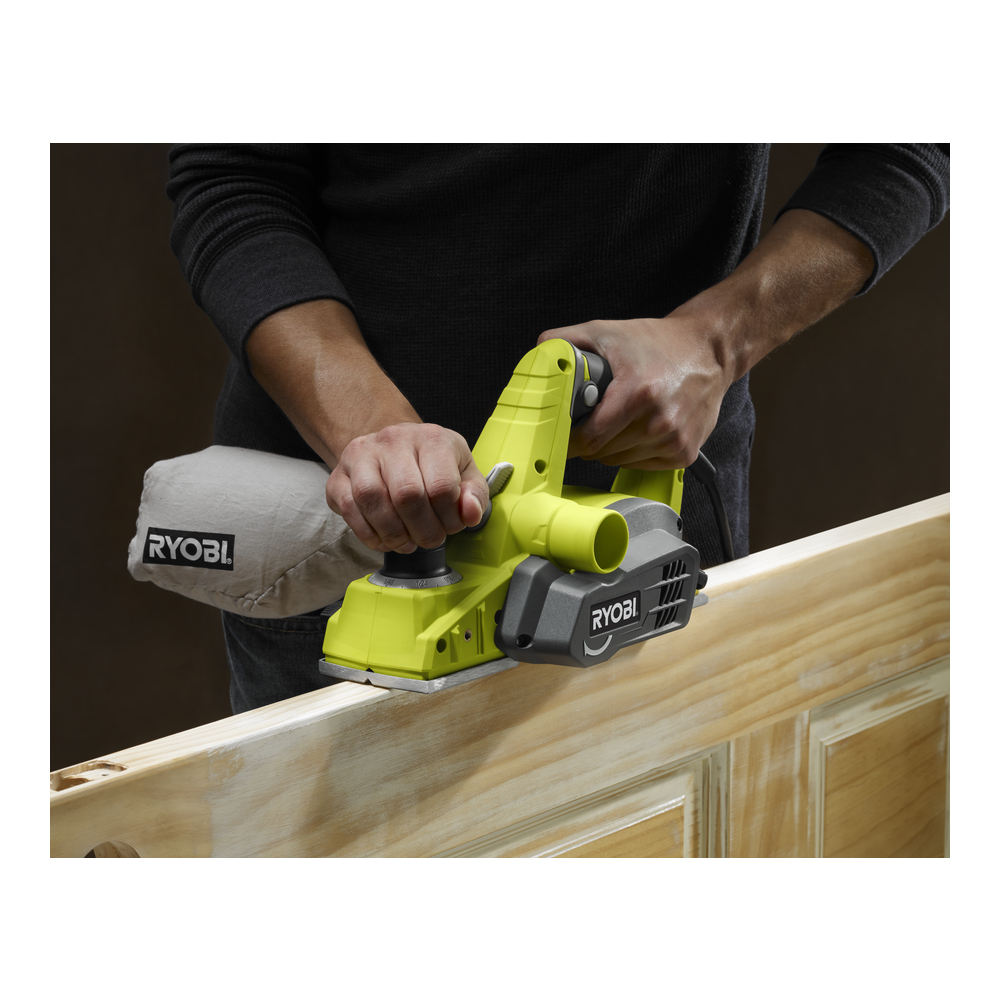 Powerful 6.0 amp motor for superior performance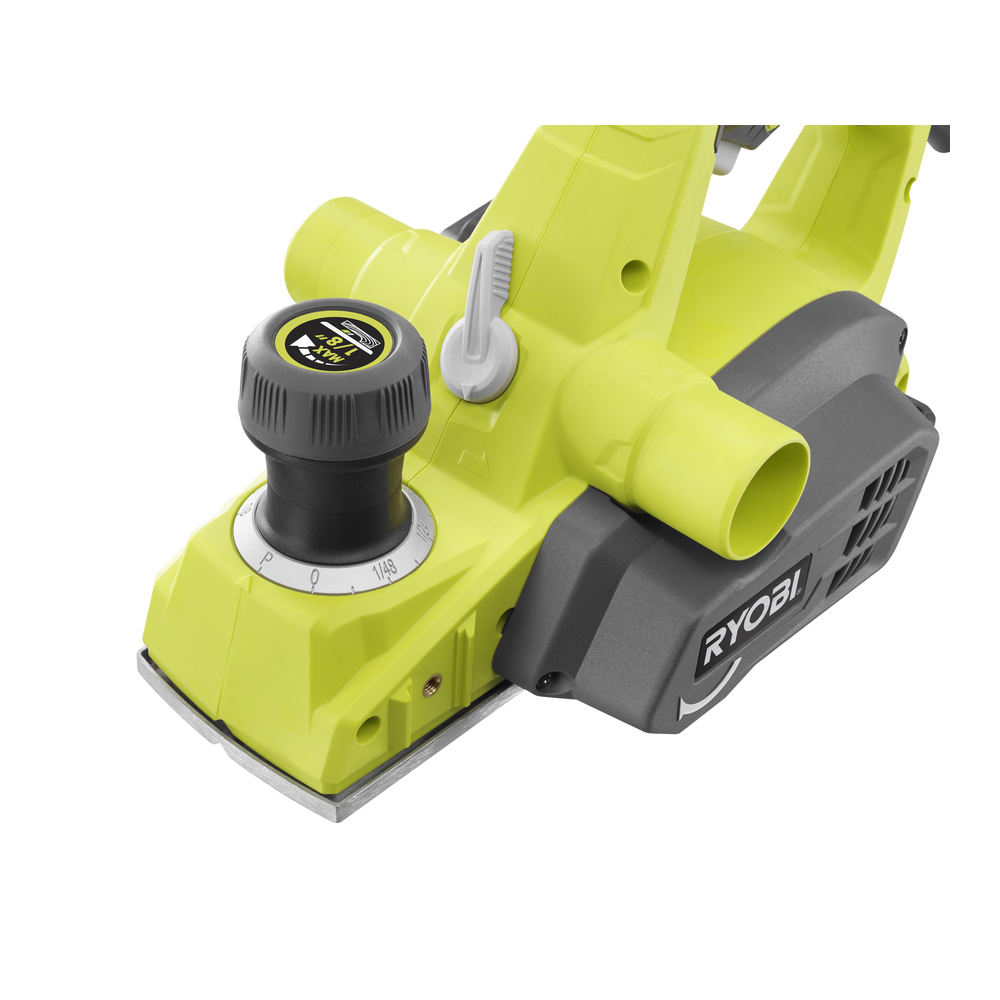 Adjust from 1/96" to 1/8" depth of cut in 1/96" increments
Convenient blade wrench storage
Rear mounted "kickstand" protects work piece
Specifications
Motor: 120V AC, 60Hz, 6 amp
Speed: 16,500 RPM (No Load Speed)
Maximum Cutting Depth: 1/8"
Maximum Cutting Width: 3-1/4"
Maximum Rabbet Depth: 1/2"
Includes
HPL52 Hand Planer with (2) Reversible Double Edged Blades
Blade Wrench
Rabbet Edge Guide
Dust Bag
Tool Bag
Operator's Manual
Reviews
3 1/4 IN. Portable Hand Planer
3 1/4 IN. Portable Hand Planer
is rated out of
5
by
60
.
Rated

5

out of

5
by
talker777
from
Tremendous Planer
We were working on an older house hanging sheetrock that is not even close to plumb...anywhere. At a joint of two sheets the stud was not only not plumb it was twisted causing the right hand sheet to protrude a 1/4". It was far too much to hand plane then the idea of a planner popped up. We went straight to Home Depot after checking that they had one and returned with it. It took a little learning but in a short time we had planed the twisted stud and the two sheets were flush. The planer paid for itself on that one job. The dust bag works great from either side and saves much clean up. Well made and well designed.
Date published: 2020-03-18
Rated

4

out of

5
by
PJ062
from
Great bang for the buck
I rarely use a power planer so I've never had the need to purchase one until now. I am building a large deck and realized I could buy the Ryobi power planer for about the same cost as renting one for three days. I rented a Makita several years ago which cost a little more than twice the Ryobi. I can say without a doubt the Ryobi performs just as well as the Makita. I really like the directional exhaust port. My only complaint is that the dust bag is too small.
Date published: 2019-10-08
Rated

5

out of

5
by
Hixson RR
from
Works Great
I use this when installation doors. I invest in real estate and buy dilapidated properties. I used to hate putting in doors. I feel like I could spend hrs just trying to get them square in a 100 y/o house that wasn't square itself. So now when I have that annoying little cornor that rubs I use this to cut the smallest part off the door and it works perfect.
Date published: 2019-06-08
Rated

5

out of

5
by
Norton Homer
from
Great Value
I bought this on June 14th and used it immediately to plane a cabinet for clearance to slide a new refrigerator under the overhead cabinet. It worked like a charm quickly removing the material and was easy to control even upside down. Connecting it the wet-dry vacuum was easy too and helped control the mess and reduce cleanup. I would buy this again.
Date published: 2019-07-08
Rated

5

out of

5
by
Billf
from
Saved the day
Bought the ryobi planer to help finish a sled headboard. What a lifesaver. Worked perfectly and furnished product was a hit.
Date published: 2019-07-17
Rated

5

out of

5
by
RC77
from
Consistent and Accurate
Works great for the purpose of a hand planer. I got consistent and accurate cuts without grooving. Overall, a good buy for the money.
Date published: 2020-09-18
Rated

5

out of

5
by
tjMountain
from
Cordless
Easy to use. No cords. Comes with carry bag. It's the perfect combo and costs less than competitors.
Date published: 2020-09-18
Rated

5

out of

5
by
Lenman
from
Works as good as the expensive brands
I have had my eye on an electric hand planer for a long time and finally needed it badly for a remodel project. The price was better than the other major brands. It turned out that this one worked great. It is very powerful and smooth. I am so glad that Ryobi gives so much bang for the buck. I get the impression that this tool will be with me a decade + from now
Date published: 2019-06-07