+6
2900 PSI PRESSURE WASHER
Model: #RY802900
+6
The RYOBI 2900-PSI Pressure Washer is engineered to handle even your toughest jobs. With a powerful OHV 173cc gasoline engine, this RYOBI Pressure Washer delivers 2900 PSI of force for quick cleaning of driveways, decks, windows and other areas around the house. Featuring a durable, compact frame design and large 12 in. flat-free wheels this pressure washer is designed for easy transport. The 35 ft. non-marring high pressure hose provides 40% longer reach for access to even the toughest areas. For added convenience, the RYOBI 2900 psi Pressure Washer is equipped with a 5-in-1 quick-change-over nozzle for versatile cleaning. The RYOBI 2900-PSI Gas Pressure Washer is backed by the RYOBI 3-Year Limited Warranty and is guaranteed to deliver results for years to come.
Features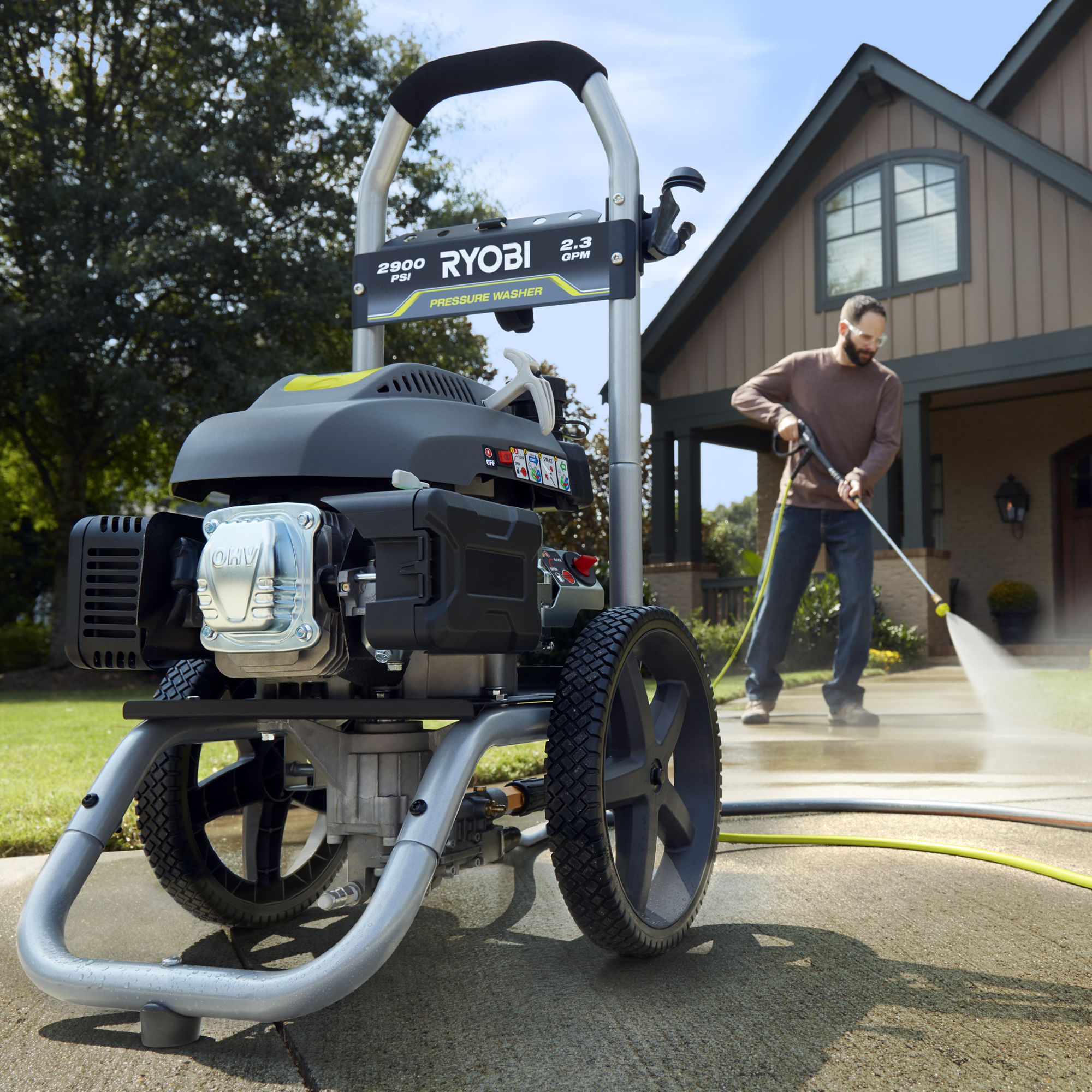 Powerful 173 cc Engine
5-in-1 Quick-Change-Over Nozzle for Versatile Cleaning
35' Non-marring High Pressure Hose For 40% Longer Reach*
Large 12" Flat-Free Wheels for Easy Transport
Durable Hand Truck Frame Design for user Convenience
Quick Release Handles for Easy Compact Storage
Specifications
Engine Displacement: 173 cc
PSI: 2900
GPM: 2.3
Pump: Axial Cam
Hose Length: 35 ft.
Wheel Size: 12 in.
Weight: 53 lbs.
Includes
2900 PSI Pressure Washer
35' Hose
Detergent Siphoning Hose
Trigger Handle
Steel Spray Wand
5-in-1 Nozzle
Engine Lubricant
Operator's Manual
Reviews
2900 PSI PRESSURE WASHER
2900 PSI PRESSURE WASHER
is rated out of
5
by
1205
.
Rated

3

out of

5
by
The Murph
from
Not great but not the worst. Needs changes
I like the long hose and the 5 and 1 tip.But, every time I use the washer ( when you first start it up ) it loses pressure when you pull the trigger at least 5 to 10 times. Takes a while to keep full pressure so you can use it. This takes several minutes to wait. Also has way too small of a gas tank. You need to fill it up too many times for deck or driveway wash. Also I called customer service and told them my concerns and they were no help on the pressure issue. I did what she told me to do and it did not work. Like I said Not the best but not the worst. I'm going to check yes on recommend product but would tell people about my issues.
Date published: 2019-06-28
Rated

5

out of

5
by
Wolfeman3
from
Awesome Pressure Washer
I bought this about a month ago and have been using it as I get time to clean up around the house and car port. I was really amazed at how fast this machine started. I was also very impressed at the way it cleaned. It's about 5 weeks after I cleaned some very nasty looking concrete in our dog kennels and they look like the concrete was just pored yesterday (pored about 14 years ago). I also used it on some roof eves and some siding on the house. That was just as impressive. We seem to have a lot of birds that have bombing practice on our house. I haven't found the bulls eye just yet but I am sure that the Ryobi Will do a nice clean up on it as well.
Date published: 2020-10-04
Rated

5

out of

5
by
New guy
from
Fantastic
I bought this product today, of course I had to try it. From opening the box, seeing how it was packaged, I knew this was a good one! Then add ease of putting together, clear instructions, and this thing just flat works! I started on things my other power washer could clean. Easy to use, easy to control, the one piece nozzle is awesome! Able to change setting, angle, all in a second or two. I've been trying to come up with a bad thought and I cant. I'm a handyman, do alot of different jobs, looking to replace some old and worn out tools, I think I'll have to check out the cordless power tool section. Thanks for making this easy!
Date published: 2020-07-09
Rated

5

out of

5
by
Austinodum88
from
Outstanding devise
I purchased the ryobi pressure washer because I have a couple of ryobi tools already and they have been great help around the house. Great strength and battery life. The ryobi pressure washer I wasn't sure about how the quality would pan out since it was a gas motor instead of a battery but I was quickly amazed. Out of the box easy to assemble looks awesome. I've used the pressure washer 7 times and pulled the crank rope 7 times. That is unreal. The motor is so quiet and also so powerful. And finally the multiple spray stream adjustable head on the gun is awesome makes getting the job done so much easier.
Date published: 2019-02-22
Rated

5

out of

5
by
Joeys
from
Unexpected
I bought this for our company 2 months ago and have been using it heavily almost every day since. It was originally for cleaning material and trucks but i decided to re-finish our wood retaining wall last week with it too. This is a small machine, basic design but don't let it fool you because when i wasn't careful it was blasting chunks out of the 6x6's on the wall. I really wasn't expecting all that from this machine. She has some power for sure for being so tiny. The only thing is, and was expected, was that it has a small fuel tank so we will have to fill her 2-3 times in one decent use. Other than that fantastic.
Date published: 2018-05-21
Rated

2

out of

5
by
DilbertRE
from
A pressure washer missing detergent tank
This power washer starts easy, runs relatively quiet, and has sufficient power. We like the power hear that adjusts easy without changing pressure heads. The problem is reading instructions regarding the detergent. There is no onboard tank, included was a hose for a tank. This washer needs you to place your detergent on the ground and run detergent hose from washer to it. This makes it difficult to move about washing a car, deck, or anything you cant reach without moving. You can spill your detergent or have to disconnect detergent each time you move. Looking at available parts there is no tank available.
Date published: 2020-05-06
Rated

3

out of

5
by
byrds8
from
I purchased this to replace an older electric one I had. I love the pressure in it once it finally gets going. Its much better with that over the old electric. However, it does take a bit for it to become steady. It seems when it starts out it wants to have pressure then looses it for a moment and goes in spurts. I will also say, it eats gas like there is no tomorrow. I assumed it would run pretty much like a lawn mower as far as how fast it would empty a tank. This just wasnt the case. My tank was empty before the car was done being washed. I got a little over half way. I also like the way I can adjust the sprayer from the wand itself without having to change out wands.
Date published: 2018-08-11
Rated

4

out of

5
by
KKnowles
from
Exelent Machine
I bought and used this machine Yesterday. It came out of the box and went together flawlessly. This is my first gas machine and I will never go back. It made very short work of my deck and house with much less effort and time. I can't wait till I get to use it again for my next dirty project. I will be purchasing the 18' extension wand to tackle my two story buildings. My only negative is onboard storage. I purchased the turbo nozzle, pivot attachment, and 36" extension wand w/1/4" quick connect, but there is not a good way to keep these tools with the machine during use and storage. To end in the positive, this is a great machine and I will recommend it to any home owner.
Date published: 2020-06-25