+2
12" Electric Pressure Washer Surface Cleaner
Model: #RY31012
+2
The RYOBI 2300 PSI 12 in. Surface Cleaner is the ideal choice for hard surfaces like driveways, patios, sidewalks and so much more. This handy pressure washer accessory cleans up to 4X faster than a standard nozzle, with rotating jets that give you a large, streak-free cleaning path. The surface cleaner has a ¼ in. quick-connect that easily attaches to your pressure washer, allowing you to move quickly between jobs. The RYOBI 2300 PSI 15 in. Electric Surface Cleaner is compatible with virtually all electric pressure washers with a PSI rating of up to 2300 PSI.
Features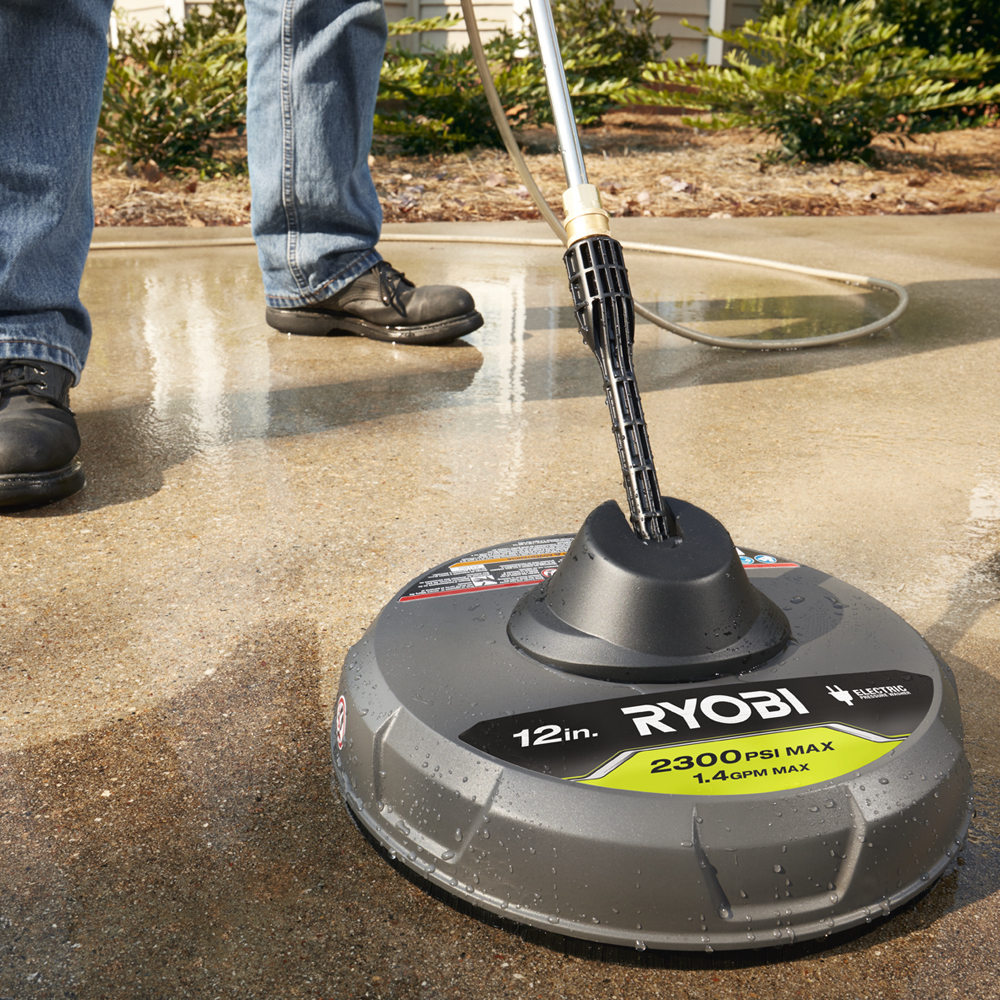 Clean 4X Times Faster Than a Standard Nozzle
Streak-Free Surface Cleaning
Dual Rotation High Pressure Water Jets
Easily Attaches With 1/4" Quick-Connect Spray Wand
Specifications
Max Pressure Rating: 2300 PSI
Max Flow Rating: 1.4 GPM
Diameter: 12"
Connection Type: 1/4" Quick-Connect
Includes
2300 PSI 12" Surface Cleaner
Operator's Manual
Reviews
12" Electric Pressure Washer Surface Cleaner
12" Electric Pressure Washer Surface Cleaner
is rated out of
5
by
170
.
Rated

3

out of

5
by
Jackie Blue
from
Works somewhat but rather flimsy
I bought this along with my pressure washer a month ago. Attempted to use it to clean my driveway, however my driveway had not been pressure washed in about 10 years and was extremely dirty. Unfortunately, debris got into the rotational collar and it began to slow up and not clean well...then jammed. Nothing more frustrating than to have to stop and take this apart, clean it and reassemble it so you could complete the job. I lost hours working on this and ended up going back to my turbo head to finish the job...it, too, jammed due to debris clogging it. This particular surface cleaner seems to be a waste of my money.
Date published: 2020-06-17
Rated

1

out of

5
by
hienz1
from
sprays out from plastic input shaft
I got this included with the 2000 psi electric pressure cleaner, read all their instructions, hooked it up, and after only 5 minutes of use it's broken. It sprays water out the top, out of where the plastic input shaft pivots with the donut unit. I bought the pressure cleaner to use at home, (if I were to use one in a professional context, I would have gone with a gas-powered 6000 psi unit). See video. This particular product really needs to be redesigned. The plastic input shaft should be either metal tubing or at the very least reinforced carbon fiber, as it currently just doesn't cut it.
Date published: 2020-05-30
Rated

5

out of

5
by
Jkelley49
from
Good surface cleaner
I tried this Ryobi unit after buying and using the non-ryobi EZ Clean 15 inch unit for about 6 months. I'm very impressed with the Ryobi unit. Although it is smaller than the EZ clean unit (12" vs 15"), it does a much better job and is easier to use. It glides over the surface while the EZ clean has to be dragged around. When you lift each unit off the pavement about 6" the pressure coming out of the ryobi is much higher than the Ez Clean. I assume this is because the Ryobi is designed for 2300 psi max which matches the pressure of the Ryobe pressure washer I'm using, while the EZ Clean is designed for 2500 to 3300 psi. The Ryobi surface cleaner does a great job and I would highly recommend it.
Date published: 2019-02-08
Rated

3

out of

5
by
KK B
from
A time saver, but....
I decided to try this out on my 2000 psi pressure washer. Considering only actual working time, I was able to wash a deck and a slab in the time usually required to wash just one of them. However, although I had cleared debris from the surfaces with the jet spray prior to using the surface cleaner, I had to stop and clean the nozzles several times. And eventually I just removed the filter as the water output decreased to an ineffective amount (and no replacements were carried in local Home Depot stores). Same experience cleaning a stone walkway. Will definitely keep using it but I'm happy I didn't pay more.
Date published: 2020-08-25
Rated

4

out of

5
by
Mike 1957
from
Worked great until a leak developed
I have used this cleaner several times and it worked great until yesterday when a leak developed on the stem that connects the spray bar to the disc. I removed the stem and found a broken o-ring. I have tried to get a part list and the part on line but have had no luck. The Ryobi web site states that the part list is not available and there are some o-rings available in the spare parts section but without a parts list how can i purchase the correct part. If I can get the dimensions of the o-ring I can purchase it from a different supplier. How can a parts list not be available?? Very disappointed!!
Date published: 2020-10-13
Rated

1

out of

5
by
GeoSal
from
Don't buy this product
I bought this attachment to go with my RYOBI Electric Pressure Washer, 30 minutes later and stopped working and now I'm reading the reviews to find out that I'm not the only one having this issue, what a waste of money and time. Now I'm really regretting buying this product and any RYOBI products. DON'T BUY.
Date published: 2021-04-14
Rated

5

out of

5
by
Eddy8157
from
Works amazing!!
As soon as I got it I put this baby to use! I'm a first time home owner and I've got a lot of projects in mind. So far I've washed my large deck with it, the cement in my patio, and my front porch. Im going to start working on my driveway, garage, and outside of my house. I love using this thing and it makes it go by so much faster. It's amazing how huge of a difference this makes. I use this with my Ryobi 1600 psi pressure washer and man oh man I love it. I'll be buying more Ryobi products as I need and can afford them. Great product, reliable and affordable. Highly recommend it!
Date published: 2020-04-02
Rated

3

out of

5
by
CKmini
from
Does a good job when it works..
I bought the pressure washer & head together. I've used the cleaning head several times now. Spinning head works great and saves lots of time,, when it's spinning. While doing my driveway & sidewalk. About half way through it seemed to bog down the pressure washing unit and didn't have enough force to keep the head spinning. It starts & stops to the point of frustration. Pressure washer itself has worked flawlessly with the wand. So I assume it's the result of using the 12" head causing it to lose pressure. No tips or troubleshooting for this topic in the instructions or FAQ.
Date published: 2020-05-20