+2
2000 PSI Electric Pressure Washer
Model: #RY141900
+2
The RYOBI 2000-PSI Pressure Washer is engineered to handle even your toughest jobs. With a powerful 13-Amp Electric Motor and Pressure+ Technology, this RYOBI Pressure Washer delivers 2000-PSI of force for quick cleaning of driveways, decks, windows, and other areas around the house. Featuring a durable roll-cage frame design, this pressure washer is designed for easy transport. The removable detergent tank offers easy soap application and hassle-free clean-up. For added convenience, the RYOBI 2000-PSI Pressure Washer is equipped with on-board hose reel and accessory storage. This unit also includes a bonus Turbo Nozzle that delivers up to 50% more cleaning power. The RYOBI 2000-PSI Electric Pressure Washer is backed with the RYOBI 3-year limited warranty and is guaranteed to deliver results for years to come.
Features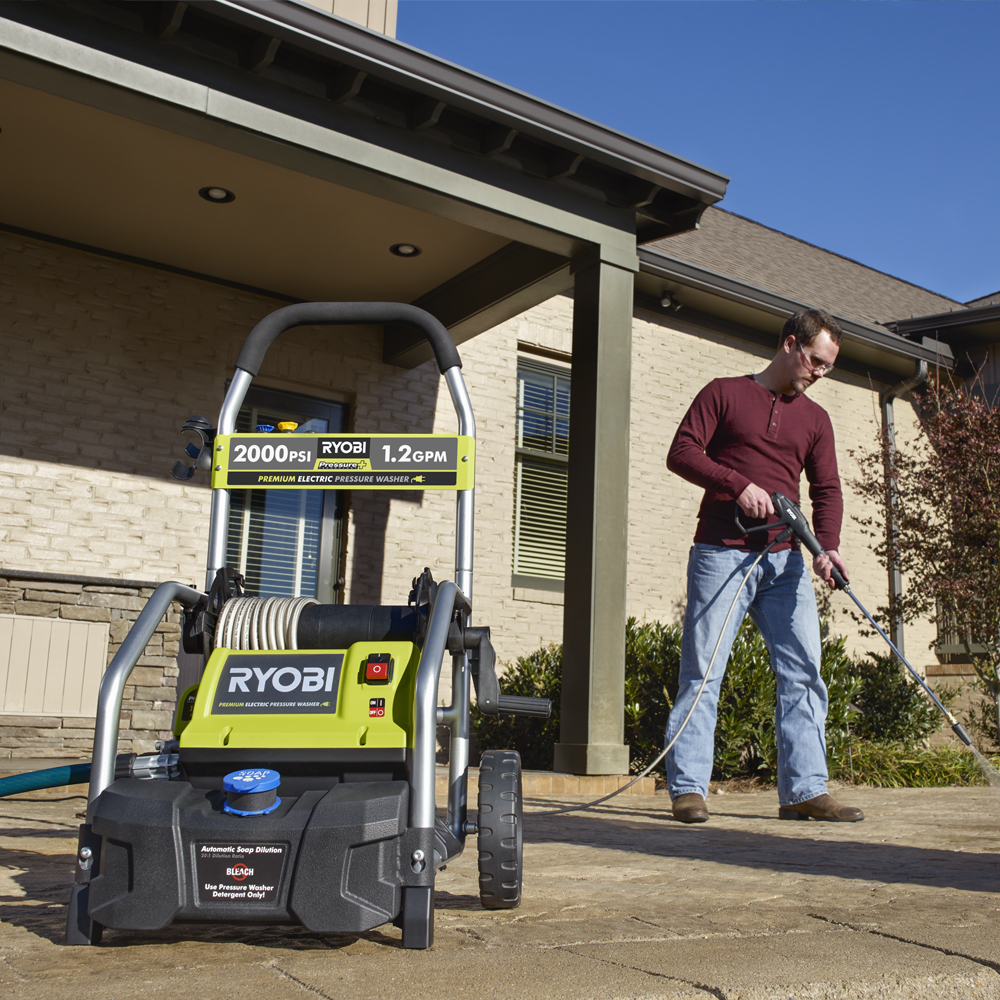 2000-PSI
1.2-GPM For Efficient Cleaning Of Residential Areas
Powerful 13-Amp Electric Motor
Pressure+ Technology Delivers Maximum Cleaning Power
Hose Reel For User Convenience
Rugged Roll-cage Frame Design Protects The Motor Housing And Stays Upright; No Tipping
Removable Detergent Tank For Easy Soap Application
Professional Metal Spray Wand With Quick-Connect Coupler For Easy Nozzle Changes
On-board Accessory Storage For User Convenience
Includes 3 Quick-connect Nozzles (15°, Soap, and Turbo) For Cleaning A Variety Of Surfaces
3 Year Limited Warranty
Reviews
2000 PSI Electric Pressure Washer
2000 PSI Electric Pressure Washer
is rated out of
5
by
4788
.
Rated

2

out of

5
by
Nick B
from
Great power for plug-in, but...
I bought this pressure washer are few days ago, the first thing I noticed was: the spray gun has about 1mm of play in it, for a DIY this isn't terrible. The second item and maybe the only good thing I can say about it is the pressure is more than adequate for a versatile light weight system. Third a probably the MOST disappointing: the hose reel; which to be honest, was the entire reason I bought this version broke right off! Plus the crank on the reel isn't large enough even for my long but nimble fingers... It's like shaking hand with a kitten... Dear Ryobi, if you want to contact me, please do, I have many ideas for improving this product.
Date published: 2020-02-01
Rated

4

out of

5
by
Jim19
from
Perfect for everything arond the house
I bought this last year to do some things around the house. Wash the deck, clean cars and boat, clean the garage floor after winter. It has been this and whole lot more. Cleaned my entire house windows and siding for the first time in 8 years. Wow looks like a new place. Cleaned my pool cover, use to break my back with a broom and garden hose, stuff looks brand new. For an electric pump it has more power than I would need. Does a great job and don't have the constant motor noise going the whole time. When you not squeezing the trigger its quiet waiting for you do go. I love it fits perfect in the corner of the garage and winds up and stores away in moments. Glad I got it made my weekend honey do lists a lot simpler!!!
Date published: 2016-04-18
Rated

1

out of

5
by
Wens
from
Only 2 uses
I bought this about 2 weeks ago and have used it twice. It worked well those two times, but the second time I used it and relocated to the front of my house to finish up some simple pressure washing on some blocks...it would not start. I didn't have much time to see what the problem would be and really no idea where to start looking. So, I tried it again a couple days ago and still...will not start. So annoyed to pay so much for something and it not work after two uses and then to try and get things done when I had the time to do them and now have to spend my time returning it. I'm a little hesitate to exchange for the same thing!
Date published: 2017-06-19
Rated

5

out of

5
by
Luc2
from
How did I live without this as a homeowner?
I have a large composite deck and a house with vinyl siding. After scrubbing a small section of the deck with soap and a brush, I hosed it off to find out it didn't do anything. I broke down & bought this Ryobi at Home Depot and it's the best money I've spent in a long time! I bought the wash to put in it but wanted to see what just the water would do, and I washed my entire deck and house with no soap or chemicals whatsoever and it looks fantastic. I love the fact that it's not gas powered, it's very easy to transport and isn't overly noisy. In the photos you can see where I washed and the difference it made. This has made my life easier and (most importantly) my wife is happy!
Date published: 2018-05-07
Rated

3

out of

5
by
JohnnyB
from
Loved it and then........
Bought this several months ago and used it mostly with a foam cannon. Worked awesome and seemed plenty powerful for an electric power washer when it suddenly started making a 'wheezing' sound when releasing the wand trigger. This sound had no effect on the functionality of the unit but I'm sure it was just a matter of time before it did. Home Depot was a pleasure to deal with for the return process and I received a store credit. I intend on replacing it with the same one and hoping for the best. Only other down side was I found the hose reel to be more annoying than useful and usually wound it around the handle.
Date published: 2016-11-18
Rated

5

out of

5
by
Tracy S
from
This thing has been fantastic!
On May 6th, I purchased this pressure washer to clean my concrete areas and wood deck. My mother has the 1700 psi version I recently used to clean her siding, so I thought I'd give the Ryobi a try. I have to say, it takes time to do it right, but it works well. I have yet to use any soap or chemicals and still the concrete looks like new again after 8 years of neglect. Thus far, I used it three different days for more than 8 hours total run time and have had zero issues. I still have a lot of concrete and deck to clean, but I'm confident it will continue to perform.
Date published: 2018-05-10
Rated

4

out of

5
by
PAM66
from
Does what it should
I've had this washer for about a month and used it numerous times. It performs as it should for an electric power washer. The soap (reg nozzle) is like a water hose and all it is good for is soaping down, then you need to change to the more powerful nozzle. I used it on my deck and it cleaned it well but you need to put the nozzle close to the dirt to remove it, but that is what I expected. I'm happy with it. If you just need a light duty washer this one will work for you. I bought and used the pump protector as recommended. It was difficult to get into the pump, spilled a lot. There needs to be a better way to put this stuff in the pump.
Date published: 2017-07-24
Rated

4

out of

5
by
Razor17
from
Small, but quiet and powerful
I used this pressure washer to clean my 3 car driveway and sidewalks for about 6 continuous hours - never missed a beat. There is plenty of power and the choice of turbo or normal pressure nozzles is nice to have. This model is nice as it turns the motor off when the wand is not being used, and instant on when you squeeze the trigger - nice break from the noise compared to my previous model that just went to a slightly lower setting, but still noisy. No leaks, seems well built to last and does not fall over like the tall models. The coiled tubing takes a few minutes to "unwind" while in use, but the hose is lightweight, so easy to move around.
Date published: 2018-03-25