2 Cycle Full Crank Curved Shaft String Trimmer
Model: #RY252CS | Home Depot Sku #: 1001058924
Introducing the RYOBI 2 Cycle Gas Curved Shaft String Trimmer with a full crank engine for 2X longer life. This string trimmer accepts RYOBI Expand-It Universal Brand Fit attachments adding versatility to your trimmer. Simply attach a cultivator, blower, or even a hedge trimmer to the power head and quickly move from project to project. Save time, save space and save money with theRYOBI Expand-It System. RYOBI makes string head reloads easier with the REEL-Easy String Head; thread your string, twist the head, and resume trimming. Users will experience easier starting with the Zip Start carburetor and included Ethanol Shield 2 Cycle Oil. Backed by a 3 year warranty, trust the RYOBI 2 Cycle Gas Curved Shaft String Trimmer for your outdoor trimming needs.
---
Product Videos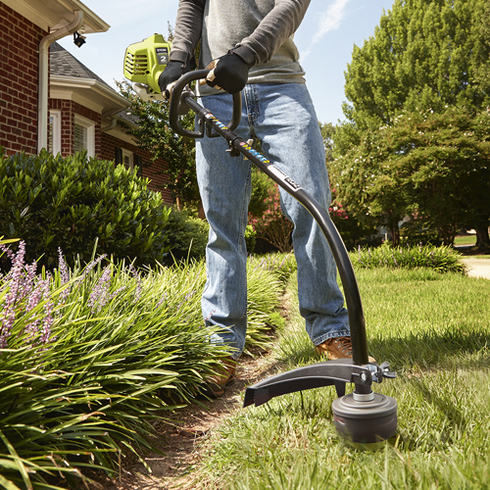 Full crank engine for 2X longer life
Zip Start carburetor for easier starting
Attachment capable: accepts universal brand fit attachments
Reel-Easy bump-feed string head for faster reloads
Power Head
Curved Shaft Trimmer
REEL-Easy String Head
2 Cycle Ethanol Shield Oil
25cc 2-Cycle String Trimmers - Model ry252cs, ry253ss
Reel-Easy String Head - Model ac04156
Click the link below to access outdoor products replacement parts schematics and order parts online.
For those customers that prefer ordering by phone, simply contact the RYOBI master parts distributor at toll free 1-877-634-5704, and place your order over the phone.
Visit Ryobi Lawn & Garden Parts Store
---
---