+6
2 Cycle 18" Chain Saw
Model: #RY3818
+6
With its powerful 38cc engine, you can trust the RYOBI 18 in. 2-Cycle Chain Saw to get the job done fast. This saw features an anti-vibe handle to provide added stability and comfort while in use. As an additional safeguard, it has an inertia-activated chain brake to stop the chain automatically and a SAFE-T-TIP bar to protect against rotational kickback. Servicing is made easy by the tool-less air filter cover and side-access chain tensioner. The adjustable automatic oiler will ensure a longer bar and chain life. With its durable carrying case, transport and off-season storage are simple and convenient. The smooth operation and 3-year warranty make the RYOBI 18 in. 2-Cycle Chainsaw the ideal choice for tackling a variety of cutting jobs.
Features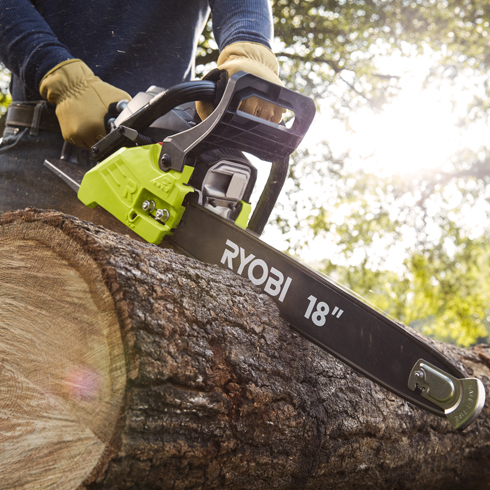 Powerful 38cc Engine for Fast Cutting
Anti-vibration Handle for Increased User Comfort
Adjustable Automatic Oiler for Longer Bar and Chain Life
Tool-less Air Filter Cover for Easy Service
Side Access Chain Tensioner for Easy Adjustment
Inertia-Activated Chain Brake Stops Chain Automatically
Safe-T-Tip Protects Against Rotational Kickback
Carrying Case for Easy Transport
Specifications
Engine Type: 2-Cycle
Weight: 9.7 lbs.
Engine Size: 38cc
Bar Length: 18"
Chain Pitch: 3/8" Low Profile
Chain Gauge: .050"
Drive Links: 62
Includes
2 Cycle 18 in. Chain Saw
2 Cycle Engine Lubricant
Bar & Chain Oil
Scrench
Scabbard
Carrying Case
Operator's Manual
Reviews
2 Cycle 18" Chain Saw
2 Cycle 18" Chain Saw
is rated out of
5
by
443
.
Rated

5

out of

5
by
Georgin
from
Love it!!
This chainsaw has a bunch of extra features if you are truly interested in a great product. Let's see. It came with a full size case. Great for storing and keeping it protected and clean when not in use. It has the metal teeth near the chain that you use to dig into a tree to keep it from jerking about. It has the added convenience of tightening up the chain with a screwdriver vs taken the thing apart by the bolts and tightening it up that way. After you can do it that way if you want. It was a great price. I paid $170 for mine. The quality of this product so far has been unmatched by any of the others.
Date published: 2020-03-19
Rated

5

out of

5
by
Tracy77
from
priced right
I bought this a month ago to saw up a bunch of wet, oak limbs given me by my neighbor. I am aware of the features of other saws like Echo, and settled on this saw, a lot of saw for the money. The limbs were 8,10,and 12 inch diameters, so a good stiff first run for the saw. I will probably only use it 4/5 times a year, so I have decided to use 50/1 syn oil premix with no ethanol, this is all the saw will ever see. It started right up on 3rd pull as described with a little choke. This saw went through all of it like butter , never hesitated, never stalled, idled perfectly. I have no reason to give it any less than 5 stars, however only time will tell just how good a saw this really is. TDC
Date published: 2020-02-21
Rated

5

out of

5
by
Babe
from
tons of features
Just got it and its really a handsome set up with the hard case and tools. I have about 4 years on a RYOBI leaf blower and its lighter and more powerful then anything in its class so I was sold on this chain saw before I bought it. Looking forward to heating my house next year by wood stove when I move to MO. Its got two safety features that can save my legs from getting cut that many other products do not have. Weighing in at about 9 lbs this baby can just about be used with one hand. The engines are small light and put out more power then others I have used. Great product to own and use.
Date published: 2019-01-12
Rated

1

out of

5
by
mattttt
from
Flywheel locked up after 1 use
Used premixed gas, oiled the chain and the second time I went to use it about two weeks later the pull start wouldnt pull so I took off the cover to see if the rope was binding. It was not and the fly wheel wasnt turning freely..... Ive never had a two stroke engine die so quickly on me or any engine to be honest. I purchased it because I manage properties i rent out and the variety ryobi has for light to mid duty tools is better than anyone else, but I may need to rethink this as its now the second product of theirs that's crapped out after a few uses, the other being a reciprocating saw
Date published: 2019-06-29
Rated

5

out of

5
by
martin r
from
smooth
the saw is great. starts easily, runs smoothly, and cuts quickly. the quality is what I expect from a Ryobi product.
Date published: 2020-09-22
Rated

4

out of

5
by
Essemmdee
from
Ryobi 18" Chain Saw
I was looking for an inexpensive saw to keep around home mostly for cutting firewood for RV trips. I saw this one and compared it to other more well known brands in the same price range. The ratings were higher do I took the plunge. Have no bad things to say about it. Lightweight, easy to handle, with enough "oomph" on the motor side to get the 'round the house jobs done. The owners manual says to stop every 5 minutes to tighten the chain. Trust me they hit the nail on the head. The manual also says it's a good idea to refill the bar chain oil reservoir each time you refuel the unit. You will have to. It eats chain oil like it's starving! Other than that, a quality, inexpensive purchase.
Date published: 2020-06-04
Rated

4

out of

5
by
Ladaveman
from
Light, easy to start and does the job
This Chain Saw was a gift to assist me with hurricane Laura cleanup. I had several large oak trees down and needed something larger to tackle the cleanup. Pros: Easy to start - must follow instructions for cold/hot start Light and easy to handle Cuts like butter through white and red oak. Did not try on harder woods such as hickory Easy to clean Long blade to tackle large trees/limbs Safety tip helps keep blade out of dirt and assists with kickback Cons: Chain tension seemed to be an issue until I figured out how to adjust Chain came off three times over 3 week period ( First two may have been my fault) Hard to find replacement chain - Home Depot was out and does not offer shipping to my house - must wait for stock to be replenished. I had to drive 90 miles to nearest Home Depot for new chain. Must remove safety tip when cutting large trees while using wedge to hep with pinching For the price this saw is a good value for the home owner needing to cleanup trees & limbs around their yard. It is obviously not in the same class as the more expensive and heavier alternatives. I was able to compare the cutting quality with my neighbors more expensive Sth... saw and I was surprised that my Robi seems to cut as smooth and fast as his expensive saw. I love the safety tip because it helps to reduce kickback but does have to be removed when cutting large trees that require a crimping wedge but this is easy to remove within a few seconds using the provided tool or screwdriver. With proper maintenance I feel I can rely on this saw for years to come and would recommend it.
Date published: 2020-09-21
Rated

5

out of

5
by
Medvin
from
Real handy and professional chain saw
I got this saw from home depot and used it to trim my trees and bushes for my several rental properties and my own back yard. It just works perfectly. Powerful engine, low gas consumption and shiny and sharp chain blades. Very easy to maintain and the case coming up with it is very handy and keeps my storage environment clean while protecting my chain saw. Its the right product with very reasonable price. Don't waste your money on useless expensive brands. After using several types of chain saws (battery, electric and gas) this is it, this is the perfect product. Love it.
Date published: 2020-04-03