+5
18V ONE+™ Worklight
Model: #P704
+5
ONE+™ delivers more performance and versatility with the 18V ONE+™ Worklight. This tool features a multi-functional design that is capable of sitting flat on the battery or hanging from a nail, screw or hook. It's 30% brighter than the previous model and has a rotating head to direct the light where needed to help get the job done faster and more conveniently. The 18V ONE+™ Worklight is sold as a bare tool, allowing you to build on your ONE+™ collection without spending additional money on batteries and chargers with each tool purchase. Best of all, like every RYOBI® 18V ONE+™ blue or green tool, this Worklight works with any 18V ONE+™ battery. Upgrade to lithium-ion or LITHIUM+™ batteries for lighter weight and better performance.
Features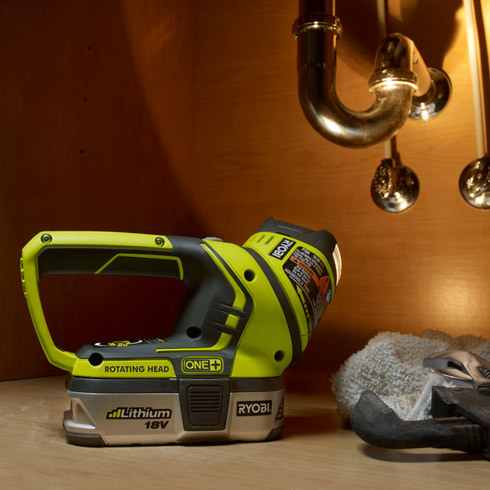 Rotating Head
Rotating head directs light where needed
Multi-functional Design
Multi-functional design capable of sitting flat on battery, on-end, or hanging for ultimate lighting versatility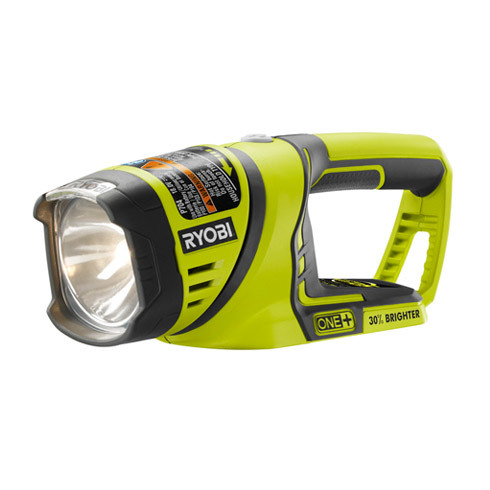 Light
30% brighter than previous model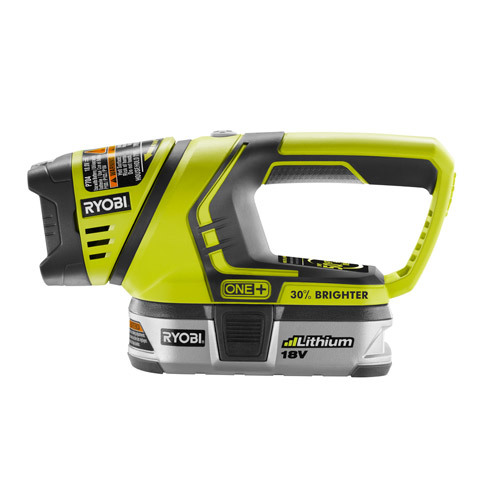 Versatility
Lightweight and durable for every-day use
Accessibility
Removable lens for easy bulb changes
ONE+ Benefit
All RYOBI 18V ONE+™ tools work with all RYOBI 18V ONE+™ batteries.
Specifications
Battery: 18 V Lithium-ion or Ni-Cad
Tool Weight: 0.7 lbs.
Includes
P704 Worklight
Operator's Manual
*Battery and Charger Sold Separately
Reviews
18V ONE+™ Worklight
18V ONE+™ Worklight
is rated out of
5
by
103
.
Rated

4

out of

5
by
designjb
from
P704 = Good flashlight, but needs better bulb
The P704's included incandescent bulb gets very hot when used for long periods of time and that heat can be felt on the outside of its plastic housing. It creates enough heat where I was concerned about melting issues. So to increase the beam strength and hopefully reduce the heat issue, I replaced the incandescent bulb with an LED drop-in insert (eBay) and have been very pleased with the mod. Unfortunately, this will add another 4-6 dollars to the cost of your Ryobi flashlight. I did pit my "modded" P704 flashlight up against the Ryobi P705 LED flashlight. And IMO, the modded flashlight was brighter -- it was also slightly less expensive, but allows me to swap bulbs if the LED ever runs into issues. These attributes, combined with its rotating head, were enough incentive for me to purchase another P704 over the newer P705.
Date published: 2020-08-26
Rated

5

out of

5
by
Rodeo Boys
from
Awesomely Cool
We got it as a combo kit , great wanted the combo mainly for the flashlight. It's a normal incandescent flashlight hard to find and good for our eyes and its gets your hands warm on cold days when using outside . We think ya should put like a pack of extra bulb replacements because it is hard to find the bulbs . We DO NOT USE LED of any kind , so this flashlight is a lifesaver and the light is really pretty bright . Hope ya'll make more of them , old bulbs are going to be made great again !! So please keep making these great regular flashlights and possibly make a Work Light that is incandescent and both electric and battery for bigger outdoor/indoor uses . Thanks RYOBI.
Date published: 2020-03-19
Rated

5

out of

5
by
bxrman88
from
Great For Tight Projects
This is a great light for tight areas where you need two hands for the job. The rotating head allows youto angle the light where needed. I've had mine for two years and have not had to change the bulb!
Date published: 2018-05-16
Rated

3

out of

5
by
Historic Gardens
from
Got one in a combo pack
Got one in a combo pack, really a freebie along with extra batteries and a mini circular saw. I have a lot of flashlights, but this one stays by the back door and is by far the "go to" flashlight in the house. I also always know where it is, so if I need a quick replacement battery for another tool, I know where one is. I wouldn't buy this on its own though, so wouldn't really recommend it as a stand alone item. That said, it is really useful and the squat shape makes it easy to place without it falling over. Torn on how many stars to give it.
Date published: 2018-06-06
Rated

4

out of

5
by
Working man
from
Good features
I've owned the 18v worklight for a little while now and it has really come in handy around the house. I had some work to do on my vehicle that carried over into the late hours and I used my worklight to complete the job after the sun went down. The swiveling had allowed me illuminate the work area completely hands free. The light output was prefect and allowed me to see the entire work area without any blinding glare. The worklight itself is a little heavier than my other lights because of the attached battery but it's not a big deal when you can use it hands free.
Date published: 2021-01-27
Rated

5

out of

5
by
bborskey
from
RYOBI Light a Refreshing Light
In a time, where every company is trying to rob the public of their hard working dollar, RYOBI continues to offer quality products at affordable prices. I could not be happier. I have a RYOBI Light, Power Drill, Hand Rotary Saw, Hand Actuator Saw, and weed-eater.
Date published: 2019-05-19
Rated

5

out of

5
by
Aaron3985
from
Power
I didn't think this little light would be so powerful especially with it not having a LED bulb like i've seen some other flashlights. This is a durable light and great feature with the head being able to turn it to help angle how you need it.
Date published: 2019-10-24
Rated

5

out of

5
by
Zeroquik
from
Perfect handheld
Bought this for just in case instances and have found it to be more useful than anticipated. It's been my go to light for night time BBQ cooking, attic work, and power outage lighting. I'd highly recommend if you have the one+ battery system.
Date published: 2019-07-19