+7
18V ONE+™ Right Angle Drill
Model: #P241
+7
ONE+™ delivers more features with a tool that proves essential for plumbers, electricians, HVAC installers or homeowners looking to do it themselves. The 18V ONE+™ Right Angle Drill has a compact head design that is perfect for drilling and driving in tight spaces. While you work in those tight spaces, use the MagTray™ magnetic holder to keep screws within easy reach and the on-board bit storage area for quick access to get the job done faster. The LED light is perfect for illuminating dark work areas, like under cabinets or in attics. Combine the extended-body design for greater leverage and control, with the conveniently located forward/reverse selector for one-handed direction changes, to produce an ergonomic and easy-to-use tool. The new and improved GripZone™ overmold ensures a comfortable and secure grip. The 18V ONE+™ Right Angle Drill is sold as a bare tool, allowing you to build on your ONE+™ collection without spending additional money on batteries and chargers with each tool purchase. Best of all, like every RYOBI® 18V ONE+™ blue or green tool, this Right Angle Drill works with any 18V ONE+™ battery. Upgrade to lithium-ion or LITHIUM+™ batteries for lighter weight and better performance.
Features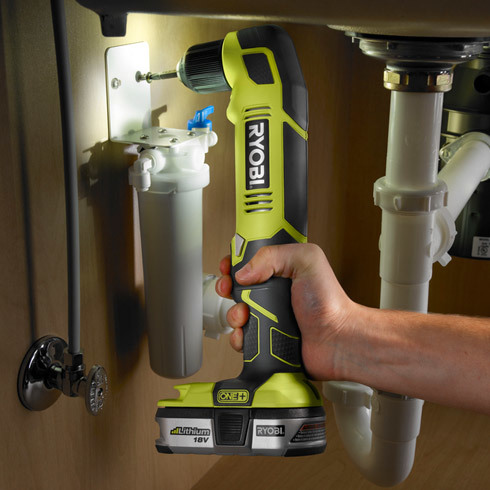 Compact Design with LED Light
Compact right angle design is perfect for drilling and driving in tight spaces and LED light illuminates work surfaces for increased visibility.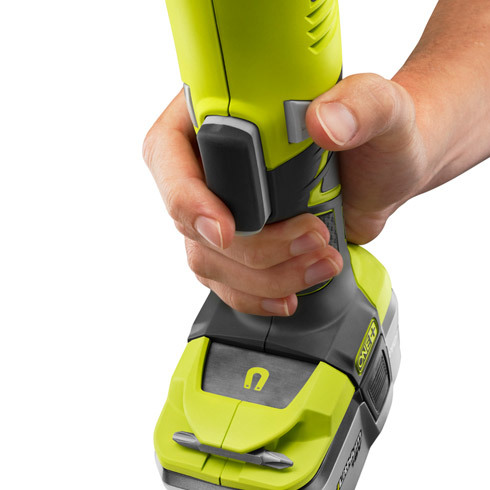 Forward/Reverse Selector
Forward/reverse selector conveniently located for one-handed direction changes.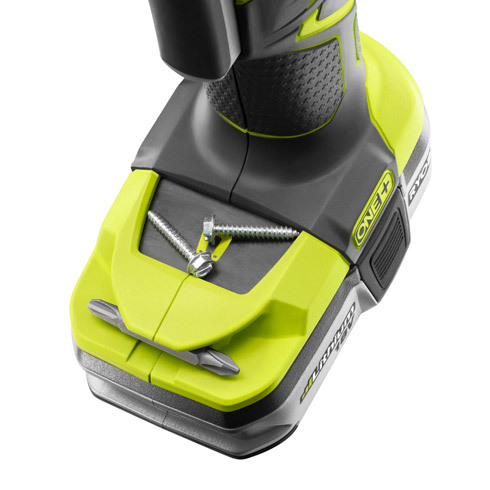 MagTray™ Magnetic Holder
MagTray™ magnetic holder for convenient placement of screws and bits & onboard bit storage for quick storage and access.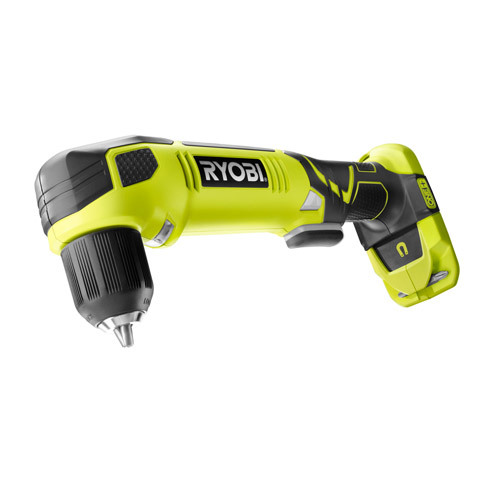 GripZone™ Overmold
New and improved GripZone™ overmold for maximum user comfort
3/8" single-sleeve chuck with spindle lock for quick and secure bit changes
Extended-body design for greater leverage and control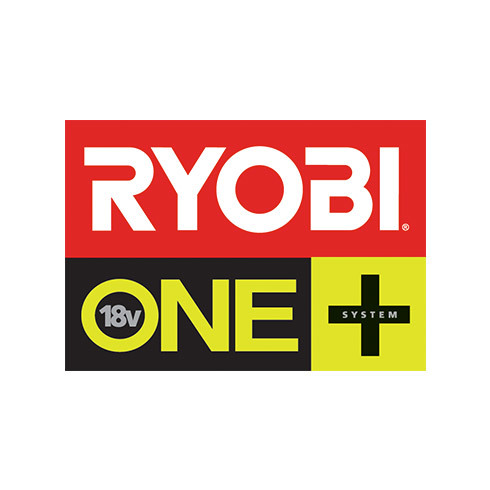 All RYOBI 18V ONE+™ tools work with all RYOBI 18V ONE+™ batteries.
Specifications
Battery: 18 V
RPM: 0-1,100 (no load speed)
Chuck Capacity: 3/8 In.
Tool Weight: 2.9 lbs.
Includes
P241 Right Angle Drill
Double Ended Bit
Operator's Manual
Reviews
18V ONE+™ Right Angle Drill
18V ONE+™ Right Angle Drill
is rated out of
5
by
124
.
Rated

5

out of

5
by
dartman49
from
Right hand drill
I built a Murphy bed and when attaching the top brackets I was limited on space so the right hand drill was a life saver. I also build wheel chair ramps and these ramps sometimes have to be long enough to require a turn platform and then the ramp continues down in the reverse direction, but right beside the first half. I found that putting the balusters on this second half is very difficult because the balusters on the first half blocked my drill. However, the right hand drill was the answer. There was enough clearance for it to get between the two rows and the power made it a simple task.
Date published: 2019-04-26
Rated

5

out of

5
by
AngrySection8
from
Has a purpose
Bought this for the same reason anyone would, those hard to reach spots. Haven't used it yet for a task but definitely chucked a bit and bench tested it, with a 1/2" bit and a 3ah battery I leaned on it pretty darn hard and it powered right through a 2x4 with ease, only drilled 10 holes this way so can't comment on battery usage or temps but it's one of those tools that'll have limited use at my shop so neither of those things matter to me, it serves a purpose for me and that's why I bought, yet to be disappointed with any of my 30+ ryobi tools and doubt this will disappoint either
Date published: 2019-06-02
Rated

4

out of

5
by
HD Services
from
Contractor Review
I bought the right angle drill for some tight place in an attic while doing some wall fishing for new electrical lighting. It worked fairly well. Size was perfect for what I needed. The only reason I gave it a 4 is because I feel it's a little underpowered. This would be great for a DIY homeowner. I just need to move a faster as a contractor.
Date published: 2019-12-15
Rated

5

out of

5
by
azhardway
from
Awesome tools
Great, Awesome tools. I have had Ryobi tools for 5 years now and they all have worked and held up great. I built a 1800 sq ft shop with them and never failed me even when i dropped one from 17 ft. it held together and kept working. I had two new dewalts and they both burned up in the first 15 min. on that project. I also have 2 Ryobi generators and both have worked great never failed and always start right up and are very quiet. Thanks Ryobi for the great tools, have and will buy more. Thanks, Bob
Date published: 2020-07-11
Rated

5

out of

5
by
bdunn80
from
Perfect Fit
Needed to drill out a broken bolt in the side of an engine. Bought the Ryobi right angle drill so I wouldn't have to pull the engine out. Worked flawlessly. Exactly what I needed, and worked as planned. Great drill.
Date published: 2019-07-03
Rated

5

out of

5
by
Sold_on_Ryobi
from
Fantastic Tool - Thanks Ryobi
Bought this for an recessed light and home theater system installation which required running cables and power through joists in finished spaces. This was the perfect size to maneuver in the tight spaces and had great power in order to make the holes. I had a similar product from a different competitor who theoretically caters to the construction trade but it was "wider" such that with the addition of the drill bit, it was too tight to maneuver. When I investigated a better option and saw this drill's profile, and the fact it was a Ryobi and One+, I couldn't get to the orange box fast enough. Got home and it worked like a champ and probably cut my time by 75% because I could work with whatever holes (for the speakers) or access I had available. LOVE THIS. LOVE RYOBI. LOVE ONE+ Please don't quit making these great tools.
Date published: 2020-07-18
Rated

5

out of

5
by
Ryanorhino
from
Great tool for tight spots!
I bought this drill to help run wiring for our remodel. Because of its right angle, I was able to use the holes I cut for the lights to put the drill in and did not need to make any additional holes in our ceiling. The drill is easy to use, quickly loads and releases bits, the trigger is in a good location so you don't have to keep your hand on the other side of the drywall in order to use it. It also had all the power I needed using the 4ah and 9 ah batteries.
Date published: 2019-12-22
Rated

4

out of

5
by
Bknut
from
great right angle drill
I used this drill immediately after receiving it for a gift. I never realized how useful a right angle drill could be, it as perfect for getting into tight corners when doing woodworking and home improvement. The Ryobi right angle drill worked perfectly. It had the power needed for large screws but the control for the tight corners of furniture assembly.
Date published: 2021-03-11