+6
18V ONE+™ QUIETSTRIKE™ Pulse Driver
Model: #P290
+6
RYOBI introduces the new and innovative 18-Volt ONE+ QUIETSTRIKE Pulse Driver. QUIETSTRIKE technology is gives more power and speed than a drill but with 50% less noise than an impact driver. The variable speed trigger produces up to 3,200 RPM for precision driving control. This tool features tri-beam LED lights to help illuminate the darkest work spaces. The Ryobi 18-Volt ONE+ QUIETSTRIKE Pulse Driver works with any 18-Volt ONE+ battery (sold separately) and is a part of the ONE+ System of over 70 great tools that all work with the same 18-Volt battery platform. This tool is backed by a 3-year warranty.
Features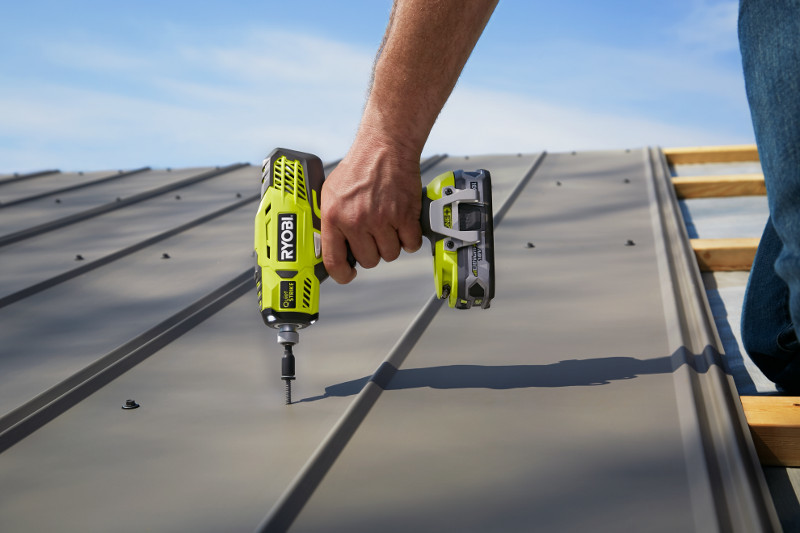 Features
QUIETSTRIKE™ Technology: More power and speed than a drill, 50% less noise than an impact driver
Perfect tool for deck building, metal roof installation and many other heavy duty, screw driving applications
Variable Speed Trigger produces up to 3,200 RPM for precision driving control
Tri-Beam LED provides optimum illumination and eliminates shadows on work surface
MAGTRAY™ magnetic holder for convenient placement of screws and bits
Auto-load chuck for fast, easy one-handed bit loading and ejecting
New and improved GRIPZONE™ overmold for optimum grip and user comfort
Belt clip mounts on either side for convenience
Specifications
Battery: 18V
Chuck: ¼" Quick Connect
No Load Speed: 0-3,200 RPM
Tool Weight: 3.0 lbs.
Reviews
18V ONE+™ QUIETSTRIKE™ Pulse Driver
18V ONE+™ QUIETSTRIKE™ Pulse Driver
is rated out of
5
by
80
.
Rated

5

out of

5
by
JAFIII
from
Quiet Power
I received this unit for Father's Day from the sons-in-law. My first battery powered tool. All my others are corded and I always complained that I never had enough extension cords for the task at hand. I was very surprised at how quiet the unit is. I did a side-by-side test with another national brand on driving screws through 3/4 inch Ash and joined it to a pine 2x4. It drove the 4 inch screw with no difficulty, did not bog down the motor, and the quietstrike lived up to the name. No complaints from the wife on drilling wood in the living room (she never knew it was there, until she walked in). I should have done this sooner. JAF
Date published: 2020-07-24
Rated

4

out of

5
by
Karb0nK0py
from
Pretty quite but still versital
Very happy with my purchase. People say Ryobi is junk but I disagree strongly with them. I have like 5 tools from them including the Jigsaw and Palm sander and they are awesome. This driver is a good all around driver to have either in your home or shop. It's lightweight and does it's job without complaint. Quick change chuck makes going from one bit to another a snap. Goes a long time with one 4.0 battery. Not over powerful but will countersink a screw if you give it the chance. All in all I'm super pleased with my purchase and will continue to buy Ryobi when I need a power tool. My next purchase is a cordless leaf blower.
Date published: 2020-11-03
Rated

4

out of

5
by
NateO
from
"Quiet impact" seems like an oxymoron
I have had this tool about 6 months and it is a great addition to my Ryobi system. I do a lot of work in a small carpenter shop and in homes. There is no comparison to a good impact when driving long screws or mounting bolts, so having a tool that doesn't cause head ringing after 10 minutes of work is great. The only reason I don't give 5 stars is because of the size. It seems to be unnecessary large and heavy. I have other brands of impacts and unfortunately I find myself grabbing for them when it comes to small quick jobs because of the lighter weight and more compact size. I know most people want a single tool to do everything, but sometimes its better to have the right tool for the specific job. In a lot of cases this is that tool. Overall I would buy it again and I have recommended it several times.
Date published: 2019-06-26
Rated

5

out of

5
by
Florida Steve
from
Quieter Than I Thought
For my birthday I got the 18V+ Lithium Ion Combo Kit that comes with the regular impact driver and a drill. It changed my life. I reluctantly gave away my favorite 4 NiCad drills. The Lithium Ion Drill was much lighter, lasted way longer on a charge, and would recharge in the time it took to take a break and eat a snack. It was the impact driver that really changed things, however. I was putting together a 9' x 25' garage wall shelf system I designed out of 3/4" plywood. I drove hundreds of self tapping screw fasteners. How did I ever get along without an impact driver? The downside was that I had to wear hearing protection because of the loud pounding of the impact driver action. I read that the 18V+ QuietStrike Pulse Driver was much quieter and had LED lights on its front, both qualities that would have been very helpful in my dark garage and got it for a late Christmas present. It really IS quieter, so much so that I use the regular loud impact driver when I need to hear when the fastener is tightening and about to stop. I've been using the QuietStrike Pulse Driver for a couple of months now, and just bought another three 18V+ tools this week to replace a corded circular saw, hedge trimmer, and hot glue gun where their cords were always a hassle if not an outright safety issue. Down with the Tyranny of the Cord...Viva la 18V+!
Date published: 2019-03-07
Rated

5

out of

5
by
Bee Wrangler
from
Much quieter than others.
I tested in the store and was pretty sure this was going to be good. After getting home and using it several times. I have to say this is a great driver. Much quieter than my other Ryobi or my neighbors Rigid. But drives 3 1/2" screws just as fast. Well worth the money, to help save my hearing.
Date published: 2018-04-16
Rated

4

out of

5
by
Cody90
from
Very quite
I bought the quiet strike about 2 months ago,compared to my other ryobi impact driver u can definitely tell the noise difference. I have been using it alot the one complaint would be the size I wish it was a little more compact.
Date published: 2019-07-04
Rated

5

out of

5
by
BDavid73
from
Great impact, fast and powerful!
I own two of these, the older one without LEDs and the newer one with. The lights make a huge difference for me because I use it for building at the haunted attraction I own. They have been knocked off ladders, stepped on, ran all day (hard) and still keep going! I own a lot of Ryobi tools, but I think this is the one I use the most, we run 4 of these at our haunt now and always have them in our tool cart ready to go.
Date published: 2018-05-29
Rated

5

out of

5
by
Jcmalove57
from
Great tool
All my tools are ryobi and what amazes me the most is that if you have older models of ryobi tool the same battery you buy today will fit and run that tool and do instead of changing the tool and the battery ryobi changes the tool but they make it fit even the older tool too so if you buy ryobi today in ten years you can still buy a new battery and it will still fit your tool you bought back ten years ago and that's why I will always be a ryobi man when it comes to my tools Thank you ryobi for all you do for all your customers thank you
Date published: 2020-06-27