+4
18V ONE+™ PEX Pinch Clamp Tool
Model: #P660
+4
RYOBI introuduces the industry first powered PEX Pinch Clamp Tool. With cordless convenience complete up to 400 clamps per charge using a P108 battery. Complete clamps with ease and efficiency with one button activation and an LED light indicating a complete clamp cycle. The 18V PEX Pinch Clamp Tool fits all PEX clamps ring sizes so no job goes unfinished. Dual LED lights illuminate the workspace and the included belt clip make for ultimate portability on the jobsite. Innovation meets function for the ultimate jobsite solution.
Features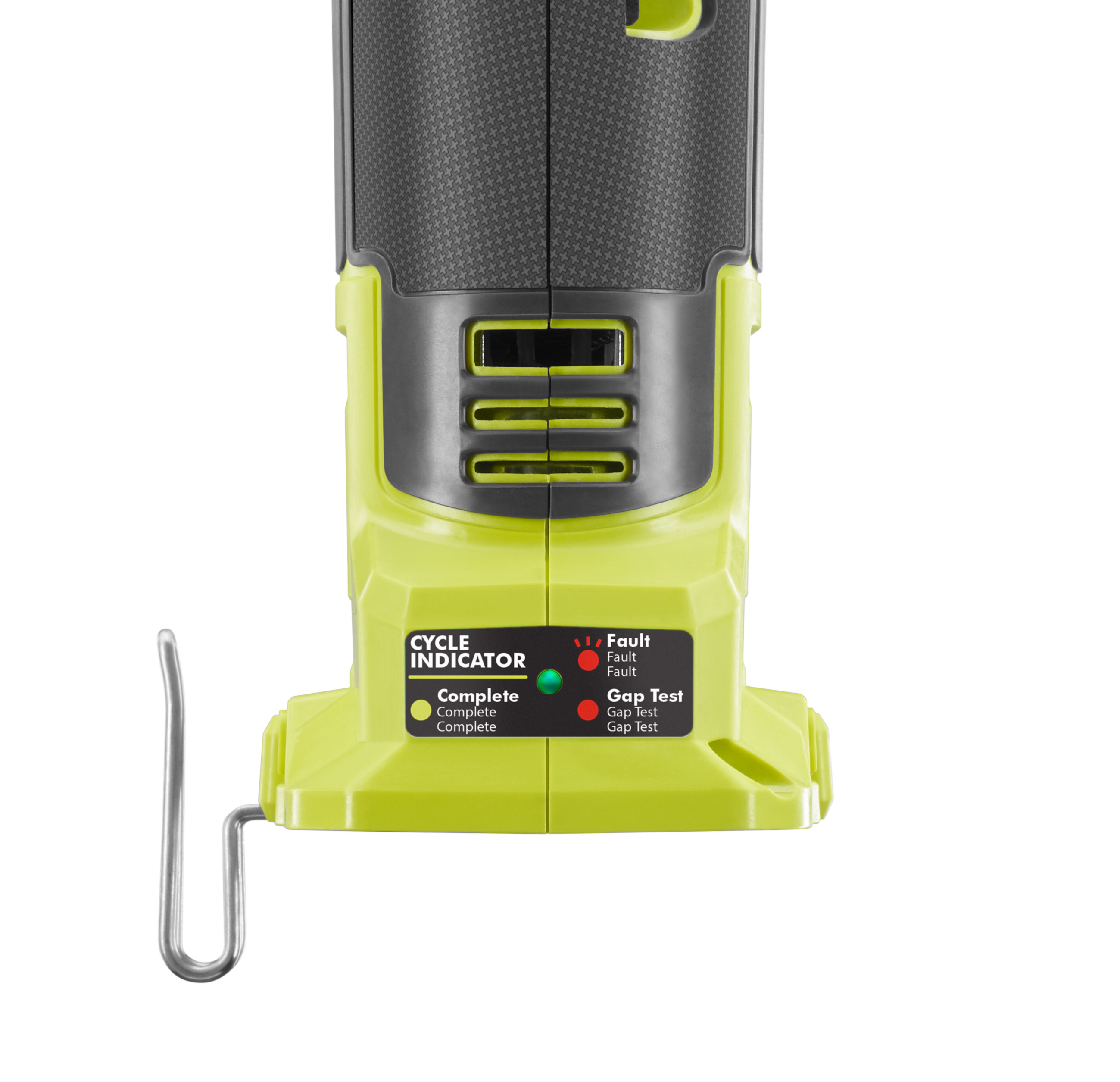 Features
Easy one-handed operation with one touch button activation
Dual LED lights illuminate the workspace
Belt clip included for ultimate portability
Specifications
Fits all PEX clamp ring sizes including 3/8", ½". ¾" and 1"
Up to 400 clamps per charge using a P108 battery
Includes
P660 PEX Pinch Clamp Tool, Gap Check Tool, Belt Clip
Reviews
18V ONE+™ PEX Pinch Clamp Tool
18V ONE+™ PEX Pinch Clamp Tool
is rated out of
5
by
49
.
Rated

5

out of

5
by
insan0f1ex
from
Great tool!
I got the PEX crimp tool recently and used it to install a filtration system in my incoming water line. It functions differently from the ratchet type one I use at the job site. It is a lot more simple. Simply position the tool on the crimp ring and press the button. It cycles completely, checking proper crimp pressure during the process. All the user needs to do is hold it in position. Practice once or twice before committing to your work, but you'll be pleasantly surprised. Tight quarters are no problem for this tool versus the long handle type. Full cycle action allows one-handed operation when you are working in a bind. All in all, this has been a good purchase!
Date published: 2020-07-14
Rated

4

out of

5
by
Jmprogressivednr
from
So far so good
As a service plumber I use a lot of pinch clamps instead of crimp rings when making repairs on piping. The ratcheting tools are much smaller and easier to get into some places than the big chunky crimper, and one tool does most all of the sizes i normally run into. But on larger jobs my hands still get sore using the ratchet crimper all day. This tool doesn't fit quite everywhere the hand crimper does, but if I can use it on 90 out of 100 rings, I'll call that a win. It saves me time and it saves me pain at the end of the day. What more can I ask for? As for the durability, it's too early to tell for sure, but it seems tough enough to last a good long while.
Date published: 2020-04-23
Rated

5

out of

5
by
cdkatkd
from
Great tool
I've been looking to upgrade my pex pinch clamp manual tool with one that is not manual. So when I seen this tool I was excited. Wow I must say bets the day lights out of using a manual pex pinch clamp tool. Ryobi made this tool so easy to use & its compact size makes it easy to get in tighter spots then you can get the manual pinch clamp tool. It has cut my time down as well so a win, win. I would tell any one doing much plumbing go out & get one.
Date published: 2018-09-25
Rated

4

out of

5
by
Peaches78
from
Love it
Husband and I bought a rv park 1.5 years ago. We have had to learn all we could about Pex as that is all there is. His hands have went through some abuse over the years and his hands would ache after just a few times. I finally was able to purchase this for hjm and he can get a lot more done without the pain. I have even been able to work along side him since it's really easy to operate. He say after little while it gets heavy to use. My only issue with it is a few of the place I've been I couldn't see the green light and had to get him to tell me. Other then that it's an awesome tool and we tell anybody we can about it.
Date published: 2020-12-29
Rated

5

out of

5
by
Gord
from
Expensive but great tool.
I bought the tool to replace all of the poly-b in my house with pex. When I bought it, I thought that it used crimp rings. I didn't even know that the clamps existed, so I had to return the rings I had bought and buy clamps which were a bit more money. Over a period of about a week, I made about 250 clamps with the same 2aH battery and it still had a good charge. I'm sure that I would have never been able to do this job with a regular crimp tool as I had to get into some pretty tight spaces where there was only room for one hand. Still had some difficulty with a few connections, particularly when clamping a 90 degree elbow from the inside, but overall, it worked great. The LED light was a great plus as well. I'm curious as to why HD only sells these on line in Canada. Would have been nice to just go to the store and pick one up.
Date published: 2019-12-17
Rated

5

out of

5
by
Chuck
from
Exactly what I was looking for
I don't need the example, "I bought this a month ago and am so glad I did! " I am crazy glad to have found this tool. Not only have I invested in the 18+ Ryobi tech, I have used their tools for ages. Most of mine are blue, either electric powered or nicad battery powered. (all the lithium batteries work with the older generation nicad tools) I've been plumbing for nearly 50 years and am always reluctant to try the "latest" new thing. When I gave pex piping a try it wasn't long before I switched from copper rings to stainless cinch rings. It makes more sense to only need one tool for 4 pipe sizes! At my age, probably any age, if you do 30-40 crimps a day, your hands are shot. This tool might not reach everywhere you need a crimp, but believe me let it do the ones it can and when you need that special attention crimp you'll be fresh enough to do it! Love this thing. The fact that Ryobi did it first is icing on the cake for me. I was looking for something and didn't care who made it! I actually can't believe rigid and "propress" haven't become aware of the need for a tool like this. Good job Ryobi.
Date published: 2019-01-02
Rated

5

out of

5
by
Joe34
from
great tool
I WAS SHOCKED HOW WELL THIS TOOL WORKED ! I repiped a 3 bath house and this tool performed flawless .changed my opinion of Ryobi and then bought shears which were just as good
Date published: 2019-03-19
Rated

5

out of

5
by
daustin
from
Perfect tool
This is one great tool, it beats having to use the manual ring clamp tool. It really cuts down on time there, The design and hand feel is perfect. I was truly surprised on how I could fit it in the tight spaces in my house to get a good clamp on the line. I am so happy that Ryobi came out with this this is a life saver!
Date published: 2018-10-01