+7
18V ONE+™ JobPlus™ with Multi-Tool Attachment
Model: #P340
+7
The RYOBI® 18V ONE+™ JobPlus™ delivers more innovation and versatility than any other 18V multi-tool on the market. It includes a multi-tool attachment head that cuts drywall, metal, wood, plastic, composite and many other materials; it also sands the finest details. Use multi-tool accessories from the most popular brands with the included universal adaptor, which stores on-board for convenient use. The JobPlus™ base is compatible with the other interchangeable tool head systems. The RYOBI® 18V ONE+™ JobPlus™ is fully compatible with the RIDGID JobMax Interchangeable tool head system making this tool even more versatile. The 18V ONE+™ JobPlus™ is sold as a bare tool, allowing you to build on your ONE+™ collection without spending additional money on batteries and chargers with each tool purchase. Best of all, like every RYOBI® 18V ONE+™ blue or green tool, this JobPlus™ works with any 18V ONE+™ battery. Upgrade to lithium-ion or LITHIUM+™ batteries for lighter weight and better performance.
Features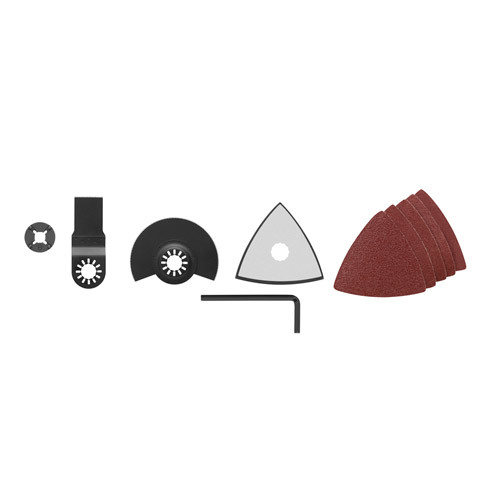 Universal Adaptor
Compatible with RIDGID JobMax™ attachment heads and universal adaptor allows use of all popular multi-tool accessories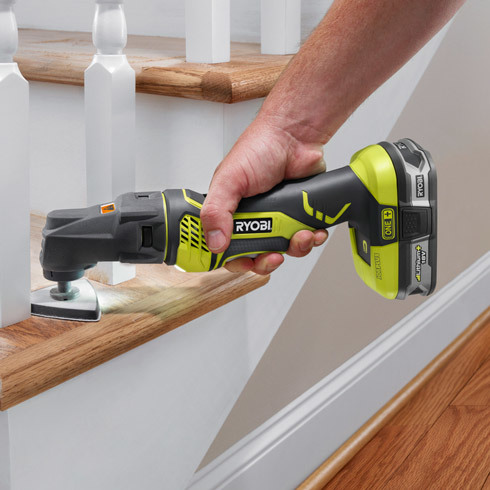 Toolhead Versatility
Multiple position toolhead adds handling versatility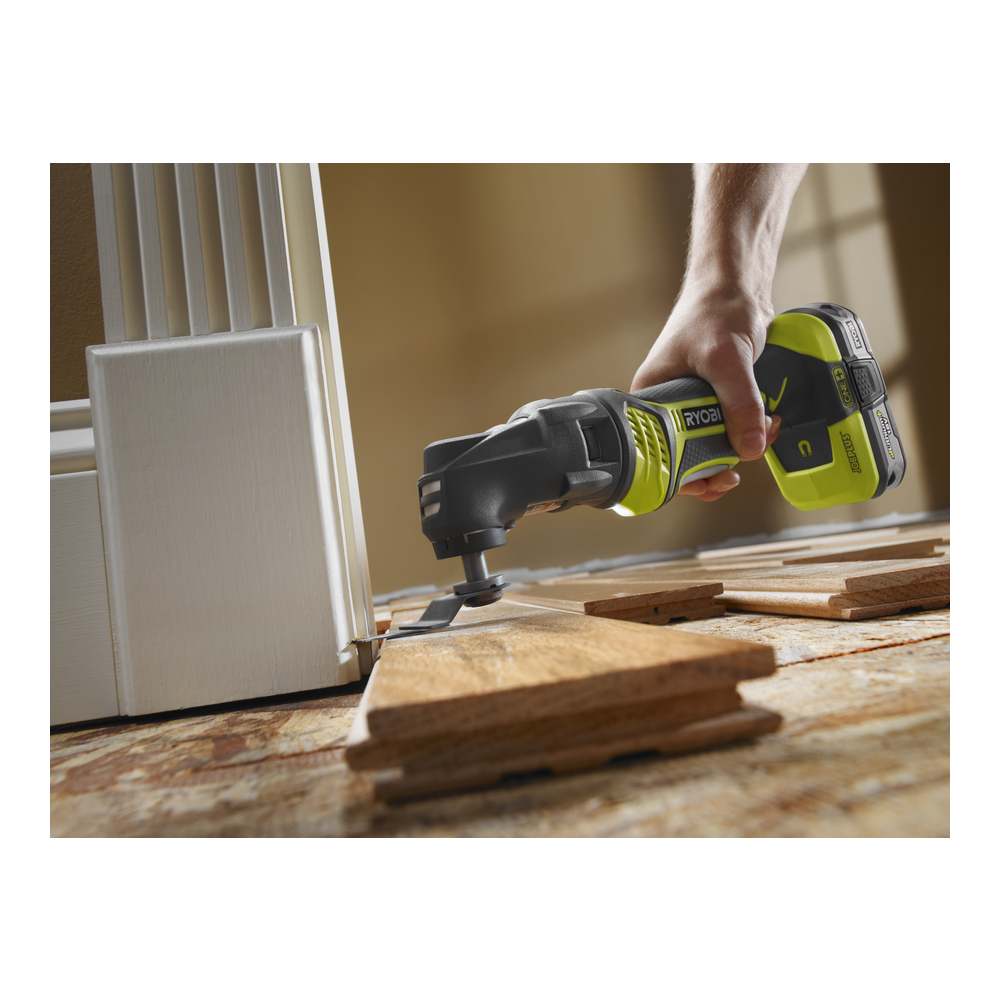 Ergonomic Design
Balanced design and ergonomic grip reduce user fatigue and features GripZone™ overmold for maximum user comfort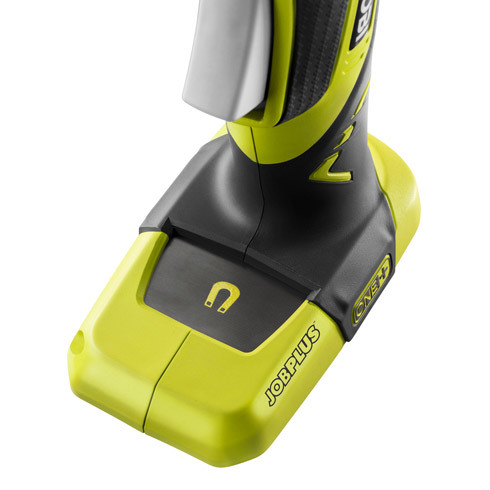 MagTray™ Magnetic Holder
MagTray™ magnetic holder for convenient placement of screws and bits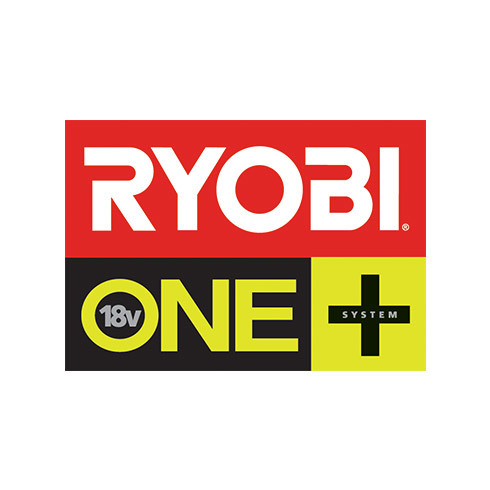 All RYOBI 18V ONE+ tools work with all RYOBI 18V ONE+ batteries.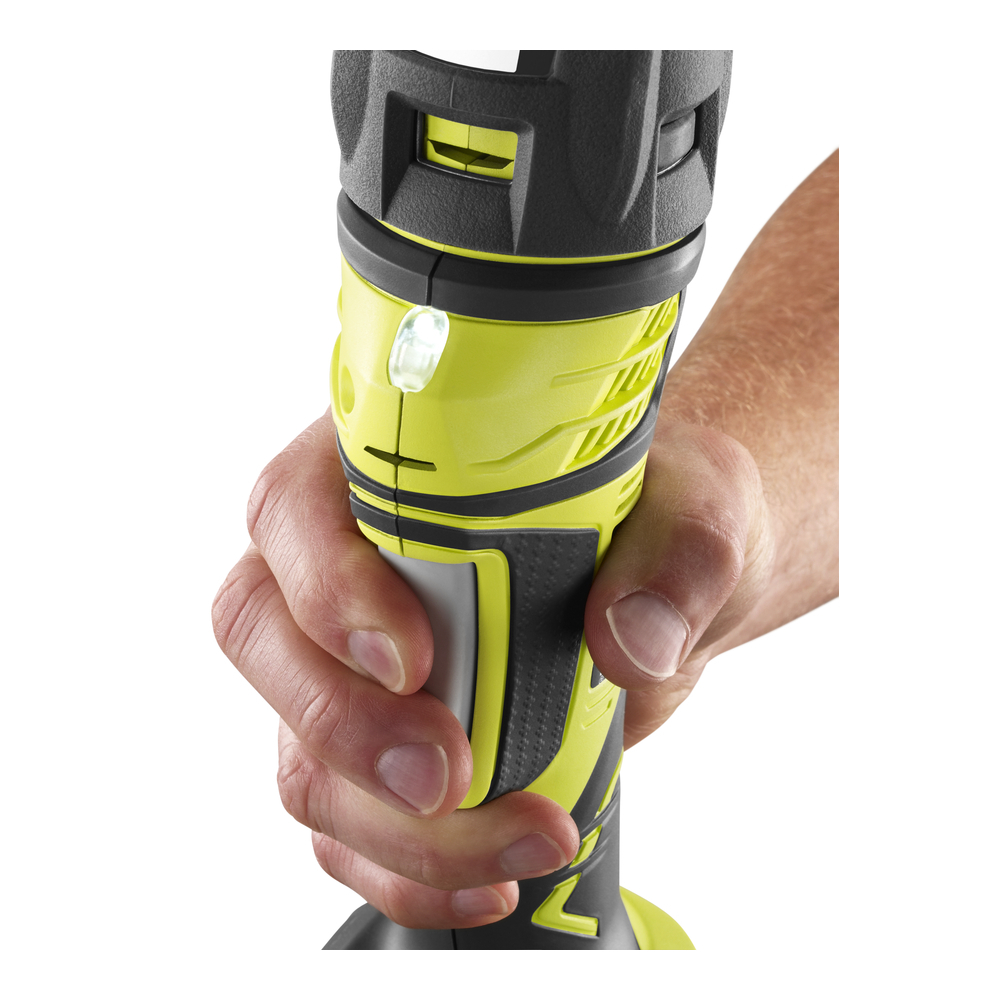 Specifications
Battery: 18V (not included)
Speed: 20,000 OPM (no load)
Tool Weight: 2.15 lbs
Includes
P340 JOBPLUS™ Base
P570 Multi-tool Head
Wood / Metal Cutting Blade Segment
Saw Blade Sanding Pad
5 Pieces Sandpaper
Allen Wrench
Universal Multi-tool Accessory Adaptor
Operator's Manuals
*Batteries and chargers sold separately
Reviews
18V ONE+™ JobPlus™ with Multi-Tool Attachment
18V ONE+™ JobPlus™ with Multi-Tool Attachment
is rated out of
5
by
246
.
Rated

5

out of

5
by
Hawkfish
from
Great Tool. Why Did I Wait So Long To Get It?
Purchased this because I had to cut out some 3/4" plywood in my attic floor under my air conditioning unit and didn't have the room for a regular saw. My gosh, this thing went through that plywood easily after I realized I needed to make a first pass of about 1/4" deep and then follow with two more passes. Used it recently to install new air registers in the ceiling and a switch box in the wall. With the half moon sheetrock cutter, it was easily the best thing I've used to cut a clean rectangular hole in sheetrock. Only complaint is I wish there was a location on the tool for storing the allen wrench to change the tool (cutter) on the end.
Date published: 2019-04-02
Rated

5

out of

5
by
tpgllghr
from
very versatile
in helping my son build his tool arsenal a while back, i encouraged him to get a multi-tool. i have owned a corded Bosch multi-tool for some time & when you need one, you NEED one. he already had some Ryobi 18v tools, so this unit was a no-brainer for him. we got it & used the heck out of it working on the new home he had purchased. speed forward to now - my Bosch's tool head started breaking apart, so i went right out & got my own Ryobi to compliment the boatload of 18v One+ tools that i own & use. i haven't had to use my new one yet, but after using my son's, i know what i have & that is another very good home-owner quality tool.
Date published: 2019-05-25
Rated

4

out of

5
by
Hank W
from
First Use - Sanding
I purchased this tool recently and have used it on an exterior painting job. I have used it to remove layers of paint in the corners of shutters and some other tight areas. I have had two problems with the design. 1) If you flip the head to increase the offset of the sanding head from the body, you actuate the tool by squeezing the switch. You then pinch the web of your hand when you release. 2) There is not enough offset between the sanding head and the battery of the tool. They are at the same level. It would be nice if the head held the pad off another 1/4" to 1/2". Other than those issues, I like the tool.
Date published: 2020-07-17
Rated

5

out of

5
by
Anonymous
from
Features, Function and Price
I recently bought the JobPlus base with Multi-tool head for work I'm a finish carpenter (new construction, remodeling and renovation) and use it a lot. My co-workers give me grief over it (but I don't care) because it performs as well as their other major brand tools (some of which have failed and I laugh at them, then it's my turn to give them grief) and costs half of what they paid. Also the fact that another brands heads (which I also have in corded tools) will work with it is a plus. I have a lot of Ryobi One+ 18v tools and I'm very happy with all of them, none of which have let me down and will continue buying.
Date published: 2019-04-13
Rated

5

out of

5
by
Ryobijo
from
Multi Tool Awesome
I originally bought this multi tool for tiling job I was doing in my kitchen and found that I use it all the time it's an awesome tool just what you need for cutting tight spaces and special Cuts absolutely fantastic
Date published: 2018-06-05
Rated

5

out of

5
by
RicD
from
Use it more than my drill and impact driver
NORinCali, RIDGID has a toolless head. It would be better purchasing that than futz with the allen wrench; that is what I did. Also, I have all but one of their heads. Depending on the job it is easier carrying these smaller heads place to place than schlepping multiple full size tools. As I become older (mid 70s) my realization is I do not have to pretend being a mule, and do not play one on TV. This kit removes quite a load off my back and shoulders, and still gets the job accomplished.
Date published: 2018-08-19
Rated

5

out of

5
by
MAZY
from
One tool equals multiple tools!
Not only does this tool have great features but it's like six calls and one makes my job very easy working around the house great quality outstanding value!
Date published: 2019-07-07
Rated

5

out of

5
by
Maysdave11
from
Great power
I used this to cut along my entry way to remove the 1/4 subfloor. Worked great.
Date published: 2018-05-22