+7
18V ONE+™ HYBRID LED PROJECT LIGHT
Model: #P790
+7
RYOBI introduces the new 18V ONE+ Hybrid LED Project Light. Find it in the Electrical Aisle at The Home Depot. Light up you workspace with three modes of light output, and 180 degrees of light rotation. The multi-point light-head and the locking hook adjust to adapt to various applications. Best of all, the 18V ONE+ LED Project Light features HYBRID technology, giving you the ability to use it with any RYOBI ONE+ battery, or extension cord (not included).
Features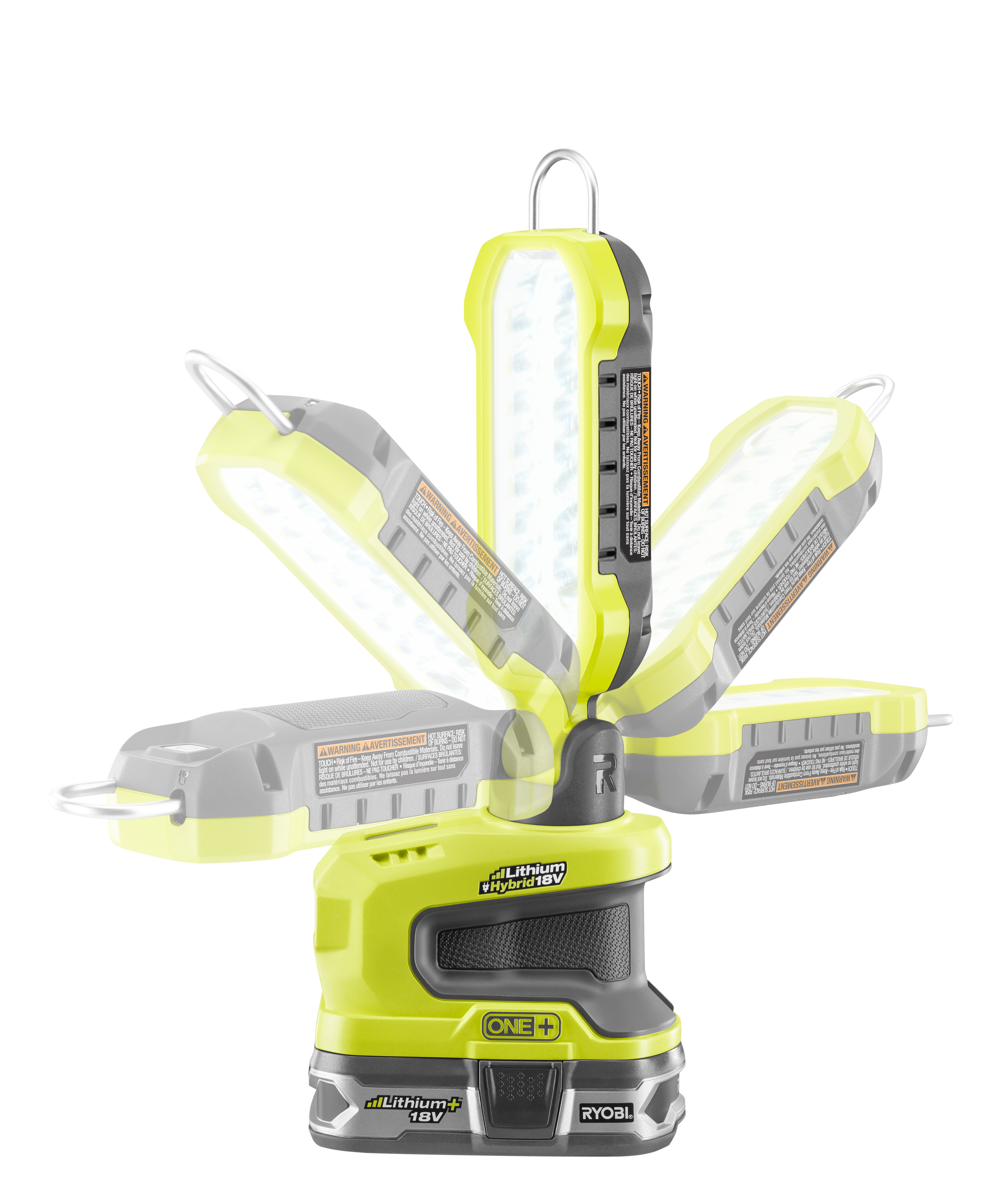 Features
900 Lumens of light output
Multi-point adjustable light head for various applications
High (lumen output 900), Medium (lumen output 600), Low (lumen output 100)
MAGTRAY™ for convenient fastener storage
Adjustable, locking hook design for multiple hanging options
GRIPZONE™ Overmold for user comfort
Specifications
Lumen Output:High (lumen output 900), Medium (lumen output 600), Low (lumen output 100)
Runtime: 35 Hours on Low Mode using a RYOBI ONE+ High Capacity Lithium-Ion Battery
Weight: 1.1 lbs.
Power Source: AC extension cord or any 18V ONE+ Battery
Reviews
18V ONE+™ HYBRID LED PROJECT LIGHT
18V ONE+™ HYBRID LED PROJECT LIGHT
is rated out of
5
by
139
.
Rated

5

out of

5
by
juanders
from
Amazingly Bright
I am amazed with how far LED technology has come. Every time Ryobi comes out with a new LED light it just keeps getting brighter and brighter. Forget about LED technology as well, this is one of the brightest lights I have ever seen. With its compact size and swivel movements you can get the light exactly where it is needed. I had an electrician at my house over the weekend doing work on my electrical panel in the basement, which of course means no lights. I was more than happy to bring this light out and light up his entire work space. Boy was he happy. Even outside of home projects, I plan on taking camping and other outdoor activities to light up the night.
Date published: 2018-06-12
Rated

5

out of

5
by
DrewBHAM
from
This light is Great!
I just got this Project Light and I am so happy I did, it's Great. The Project Light is build well and looks like the engineers at Ryobi spent some time thinking this light out and not just threw something together to get to market. This light it small and well balanced along with easier to carry due to the grip area around the base that is recessed and rubber covered. One really nice thing they did was make the locking hook in the top have a metal lock point under the plastic shell so the hook should lock and unlock easily and not get worn out over time. There is also a small lanyard attachment point at the rear of the light below the LED panel and it looks beefy so it should work well as another way to carry and attach the light. The light is very bright for a small light, the medium light setting is not that much lower than the high setting. The 3 power setting also save battery life and allow you dim the light when you're working close up to the light. The hybrid feature of the light is nice if you want to use the light for extended periods or if you want to use it without the battery or even if you needed to use the battery in a tool and still use the light. I don't think battery life is going to be much of a problem for most people and you still could use the light settings to conserve battery life if you wanted to. The LED panel turns to the left and right up to about a ninety degree angle to the front of the base but not all the way around and the LED panel also lies flat to the front and flat to the back of the base and anywhere in-between that for a lot of range of motion. This Project Light was really what I was hoping for when I bought the Ryobi P727 Workbench Light, but the Workbench Light was too big and cumbersome. I can't wait to use it more and in more applications.
Date published: 2018-04-21
Rated

5

out of

5
by
Grandpa Ted
from
Very versital
I'm very impressed with the overall versatility of the light. Being a hybrid was one of the most compelling reasons for making my purchase. My first use for the light was to strip the flaking paint off my basement block walls and repaint it. The spread of dispersion of the light in a confined area was GREAT! I could hang the light with a hook or set it on the floor and angle it to where I needed to work without binding myself. The battery life was equivalent to the amp hour rating of the battery I used. The only down side was not being able to use an extension cord and stand the light up. My suggestion would be a dummy battery, or such, that would allow a weighted base for extension cord use.
Date published: 2019-10-16
Rated

5

out of

5
by
jrbrown923
from
Incredible little light!
This light is so compact yet so bright! The clip attachment at the top makes it great for getting under the hood of your vehicle and the 3 brightness options make it easy to adjust to the environment you're working in. With a large battery you can work for hours without worrying about it cutting off on you. The slim design allows you to easily get to places that are super dark like under you house or outside once the sun goes down. From fixing the plumbing to night fishing, this little light does it all!
Date published: 2018-06-12
Rated

5

out of

5
by
Luke thompson
from
Project light
I never really knew how Convenient and effective tools like this could be until I got one. This tool gives off an impressive amount of light and works both with the 18 V batteries and an extension cord plug this feature came in han convenient and affective to lose like this could be until I got one. This light Gives off an impressive spread which comes in very handy painting, or working in tight places. I highly recommend this product in my opinion this is one of the most Convenient tools one could use.
Date published: 2018-06-08
Rated

5

out of

5
by
Tifftastic
from
You light up my life!!!!
I just got this light a week ago and I am in love with it! There are three modes of lighting and it completely brightens my space. The first mode is so bright, it can fill a whole room. I also love how you can bend it in any direction that you need it to go. You can also take the loop and turn it into a hook to hang it on any surface that you need. There is also a plug in the bottom of the lights to plug in an extension cord. I think this is a must have in every workspace !!
Date published: 2018-06-20
Rated

5

out of

5
by
Fred2345
from
Hybrid LED project light
I have several different led lights. I personally believe this is one of the best lights I have and as well one of the best ryobi makes it is super bright and has three settings. I put it on high one day and left it there for 24hrs on a 4amp battery and it lasted that long. Is a little big for some things but you can set it or hang it. I would highly recommend this light and I talked my brother and sister both into buying this light and they love it as well. Is great for working out things and would be great for camping or power outages. Buy it you would be disappointed!
Date published: 2020-08-22
Rated

5

out of

5
by
daustin
from
Perfect Project Light
There is nothing worse then working on a project or in a tight space that you cant get good light! Well this SOLVES all of that. This light is nothing short of amazing!!! it rotates around to face any direction, you can hang it with the flip out loop at the top...and did i mention that it has a magnate on it just the the drills!!! and the last thing that is AWESOME...is its a hybrid..and that means you can plug this lil-guy into the wall for all day power!!! So amazing!!!!
Date published: 2018-06-13