+4
18V ONE+™ High Pressure Inflator with Digital Gauge
Model: #P737D
+4
The 18V ONE+™ Cordless High Pressure Inflator with Digital Gauge is the perfect tool for tires and small inflatables ranging from 0 PSI to 150 PSI. It features an easy to read digital gauge that provides pin point accuracy. The cordless convenience allows for use in virtually any location, whether you're at a sporting events or in the driveway. It is perfect for high pressure applications like sports balls. Best of all, it is part of the RYOBI ONE+ World's Largest 18V Tool System*. Backed by the RYOBI 3-Year Manufacturer's Warranty, this Cordless Power Inflator includes a hose, sports needle, and high pressure nozzles. Battery and charger sold separately.
Features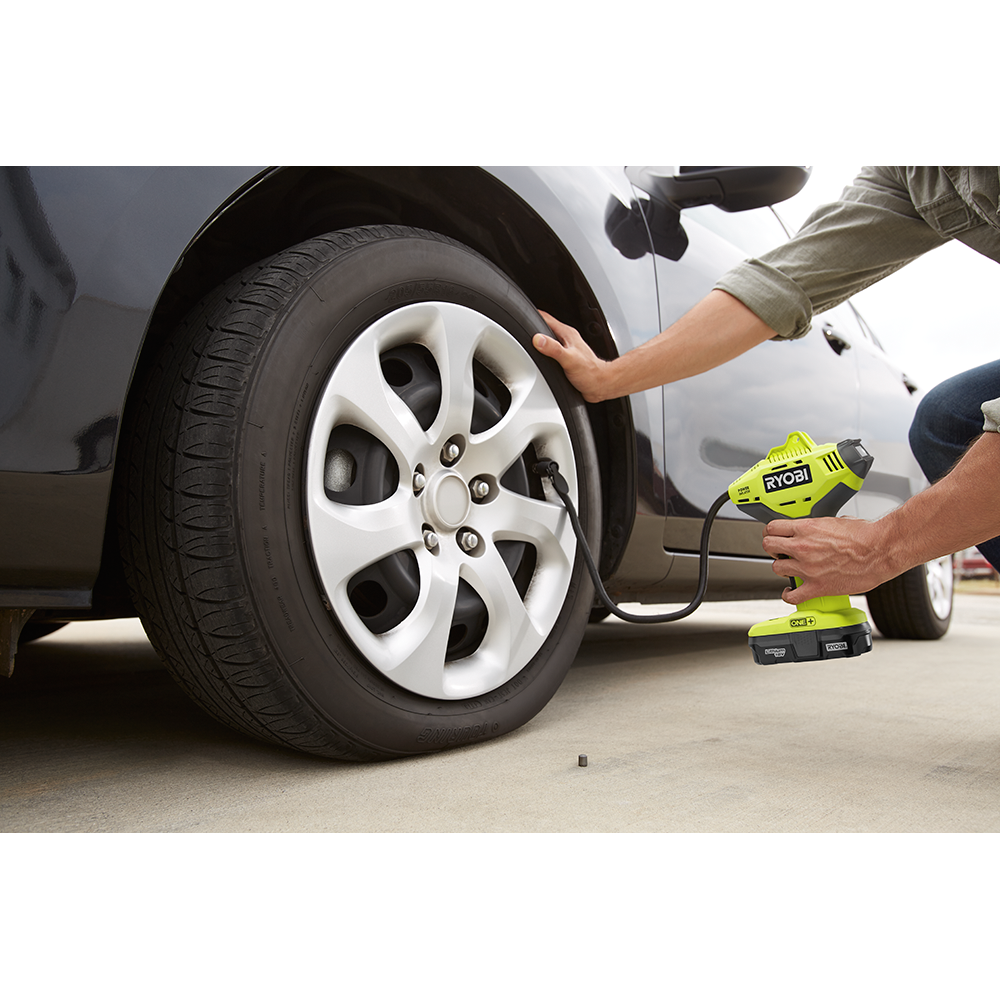 Precision Digital Gauge
Convenient accessory compartment for needle and nozzle accessories
High Pressure Inflation of 0-150 PSI for tires and small inflatables
Large diameter piston allows fast inflation
Cordless convenience for use in virtually any location
20 in. hose with on-board storage clip
Pistol grip handle design with GRIPZONE(TM) overmold for optimum grip and user comfort
Specifications
Battery: 18V
High Pressure Operating Range: 0 -150 PSI
High Pressure Air Hose: 20 in.
Tool Weight: 1.35 lbs.
Includes
P737D High Pressure Inflator
Sports Needle
2 High Pressure Nozzles
Operator's Manual
Reviews
18V ONE+™ High Pressure Inflator with Digital Gauge
18V ONE+™ High Pressure Inflator with Digital Gauge
is rated out of
5
by
485
.
Rated

3

out of

5
by
pickyRick
from
Better than all the rest
This is my 3rd or 4th inflator. They work great. I've owned and own 4 other inflators types but none compare to this Ryobi inflator. The reason it's only a 3 is because they will burn up if over stressed. It can do 1 totally flat tire quickly and easily. If continued to be used though, it will overheat, start smoking, and die. Fortunately it has a 3 year warranty but you absolutely must have your original receipt, serial # etc. or they will not honor the warranty. Their warranty department is very slow but finally came through in all 3 cases and replaced the unit.
Date published: 2020-05-21
Rated

5

out of

5
by
Bill1114
from
Convenient tool to pump air into tires.
This is the one of the best tool I have ever owned. Best invention ever, second to the creation of wheels. Before I got this tool, I used to have to drag my big old air compressor to my car whenever the "check tire light lit up. It's a tedious process to have to push the compressor around the car and fumble with the air hose. On top of that, putting inflation nozzle and tire gauge on the valve stem can get repetitive and tiring quick. Here comes the High Pressure Inflator with Digital Gauge. No more dragging air hose and air compressor around the garage any more. Just plug in the battery and go fix something in your house.
Date published: 2021-01-02
Rated

5

out of

5
by
Jamduamjac
from
Digital Gauge a PLUS!
Bought this Air Compressor with Digital Gauge to replace my Analog Gauge Compressor. Analog worked fine except for gauge it was 10 pounds off. It would read 35 lbs of air when there was only 25 lbs! Digital Gauge is Spot on, READS TRUE. Checked it with a analog gauge. LOL
Date published: 2019-12-22
Rated

4

out of

5
by
Diaz1728
from
Works great for small volume applications.
I bought this several months ago to add on demand air for my truck's air bag system. It inflates the bags easily and quickly even white several thousand pounds of weight on them. I do wish that it had a auto stop for a preset psi instead of a trigger that must be held down. I do like the digital read out especially at night with the backlight display. My truck tires are 295/75/16 and it has a hard time inflating them I air the tires down when going to the desert and it's time consuming and doesn't give me the desired psi but just enough to get to a gas station and continue to fill up to 80 psi on the rear. Overall I'm sure this tool works for the masses.
Date published: 2021-01-24
Rated

5

out of

5
by
jkelle1
from
Inflated Results!
I purchased the 18V ONE+™ High Pressure Inflator with Digital Gauge about a month ago and have already had several opportunities to use it already. It made inflating a car tire or bike tire so easy and I no longer have to pull my electric inflator out of the closet and set it up and or add an extension cord when I needed to drag it out to the car. It also came with a tip that I used to detail the inside of my car by blowing dirt out of the crevices in the car. Versatile and invaluable tool added to my Ryobi collection.
Date published: 2020-01-03
Rated

5

out of

5
by
Biker73
from
Portable and quick
I got this not thinking it would work real good but I am totally impressed! I check and fill bicycle tires before every ride. I used to have to turn on noisy air compressor and wait for it to pressure up while checking tires. This little tool has changed that. It is fast, quiet, quick, and has a pressure gauge on it. Being battery operated I was able to take it with me in the car for rides in other areas. I have not tried it on car tires yet as they haven't needed air yet so I don't know how long that would they would take to fill. I have also not tried the attachments for low pressure air mats and soccer balls.So far I have been happy with all the Ryobi 18v tools I have bought.
Date published: 2020-11-10
Rated

5

out of

5
by
Charles Town Mike
from
Exactly what I needed for everyday work
Saw this at Home Depot and while I have a small air compressor I have used on inflating my truck and car tires, as well as those of my kids, and various sport balls, it was a pain to bring out and plug in and hope that vehicle was near enough that I wouldn't need extension cord. This product takes all of that hassle out of play, is extremely easy to use and gauge is accurate as well allowing for those times when you don't have a tire guava around or one you really trust to be accurate. Definitely two thumbs up.
Date published: 2020-12-22
Rated

5

out of

5
by
Ed L
from
Easy to use
Mea culpa - I have been remiss and not checked my tire pressure often enough. This will help. It's much quicker than waiting for the pressure to build in an air compressor and then searching for the right attachment. The built-in display showing the tire pressure is a convenience. It's small enough that I'm tossing it into the trunk for longer car trips, just in case of emergencies (along with a battery jump-starter). My only complaint is that it is a bit noisy for my taste - I just don't like any louder noise, and I would have preferred it to be a number of decibels lower.
Date published: 2021-01-16