+4
18V ONE+™ Hammer Drill
Model: #P214
+4
The RYOBI 18V ONE+™ 1/2 in. Cordless Hammer Drill features a variable 2-speed transmission for precision and versatility and delivers up to 1,600 RPM and 2,400 BPM for powerful performance. Its 24-position clutch handles high-torque applications and the clutch override allows quick mode changes from drilling to driving. The GRIPZONE™ overmold enhances user comfort, and the MAGTRAY ™ magnetic holder accommodates screws and bits. The 18V ONE+™ Hammer Drill is sold as a bare tool, allowing you to build on your ONE+™ collection without spending additional money on batteries and chargers with each tool purchase. Best of all, like every RYOBI® 18V ONE+™ blue or green tool, this Hammer Drill works with any 18V ONE+™ battery. Upgrade to lithium-ion or LITHIUM+™ batteries for lighter weight and better performance.
Features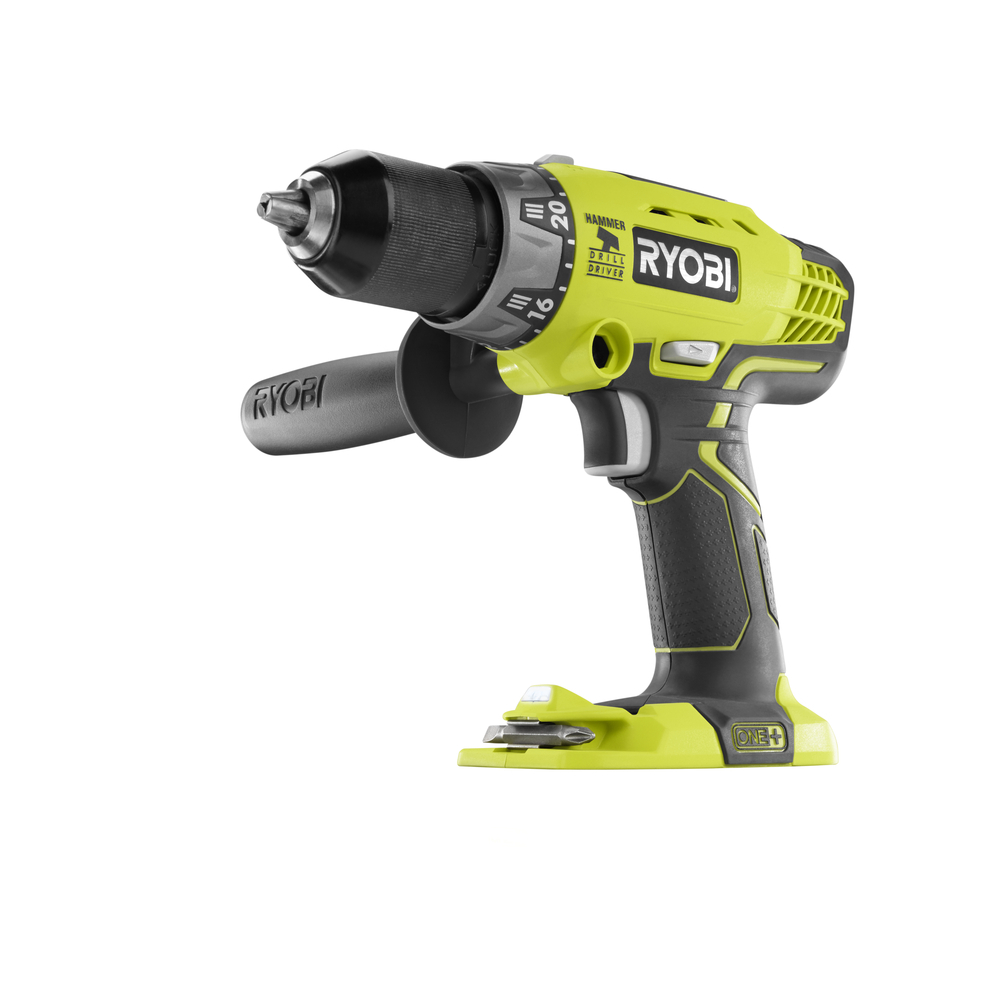 1/2 inch all metal, single-sleeveless chuck with spindle lock for quick, easy bit changes
Clutch override for quick mode changes from drilling to driving
Drill Mode: For drilling holes in wood, plastic and metal
Drive Mode: For driving screws and bolts
Hammer Mode: For drilling holes in masonry and concrete
MAGTRAY™ magnetic holder for convenient placement of bits and screws
2-speed gearbox and 24 position clutch to match your drilling and driving needs
Built-in bubble level to improve drilling/driving accuracy
GRIPZONE ™ overmold for optimum grip and user comfort
Specifications
Battery: 18 Volt
Chuck: ½ in. Heavy Duty
RPM: 0 – 375 / 0 – 1,600
BPM: 0 – 5,600 / 0 – 24,000
Clutch: 24 Position
Tool Weight: 3.9 lbs
Includes
P214 2-Speed Hammer Drill with Screwdriver Bit
Auxiliary Handle
Operator's Manual
Reviews
18V ONE+™ Hammer Drill
18V ONE+™ Hammer Drill
is rated out of
5
by
253
.
Rated

5

out of

5
by
Jim68
from
Worked great for what I bought it for
I needed to drill some holes (8) in a concrete floor. The concrete around here is made with hard, stone aggregate. I started with a regular drill and masonry bit. The first hole took about 5 minutes and went without issue. The second hole started OK then hit the side f one of the stones and started going crooked. The third whole I couldn't even start straight as it was on a stone. That's when frustration set in andI decided there had to be a better way. Went to the local Home Depot and bought the 18v Hammer drill. Set it up and I had the remaining 7 holes drilled in 5 minutes of drilling. All straight down. I was a happy camper!
Date published: 2019-08-12
Rated

5

out of

5
by
Badjfd3
from
Plenty of power, great drill!
My neighbor is a contractor, and he warned me that a cordless hammer drill won't have the power to drill into cement — I'm happy that he was wrong! Finishing about 700SF of our basement, and so we used this bad boy to attach the sill plate to the cement floor all around the exterior. Worked like a charm! If I had it to do all over again, I would have bought this one first instead of the drill — it has 3 settings including drill and hammer drill. It's no heavier than my Ryobi drill. Love it! I should mention that I'm a bit of a Ryobi junkie — I have more tools than my skill level requires, but I'm learning!
Date published: 2019-07-01
Rated

4

out of

5
by
Massimo277
from
Review from Electrician that use Ham Drill Daily.
I purchased the deal which consisted of (2) 3AH batteries and a charger for $99.00. This deal included a Bare tool upon purchase. I picked the Hammer drill because my (2) Mikita hammer drills burned out within one week of each other!!! Now I use my Ryobi hammer drill daily as an electrician . The 3AH batteries are great because when I'm drilling through concrete or screwing in Tapcons it keeps pace with the ridgids and Milwaukee's. Few things I don't like is there are. Belt clip for the drill after opening. Also the chuck seems to open every so often making me drop my bit. Now I only ever use my hand to tighten, never use the trigger to lock the chuck.. Ryobi price is right and although people say Ryobi is more for your around the house work, I'm running it everyday. I'll post back after the one year mark and review it again. Nub
Date published: 2019-07-30
Rated

5

out of

5
by
CaptMatt
from
Great Drill
I'm glad I bought this drill. I dont use a hammer drill often, but when I do I havae to break out my cords to use my old one. I saw that it was on special and decided to pick on up. I have already noticed that I used a hammer drill more than I thought, but I would put it off because I dont like messing with cords. I do a lot of DIY stuff around the house so I am finding the wieght and power of this tool to just right for me.
Date published: 2018-06-14
Rated

3

out of

5
by
Geosol
from
Unfortunately...
I actually love this drill. But I've obly had it for a little over 2 months and have only used it a few times, and the clutch no longer get works in speed one, so I can only drill in slow mode on number 2. Why would the clutch give? Don't have original box or receipt, so I have to find a dealer to submit for repair at a time that I need the drill. I can't even go back to Home Depot to replace directly. That's a lot of hassle for a new hammer drill. I had my last RYOBI kit bag with 6 tools for about 7 years without issue. This is just a bummer.
Date published: 2020-03-23
Rated

5

out of

5
by
brentammm
from
Great beginner's drill!
I bought this drill at Lowe's not too long ago. I asked the team there what they'd recommend to someone who has never bought a drill before and who will probably just be using it for odd jobs around the house. They pointed me to this drill and the drill bit kit. Since I had just purchased a weedwacker that came with a battery, I was all set! So far, I've used this drill to install curtains, clean my dryer vent, and drill holes in pots for plants. It's easy to use and adjust for each project.
Date published: 2019-07-11
Rated

5

out of

5
by
Hubbz
from
Easy peazy!
Been using Ryobi drill (blue version) for about 10yrs straight. Recently Home Depot had a sale in which you buy 2 battery with charger combo and get a free tool. Bought the combo online for store pickup and sure did get my hammer drill and with that purchase I also got a glue gun at a discount price. A week later did the same purchase 2 battery with charger combo this time for the free cordless jig saw. Since my purchases, I've been super satisfied. I definitely recommend Ryobi products. Green aesthetics looks nice and stands out.
Date published: 2019-06-27
Rated

5

out of

5
by
RyobiMan11
from
Tough Drill
I bought this with ryobi days this year and have already used many times. Love the hammer feature much quicker than my old ryobi drill which is not a hammer drill. I like that handle too it is easy to take on and off depending on the job. The 4 ah battery is also long lasting. Liked the ryobi days 2020 went back got another set and got an angle grinder too.
Date published: 2020-06-11