+2
18V ONE+™ GREASE GUN
Model: #P3410
Maximum pressure of 10,000 PSI powers through most clogged grease fittings
Max flow rate of 7.5 oz/min increases work efficiency
Plunger rod markings allow users to gauge how much grease is left in the tube
+2
Features
30 in. flexible hose for accessing hard-to-reach grease fittings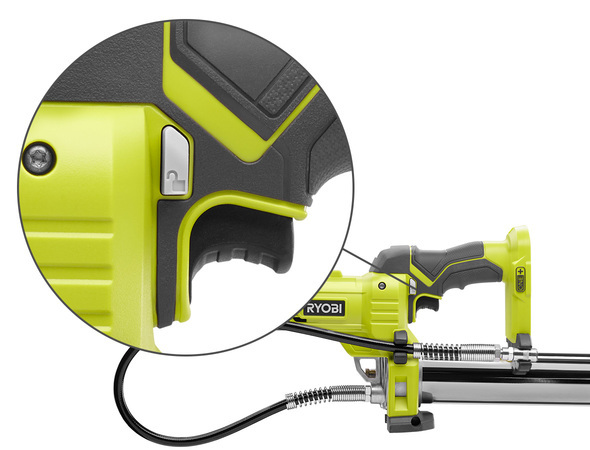 Lock-on/lock-off trigger helps avoid workplace mess
Air bleeder valve quickly primes the pump and reduces air pockets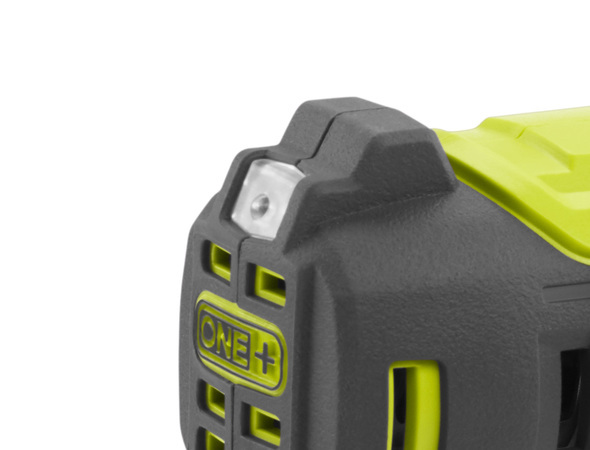 Onboard LED work light helps to illuminate workspace
Specifications
Dimensions
Weight

7.1 lbs

Grease Capacity

16 oz. bulk or 14.5 oz. cartridge
Details
Max PSI

10,000

Flow Rate

7.5 oz/minute

Battery

18V
Includes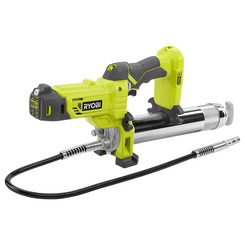 [#<ProductFeature id: 1632, title: nil, content: "P3410 Grease Gun ", photo: "2ce617d2-f6ec-4961-8181-f766c261f177.jpg", created_at: "2019-04-18 20:02:57", updated_at: "2019-04-18 20:02:57", product_id: 1102, sort: 0, enhanced_type: "included_item", enhanced_group: nil, enhanced_icon: nil>]
Reviews
18V ONE+™ GREASE GUN
18V ONE+™ GREASE GUN
is rated out of
5
by
56
.
Rated

5

out of

5
by
AngrySection8
from
Great
Bought this for the farm, my bean planter alone has over 90 zerks so tools like this are nice. I own 2 Lincoln 12v guns as well, although it's hard to measure power on a tool like this I will say the ryobi has double the output volume of grease which speeds things up dramatically, the light is a nice touch as well and it also goes way further on a battery. That said I did have to repair mine, it blew the hose right off the gun pulling the threads in the aluminum housing with it, I tapped it larger and put a steel insert in and haven't had a problem since, the Lincoln's have this already with a pressure relief valve-just stronger vs the hose going directly into the aluminum housing
Date published: 2020-04-30
Rated

5

out of

5
by
Bulldog Dad
from
Waited too long for this Great Tool
I saw this tool while shopping the internet and since I have made RYOBI cordless tools my of choice for many years I knew I wanted to add this one to my already extensive tool selection. I have farm equipment that requires greasing for every use. Lately manual great guns have let me down on quality. So far this grease gun base performed flawlessly I did enhance its already great package by adding a clip on extension. Looking forward to many good years of use. Great value.
Date published: 2020-01-27
Rated

5

out of

5
by
One Four
from
Works Great!
I'm 74 years old and I do my own maintenance on our motorhome to include lubing the chassis. It was very difficult to hold the manual grease gun fitting on the Zerk then try to hold the grease gun and pump at the same time. Frustrating! Behold the Ryobi power grease gun! All I have to do now is hold the fitting on the Zerk with one hand the hit the switch on the 18V Power Gun and I can carefully measure the proper amount of grease that flows into the item to be lubed.
Date published: 2020-04-01
Rated

5

out of

5
by
Najumade
from
Great grease gun
I use the grease gun around the farm. It's great with plenty of pressure makes fast work of greasing equipment.
Date published: 2019-09-04
Rated

5

out of

5
by
Bubba21
from
Mechanics' Must Have
Just recieved this a week ago and I've used it a bunch. It's easy to use and is quite powerful. Not only should a mechanic have one but everyone should own one.
Date published: 2019-09-03
Rated

5

out of

5
by
Farmer Green
from
The same batterys for all my power tools!
It works very nice. I was supprised at how fast it pumps. Its easy to load and the built in light comes in handy. I am pleased that it is easy on batterys so I often use a smaller battery to keep it light weight.
Date published: 2019-10-14
Rated

5

out of

5
by
JMc1961
from
No Mo Pumpin'!!
I had seen a few other contractors using different brands of 18V grease guns but wanted to wait and see if Ryobi would make one since 95% of my battery tools are Ryobi. Walaaahh! Purchased this and it makes greasing my tractors much easier! Not nearly the chore it once was. Load and go!
Date published: 2019-09-18
Rated

5

out of

5
by
Rpagliuca23
from
Great tool
Love that it only take 10mins to grease equipment compared to 30mins. Working on have all ryobi tools.
Date published: 2019-09-15