+6
18V ONE+™ EVERCHARGE™ Area Light Kit
Model: #P784K
+6
RYOBI introduces the 18V ONE+™ EVERCHARGE™ Area Light Kit. This versatile light can illuminate work spaces with 360º of light output. With EVERCHARGE™ technology, the battery charges and remains charged and ready to use when you are. The innovative Auto-On feature allows the light power on even in a power outage. Delivering up to 400 lumens of light output and over 27 hours of runtime on a RYOBI High Capacity Lithium+™ Battery, this light won't leave you in the dark. Built-in 1 Amp USB charging port will keep your phone charged on the job. The folding metal handle provides easy storage and portability and allows you to light up any workspace.
Features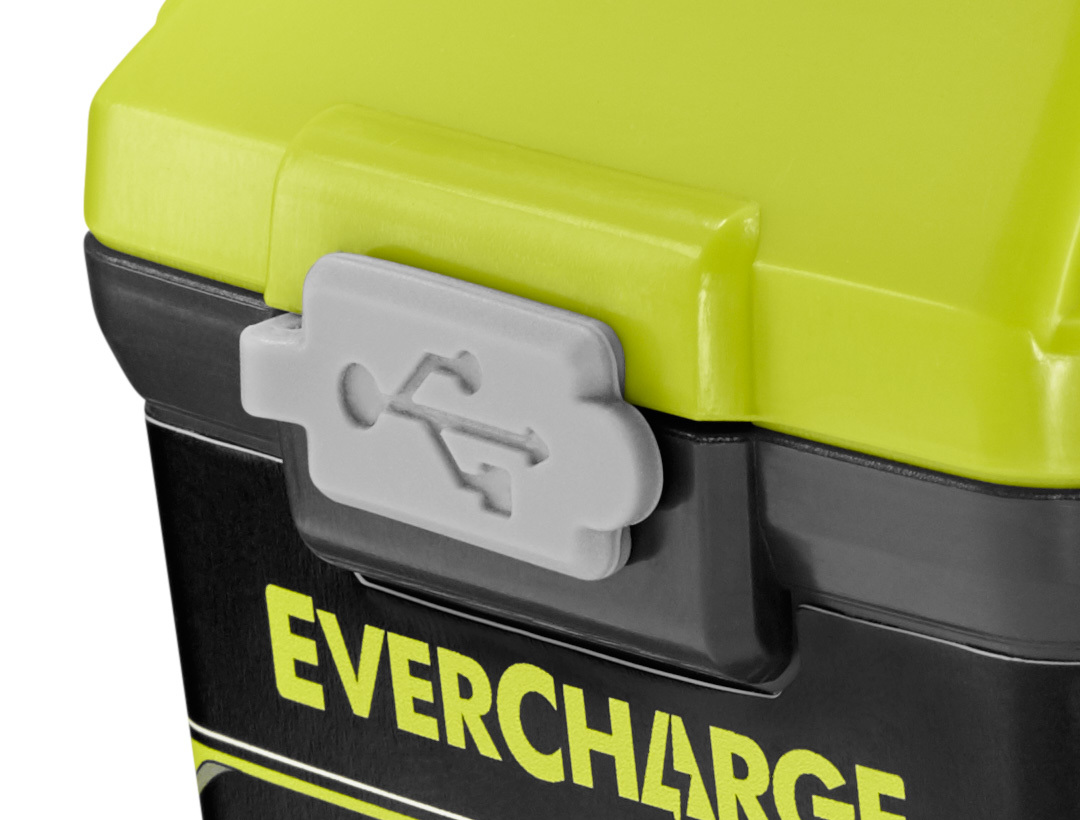 Features
360 degrees of light output
3 modes of brightness with 400 lumens on high
Charges RYOBI ONE+ battery and remains charged with Wall Mount Adaptor
Auto-on in power outage when mounted to Wall Mount Adaptor
Built-in 1 Amp USB charging port
Folding metal handle for storage and portability
Integrated emergency flashing mode
Specifications
Lumens: 400 on High Output
Runtime: Over 24 hours (using a P108 battery)
Includes: P784 ONE+™ EVERCHARGE™ LED Area Light, P102 Battery, P180 Wall Mount Adaptor, and Operator's Manuals
Reviews
18V ONE+™ EVERCHARGE™ Area Light Kit
18V ONE+™ EVERCHARGE™ Area Light Kit
is rated out of
5
by
37
.
Rated

5

out of

5
by
chris
from
bright Idea
This in my opinion may be the best area light Ryobi has ever made. It is evercharge which means it is always fully charged. but this has one more advantage, it will come on automatically when the power goes off, and will stay on for 10 minutes. That means if I'm in my warehouse (no windows) and the power goes out I can find my way to the light and take the light with me outside. I already have a "emergency light" mounted to the upper wall because code requires it, I experimented with this one and it is easily 10X more light and it has a nice carry handle to go with it. Now more about the light, it has 3 brightness settings and a blink setting (not sure what I would use it for) and it will also charge your devices with the usb port. I've seen the usb charge adapter alone with no battery for $39.00. It appears the usb will also stop after 4 hours so you don't over charge your device The price is great as well if you remember it comes with a battery and can be used as a charger (Slow charge) as well. I am going to at some point check with my local fire department and see if I can use these as emergency lights in my building. The battery in my current lights only last a couple of years and cost more than this whole light including battery, and I can actually see where I'm going. I absolutely recommend this light for many reasons!!
Date published: 2018-09-12
Rated

5

out of

5
by
WD79
from
Awesome little light
This little guy has really surprised me. It is much smaller than I expected, and it is much brighter than I expected. It is rated at 400 lumens but certainly seems much brighter. It has 3 brightness settings which is really nice. It is a fantastic little area light with a bonus USB charger in it! Love it!
Date published: 2018-09-17
Rated

4

out of

5
by
JonnySK
from
Handy Safety / Camping Tool
I bought this because my previous rechargeable lantern I had for camping got stolen. This was larger, but meant I could use the other Ryobi batteries I already had, making it last weeks without needing power to recharge. It's great having the dimmer light settings to sit out all night with, and having the USB charge port makes it even better for portable power while camping. The automatic backup lighting feature when power goes out at home is an unexpected bonus that has come in handy a few times when we've had power failures, no need to scramble for flashlights - it's already on for us.
Date published: 2020-07-05
Rated

5

out of

5
by
Mattss
from
Amazing battery life!
I am absolutely blown away by how long this battery last. Used this to last week when we were affected by a hurricane, and there was no fear of not having light. Having a USB charging port is also a great feature to make sure you have your phone charged in an emergency situation.
Date published: 2018-09-19
Rated

5

out of

5
by
wolferlover
from
good light
I bought this for my generator shed its works as good as expected. my only dissapointment is i was hoping to just walk in and turn on the light but it doesn't come on while in the holder so I found if you slightly lift it and dangle it on the hook you can leave it on the hanger but it might fall and break. should of been designed to use while plugged in while on the hook
Date published: 2019-01-19
Rated

5

out of

5
by
Clajhama
from
Awesome light with great features!
I bought this light with the hopes that it would be bright, and boy am I pleased! I am a delivery driver in the Pacific Northwest and in the dark and it gets very dark, very early. I can't wait to use this light in my cargo area this peak season. BONUS! When the light is connected to its charging station and loses power it automatically turns on. My garage freezers are on the same GFI as my outdoor plugs and a few weeks ago something tripped them and my freezers went out for who knows how long. We ended up losing lots of stuff. Now if they get tripped the light turns on warning me that the circuit is off. Since the light is an Evercharge Ryobi device it is always ready to go when you need it, as long as you put it on the base. I also got the Evercharge hand vac and the kids love that they can always find it when they need it. For some reason just telling them where to put it when they are done isn't the same as having a charging station for it to go back on, lol. I also love the USB charging slot.
Date published: 2019-06-02
Rated

5

out of

5
by
Lawdawg
from
Great for hurricanes
Great light for when we have hurricanes. I hope I never have to use it but I have two just in case. Power goes out this comes on. Plus I have a bunch more batteries to go with all of my other Ryobi tools. I have it in my work bench in the garage and the other one in the kitchen.
Date published: 2019-05-04
Rated

5

out of

5
by
SiDogman
from
Great emergency light kit!
I have these all around the house so if the power goes out I can still get around safely. Unit turns on automatically when power is lost to the unit. Unit can be removed from the base and used as an area lamp. The fit and feel of the case is great. I highly recommend this item.
Date published: 2019-06-28