+8
18V ONE+™ Hybrid STEREO WITH BLUETOOTH® WIRELESS TECHNOLOGY
Model: #P746
+8
RYOBI introduces the new 18-Volt ONE+ Hybrid Stereo with Bluetooth® Wireless Technology. This stereo features hybrid technology which means the user will never run out of power with the option of powering the stereo with an 18-Volt ONE+ Battery or an extension cord (sold separately). Stream music directly from a smart phone with the Bluetooth® Wireless Technology connectivity. This stereo is backed by a 3-year warranty.
Features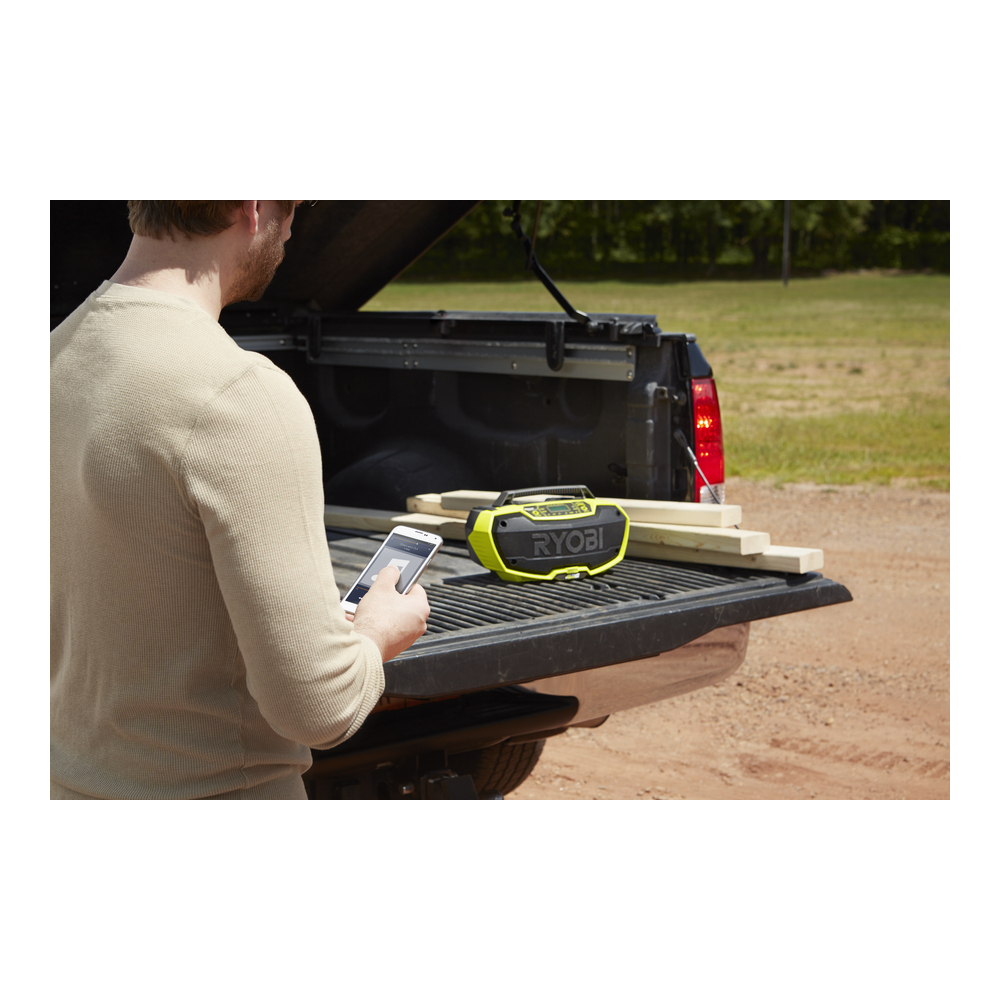 Features
Integrated BLUETOOTH® wireless technology to conveniently stream full audio over 50 feet away
2-Amp USB charging port charges most electronic devises including smartphones and tablets
Four, precision-tuned bass ports for deep, robust sound levels at all volumes
Built-in equalizer allows adjustment of bass and treble levels for enhancing specific listening preferences
Integrated device tray for safe and convenient storage and display of smartphones and tablets
Incorporated auxiliary input and output ports for playing music on multiple sources
Stereo sound from two ultra-premium, 7W speakers with separate amplifiers
Digital tuning with capability to save 10 FM and 10 AM station presets
Dual Power Stereo: Works with any RYOBI 18V ONE+™ battery or electric power with extension cord
Specifications
Battery: 18V
Modes: FM/AM/Aux-In/BLUETOOTH®
Auxiliary In & Out Jacks: 3.5mm
USB Charging Capacity: 2 Amp
Tool Weight: 6 lbs.
Includes
P746 Dual Power Stereo
(2) AAA Alkaline Batteries
Aux-In Cable
Operator's Manual
Reviews
18V ONE+™ Hybrid STEREO WITH BLUETOOTH® WIRELESS TECHNOLOGY
18V ONE+™ Hybrid STEREO WITH BLUETOOTH® WIRELESS TECHNOLOGY
is rated out of
5
by
281
.
Rated

5

out of

5
by
Chinzo82
from
Loud for its size!
This radio is really great! The price point is good and the battery life is awesome. I have a 3Ah battery and at full volume I get about 8 hours. Actually I haven't been able to exhaust the battery because I finish before it does. The SOUND is slightly better than average. Bass is decent and the highs are nice. The volume carries the best out of all battery operated Bluetooth stereos at about the same price. I love the equalizer, clock, and preset memory function (saves all adjustments when 18v battery dies with 2 AAA batteries) there is an external speaker function that I haven't tried yet. But best of all, it's HYBRID! I can plug my t in! 5 star worthy!
Date published: 2018-05-23
Rated

2

out of

5
by
RTL35robert
from
The good and the bad..
I bought my radio about under a year ago. Worked great sounded great. Love the bluetooth. Also been very happy with my ryobi tools that I have. The only problem I had with my hybrid radio is first the battery port stopped working like no power after a couple of months of having it. So I email ryobi and was told they would love to help and then they stopped emailing me and never helped. I don't know why people are busy I get it. I also forgot about it bc it being a hybrid radio I was able to just plug it in and it would work. Well now that option doesn't work and it not fun spending $80 on something that doesn't last long. Like it's still in great shape just won't turn on.
Date published: 2018-11-27
Rated

1

out of

5
by
BrianAZ
from
Blown speakers in less than 6 months/Poor support
I purchased this radio because I already own about 10 other Ryobi products and I love them and I have 6 batteries. Unfortunately, this radio never had great sound quality but it really got bad about 4 months after I purchased it and the speakers sound like they are blown. I contacted the Ryobi customer support and talked with someone from TTI Group named Allie on June 2, 2020. I have sent her multiple followup emails and have not received any response for almost a full month now. I am hoping that I can get this radio replaced and I am really hoping that I just got a lemon. As much as I love Ryobi products I was really expecting this customer support experience to be much better.
Date published: 2020-06-29
Rated

4

out of

5
by
bsb1
from
Decent sound, long listening time.
I selected this as the free tool with the 2-pack battery purchase. This has been a great radio to use around the garage, around the pool (more on that later), and when we are camping. The only negative is that I wish it was at least splash resistant. We have many wireless bluetooth speakers that are splash and water resistant, so we just have to be more careful regarding placement on this one. The nice thing with this compared to our other bluetooth speakers is that when the battery dies on this one, we just pop in another and keep going. Having the multiple batteries means we don't have to wait for it to charge up to keep using it!
Date published: 2019-06-13
Rated

5

out of

5
by
AngrySection8
from
Love it
Finally splurged and bought that radio, love it. Mainly plugged in out in my garage but love slapping a battery in and taking on the go. Read a lot of reviews complaining about reception but evidently in my area that isn't a problem, I can get every station I normally do. I haven't used the Bluetooth, but do charge my phone off it frequently. Sound is decent, right on par with any other radio this size, but if your expecting serious stereo performance it's not gonna deliver, it's not meant too. Plenty good for me, volume goes up to 20 but mainly stays on 6-7 in garage, it'll get plenty loud.
Date published: 2019-06-02
Rated

3

out of

5
by
dustoff499
from
Good Radio with Point at Issue
Radio is a good size, not to small and not so big. Dual power is awsome. Volume is OK and Audio quality is good but not Hi-Fi. Radio reception is OK for strong signals however some has claimed poor reception. Not sure about the necessity of an Aux-out port but Aux-in works normally and Bluetooth connectivity is easy. USB charge capable. Speaking of USB, here's the problem... USB can charge devices, even for a short spell after radio is turned off, but... if you use USB in conjunction with Bluetooth or Aux-in for that connected device it has feedback [buzzing] through speakers. Even with the radio off and phone charging it still produces a buzzing noise. It seems to be a phone/USB only problem. RF shielding/filter issue?
Date published: 2018-12-25
Rated

5

out of

5
by
Lowpr0
from
It is nice to have am/fm back in my life
Was hesitant to get this since I already have a Bluetooth speaker, but I really wanted this. After using it for over a month I find myself listening to FM a lot which takes me back to when I was a kid. All features work as advertised. Also did a side-by-side loudness test with my Echo Show 5, this was slightly louder, and sound quality was on the same level, with a little more bass. Overall this has became my Bluetooth speaker replacement, I have plenty of Ryobi batteries and I could just throw the radio on and not have to deal with connecting my phone starting Pandora etc, and switching back and forth when I have to take a phone call.
Date published: 2020-08-18
Rated

2

out of

5
by
jdavid7
from
Great price bad reception
I bought this a few months ago because my old Ryobi small radio died. I have a lot of Ryobi cordless tools and I'm happy with the performance and value of most of them. I don't know if i got a lemon or what this radio will only pick up a couple stations. My old small Ryobi radio would pick up a lot more stations. The bluetooth feature works O.K. but can be a pain to pair with different devices. If i store my phone in the tray on the top of the radio when in bluetooth mode I get a lot of static.
Date published: 2018-10-27