+9
18V ONE+™ Drain Auger
Model: #P4001
+9
RYOBI™ introduces a new tool that defines professional features at an affordable price: the 18V ONE+™ Drain Auger. This unit helps clear clogs with ease from drains up to 2 in. wide including sinks, toilets, and bath tubs. This unit also features a 25 ft. reinforced cable which will minimize kinking. This unit is backed by a 3 year warranty. Most importantly, the 18V ONE+™ Drain Auger is compatible with any RYOBI 18V ONE+™ battery and is a part of the RYOBI™ 18V ONE+™ system of over 50 great tools.
Features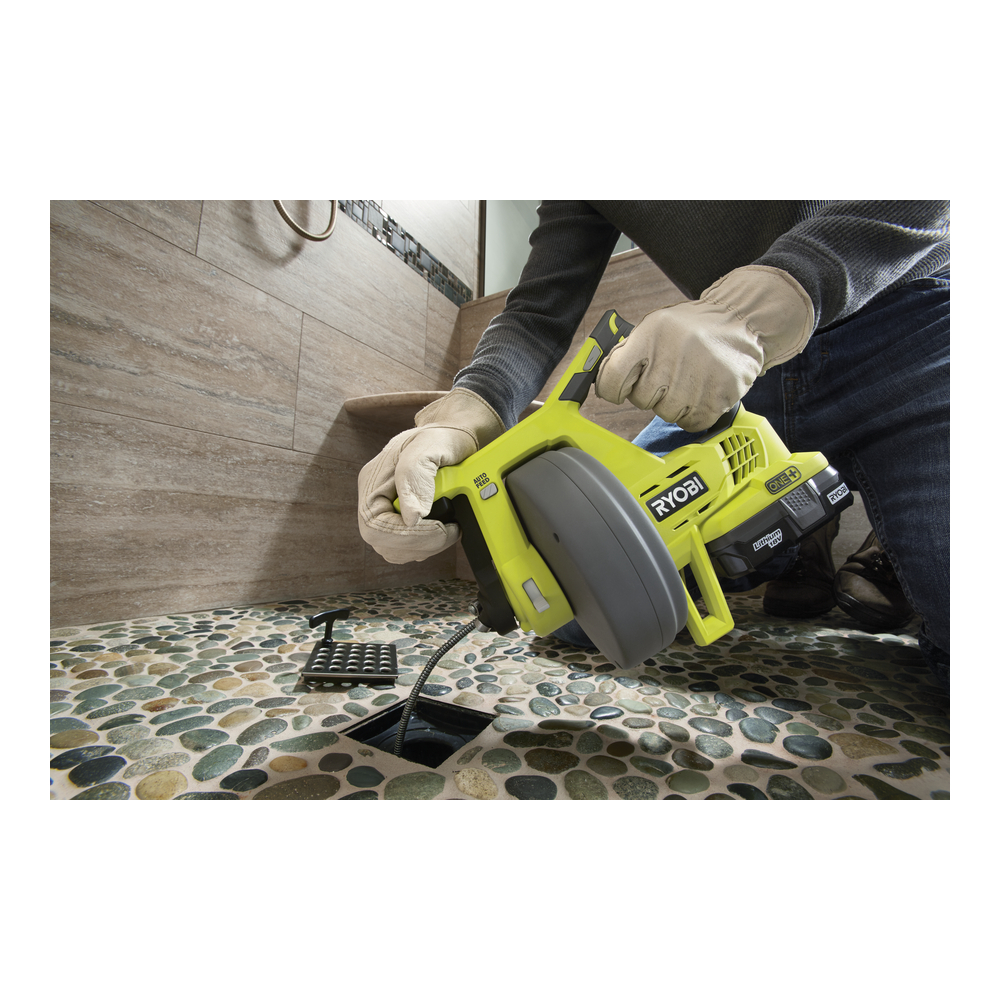 Clears clogs with ease from drains up to 2 in. wide including sinks, toilets, and bath tubs.
25 ft. reinforced cable to minimize kinking.
Powered forward and reverse feeding mechanism to prevent user fatigue.
Auto-feed lock engages the bearings without having to squeeze the pommel to prevent user fatigue.
Cable clamp holds cable in place while tackling tough clogs.
On-board rear drain port prevents water build up in the drum.
Feet keep rotating drum off the delicate surfaces.
Powered by any RYOBI™ 18V ONE+™ Battery (sold separately).
New and improved GRIPZONE™ overmold for optimum grip and user comfort
Specifications
Battery: 18V
Cord Length: 25 ft.
RPM: 600 (No Load Speed)
Weight: 6 lbs.
Includes
P4001 Drain Auger
Operator's Manual
Reviews
18V ONE+™ Drain Auger
18V ONE+™ Drain Auger
is rated out of
5
by
116
.
Rated

1

out of

5
by
KenF
from
Disappointed
This tool broke the first time I used it. I noticed the cable twisted around itself in the pipe so I pulled it out and tried to use the reverse to retract the cable. It would no retract. I called the 800 number and spoke with a customer service person who took my information and sent me along to another technician. After being on hold for 10 minutes I opted to have them call me back. They verified my number and I waited for the call. That was two days ago. I took it back to Home Depot and got a refund. I own many fine Ryobi tools so I am not a one time disgruntled customer. I am very disappointed in the auger tool and Ryobi's customer service.
Date published: 2019-12-20
Rated

5

out of

5
by
MellowMax
from
I'm a plumber.
My company cleans drains six days a week. I have at least 50 drain machines. This little green dog is in every truck. It makes me more money per minute of any tool I own. Get rid of the quarter inch cable and get a five sixteenths. The stock cable is too wimpy. The larger cable will go in with no modification. Every other plumber I've shown this to has bought one and calls it the green money machine. Make sure you lube up the cable every time you use it. This setup will allow you to go through the trap. Make sure to cut off the bulb head and put a couple of bends at the end of the cable. I charge 150 bucks to clean an inside drain. I could almost throw it away after each use. The first machine is still in use after three years. Make me cry from the lack of calls. Happy cabling.
Date published: 2019-05-12
Rated

5

out of

5
by
Moizle
from
Powerful
Recently bought the auger for my home because I just purchased it and wanted to make sure the drains were clean. I was surprised at how powerful it was and how easy it was to use. All my drains are now clog free in the home and my wife loves me for it. It is easy to store it in the garage as well and I can just use my Hedge Trimmer or my Drill's 18v battery on it. No need to run it for too long so I don't have to concern myself with the battery being charged as the whole task of cleaning the drain takes just a few minutes. Very happy with my purchase and the overall Ryobi ecosystem of the one+ batteries!
Date published: 2020-09-09
Rated

5

out of

5
by
Sheetmetalhero
from
The Best At True Recycling
I just purchased a special buy Ryobi One Plus lawn mower combo kit. Which all three items work great. The big winner here is when you open it up and there's not Styrofoam tons of plastic and everything in it is 100% recyclable the cardboard the little tight plastic bags everything is properly proportioned for recycling. I live in Ontario where lately the big discussion is recycling and I know with a conscience everything going into my blue bin is going to be properly recycled. Ryobi has chosen the right material to go in my blue box big big points for me there. I think everyone involved in the process and deciding in the packaging. Should get some brownie cookies.
Date published: 2019-05-06
Rated

4

out of

5
by
Al K
from
Used it once so far and it helped.
This is the first time I have used a drain auger. I had a tub that I could not clear even with the usual drain cleaners. The auger didn't clear it completely, but it cleared enough to get the drain rolling. I was then able to use a plunger to get the rest moving. It took a little getting used to, just getting the feel for where the cable was in the drain and how to maneuver it. Once I got the feel for it I thought it worked well. The cable went out and back easily and safely. I look forward to using it again.
Date published: 2020-09-22
Rated

1

out of

5
by
Mike212121
from
Poor Quality - Breaks often!
Do not buy... Go black and decker or someone else. These products are very poorly made and break often!!! I bought the Ryobi P4001 Drain Auger just over 3 years ago The first one I bought broke after 3 uses just over a year after I bought it... They replaced the unit since it was under warranty. The replacement unit broke after 4 uses, about 2 years after I received the replacement... But even though I only had the replacement for 2 years, they said it was outside the 3-year warranty window because it started when I bought that original unit that broke after a year! Again, do not buy! If it was just one unit that broke quickly and easily, I would just say bad luck... But 2 units breaking in 3 years and 3-4 uses each? That's a pattern of bad craftsmanship
Date published: 2020-07-18
Rated

5

out of

5
by
Mjk784
from
Works awesome
I bought this a few months back as I live with a wife and daughters with Long hair and some how that hair goes down the sink and shower drains like crazy. After buying stock in liquid drano I decided it was time to make the purchase. After using it I have to say this thing blows thru clogs like no ones business. Easy to clean easy to use and I'm confident this beast would have zero issues clearing clogs of any sort.
Date published: 2019-04-11
Rated

5

out of

5
by
Sam Grove
from
Augering is so much better.
I like being able to feed the snake one-handed while leaving the other one free to support me in a crouch in the shower stall. It's even better when feeding the snake back into the drum as I can use my other hand to grip the snake with rags or paper towels to wipe off sludge as it returns.
Date published: 2019-07-27